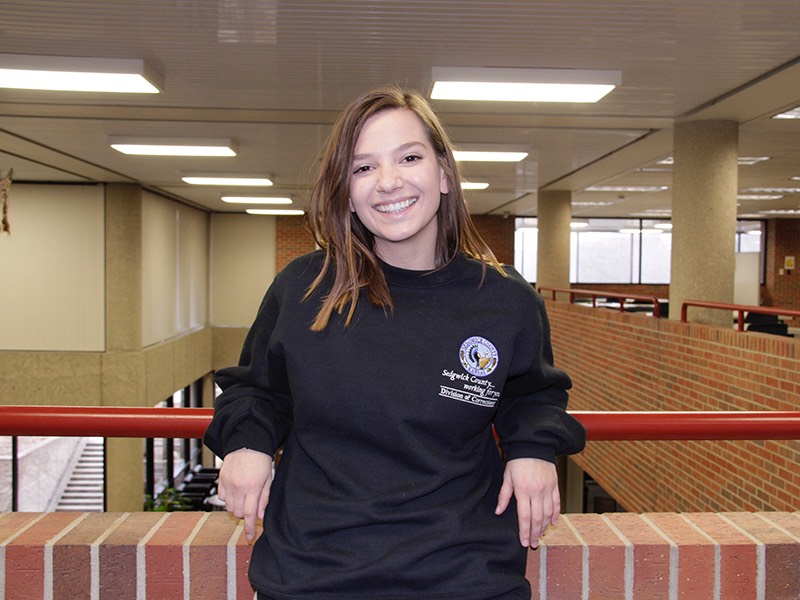 Rachel Ziska, a future intensive supervision officer, is ready to graduate from college and take the next step in her career.

Rachel is one of more than 2,400 students eligible for spring 2019 graduation. Learn more about her time at Wichita State and what's next for the senior.
What is your degree in? I am graduating with a Bachelor of Science in Criminal Justice.
What lead you to WSU to begin with? I wanted to stay in Wichita and Wichita State seemed like the college that fit me best in this city. Also, all my friends went here, so that was incentive for me to go here and I am so glad I did.
How are you feeling leading up to graduation? I'm ready! It was a long, wild, and busy ride and I am ready for the next step in my career. I'm honestly chilling because I am so glad that classes are over because I start my new job soon. I am happy that classes are over and I have some time to relax. I am thankful for my time at WSU, but I am ready for the next step.
What has been your most impactful learning experience while a student at WSU? My job during my senior year was the most helpful learning experience because it applied to my degree. I was working in a juvenile residential facility, an environment I will work in for my career. Also, most of my professors were local people like attorneys, detectives, and police officers. They were people that worked in my field, so I got an inside look at what they did. They actually knew what they were talking about because they actually worked it. That made the classes more enjoyable.
What has been your biggest challenge as a student and how did you overcome it? I changed my major once after freshman year and I struggled because all those credits fell through, none of them applied. It pushed me back a little bit, but I still managed to get out in 4 years. I've always been a full-time student and took a ton of classes because I changed my major and still wanted to graduate in 4 years. Not to mention, I was also taking care of a rambunctious dog. It was really hard while also working, you have to learn how to schedule yourself. I struggled, I never had free time, and I was always busy.
What are your plans now work wise? I was a corrections officer for Sedgwick County's Juvenile Residential Facility during my senior year and now I am moving to Larned, KS about 2 hours from here. It's through the Larned Community Corrections, it's not an actual facility because its administrative. I'm going to be an intensive supervision officer, an ISO, so it's like a parole officer and I get a desk. You know how you have people that are on parole or probation, it's for the people who are currently in jail that are trying to go on parole. You're their parole officer while they are in jail. It helps them put a schedule together for their life and how to be successful in jail to go back into the community. Make sure they are going to their appointments, make sure they are not violating anything while they are out because they'll have access outside of the facility now to do stuff, make sure they are not doing anything that is going to cost them to lose the chance to be released early.
What advice would you give to other WSU students? Learn how to schedule your stuff. Be on top of everything. Go to your classes, attendance affects your grade. I would have my weeks planned out because I had so many classes and because I worked. I had to make sure I had an agenda to make sure when stuff was due. My advice is to get an agenda. I felt stupid when I got it but it was so helpful. Setting a schedule for yourself can make you feel so much less stressed about the amount of work you have.