It's more than just a texting service for leftovers. Shocker Share a Meal is the newest campus resource to help students struggling with food insecurity.
Shocker Share a Meal is a texting service that alerts current WSU students via notification when there is leftover, free food available on campus. The leftover portions come from campus events where food was ordered, but not all consumed.
The program was implemented in August 2019 to lessen food insecurity on campus for faculty, staff and students. It also combats food waste through the partnership with Chartwells and Dining Services. After a few months of serving students, Shocker Share a Meal is focused on sharing the information with the campus community.
The process to enroll is easy. First, register online at dineoncampus.com/wsudining, create an account and opt into the service. Next, download the Dine on Campus app and receive notifications. Whenever a large event is hosted on campus, those enrolled receive an alert with information about where the food is and how long they have to get a to-go box. For those doubting if the program applies to them, it does. Shocker Share a Meal benefits any campus member.
"I think the beauty of Shocker Share a Meal is students being able to take a to-go container with them," Alicia Newell, assistant vice president of Student Affairs, said. They can eat their meal whenever and wherever."
Shocker Share a Meal is not just for students; faculty and staff are welcome to use the service as well.
For those struggling, it's hard to raise your hand and ask for help, said Newell. The program reflects the campus culture of caring for those in need.
Faculty and staff are enjoying being able to give back to students in a small and meaningful way.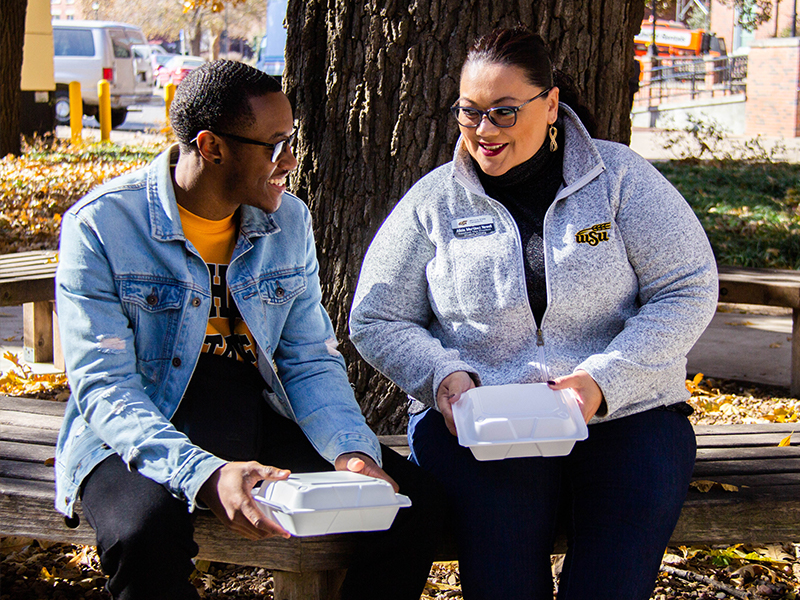 Alicia packages the meal herself for students to pick up at a later time if they are stuck in class. For her, she doesn't want to see a student go hungry.
---
"We have food and want to share with you," Newell said.
There are other resources, like the Shocker Support Locker, that can provide a quick solution to those in need. But, students have needs greater than those the locker offers.
The Campus Climate Survey sent out in October collected data regarding food insecurity around campus. The data collected helps to narrow down the need of students. Results will likely come after another semester.
"Being able to help students in a small way brings a new perspective of need around the campus," Newell said.
Newell said Shocker Share a Meal is personal for her.
"I remember sitting in my classroom, not being able to focus on the lecture and thinking about the decision to pay for utilities or buy groceries for the week," she said. "I always chose to pay my bills and go without food."
While the program is in the beginning months, Newell has already seen the appreciation of students. For her, there's no greater reward than seeing a student's hunger satisfied. It is heartbreaking yet heartwarming all at the same time.
"It's a start, not an end. There's a lot more we can do to lessen food insecurity on campus." Alicia said.
For students, faculty and staff, Shocker Share a Meal is only the beginning. It's not a solution but an option for those in need.