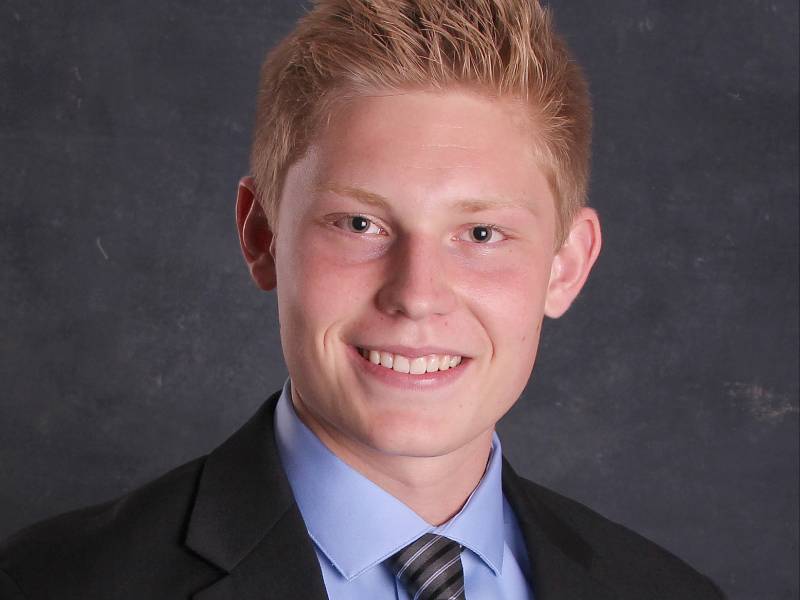 Trevor Cumpston
In 2019, Trevor Cumpston — then just a high school senior at Aurora High School in Aurora, Nebraska — was awarded the prestigious Clay Barton Scholarship at Wichita State. Now in his second semester as a sophomore, Trevor says he's enjoying the connections with his professors that the scholarship affords.
"[The scholarship] has been extremely valuable, not only for the cost of attending college, but for connecting with professors and faculty," he said.
Trevor, an economics major with a minor in management, chose Wichita State because he felt comfortable with the professors that he met during the scholarship process, as well as the proximity to major businesses in Wichita.
"As a business student, it was clear that there was an emphasis on finding internships or jobs, and that was something I was looking for," Trevor said.
Being a Clay Barton Scholar opened up his participation in the Barton International Group, where he has been able to have important mentors, along with being involved with the Institute for the Study of Economic Growth (ISEG) Mentorship program.
"Both mentorship relationships help me think through my future as I start to make career decisions," Trevor said.
The biggest hands-on opportunity that he has been able to experience is through the Barton International Group, where he was able to work on consulting projects for local businesses.
"This has been a great way to apply what I've learned in the classroom to a real situation," Trevor said. "It has opened my eyes to different aspects of business that I did not know existed."
Trevor has experienced difficulties throughout the pandemic but has also found ways to make things possible. To overcome the challenge of meeting new people, for example, he has gone out of his way to find and attend virtual events hosted by Wichita State or ones found on LinkedIn.
"It takes a little more effort, but the opportunities are still there to those who look for them," Trevor said.
His advice for students applying to scholarships would be to make sure your applications are personable and authentic.
"Most scholarship committees are not looking for the most buttoned-up person, but the person who is passionate and authentic," he said.
Learn more about how to apply for scholarships at Wichita State.