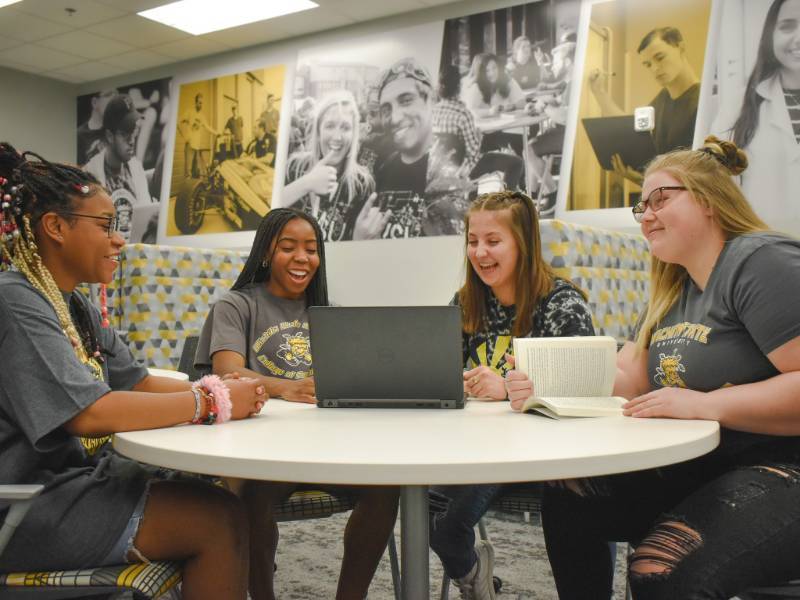 ---
The Wichita State University College of Engineering is hosting an Introduce a Girl to Engineering Day (IGED) event, commonly known as Girl Day, for high school girls from Wichita Public Schools. The event is 10 a.m. to 2 p.m. Thursday, Feb. 23 in the Shirley Beggs Ballroom on the third floor of the Rhatigan Student Center.
"We are so excited to help ignite a passion for engineering and computing in high school girls," said Ana Lazarin, director of Diversity, Equity and Inclusion (DEI) for the College of Engineering. "While women make up about half of the population, only about 20% of engineering college graduates nationally are women. We have many exciting initiatives at WSU, such as Girl Day, to help close that gap."
WSU expects 100-150 participants for the IGED event. The students will participate in hands-on STEM activities, listen to inspirational female speakers, and meet women from the engineering and computing industries, including professionals, WSU faculty and students. There will also be an industry fair featuring companies from STEM fields. Breakfast pastries and lunch will be provided.
The featured speakers will be Khristian Jones and Mallory Jennings. Jones is an aerospace engineering alumna of WSU and an interiors engineer for United Airlines. Jennings is a mechanical engineering alumna of WSU and a deputy system manager for spacesuit design at NASA Johnson Space Center.
"The students are going to love hearing from Khristian and Mallory," said Lazarin. "Both women graduated from the College of Engineering at WSU and have gone on to have exciting, fulfilling careers. They are truly inspirational women."
It's so important to our nation's future that we do what it takes to encourage more girls to pursue engineering and science careers.
Dean Anthony Muscat
WSU has coordinated with Wichita Public Schools on student registration and bussing, but there is still a need for women from engineering and computing industries to volunteer to help at the event and for companies from STEM fields to participate in the industry fair. Interested women and companies should visit the IGED event webpage for more information and to register.
"It's so important to our nation's future that we do what it takes to encourage more girls to pursue engineering and science careers," said Anthony Muscat, dean of the College of Engineering. "Engineers help people in a variety of ways, and we need more women investing their creativity and energy to solve society's toughest challenges."
IGED is a national event that takes place during National Engineers Week, which will be observed Feb. 20-25 this year. The purpose of IGED events is to foster a positive connection between young women and STEM. The College of Engineering has other events planned for its students, faculty and staff to observe and celebrate Engineers Week, including a dean meet-and-greet, bowling night and 5k run/walk.
---
About Wichita State University
Wichita State University is Kansas' only urban public research university, enrolling almost 22,000 students between its main campus and WSU Tech, including students from every state in the U.S. and more than 100 countries. Wichita State and WSU Tech are recognized for being student centered and innovation driven.
Located in the largest city in the state with one of the highest concentrations in the United States of jobs involving science, technology, engineering and math (STEM), Wichita State University provides uniquely distinctive and innovative pathways of applied learning, applied research and career opportunities for all of our students.
The Innovation Campus, which is a physical extension of the Wichita State University main campus, is one of the nation's largest and fastest-growing research/innovation parks, encompassing over 120 acres and is home to a number of global companies and organizations.
For more information, follow us on Twitter at www.twitter.com/wichitastate and Facebook at www.facebook.com/wichita.state.