FEATURED STORIES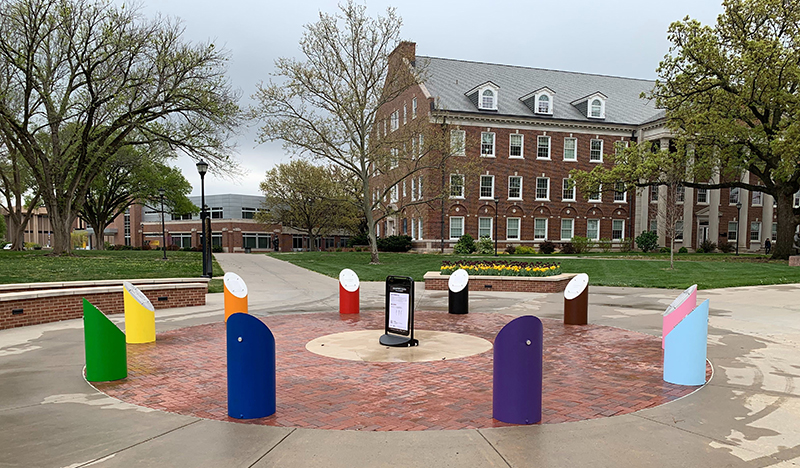 Launch of WSU Belonging Plaza will include tribute to LGBTQ trailblazer Kristi Parker
Belonging Plaza is an outdoor pop-up commemorative gathering and programming tool designed to move to different locations on campus. It is meant to allow student and community groups to highlight a variety of underrepresented or marginalized trailblazers.
Read more about Belonging Plaza
---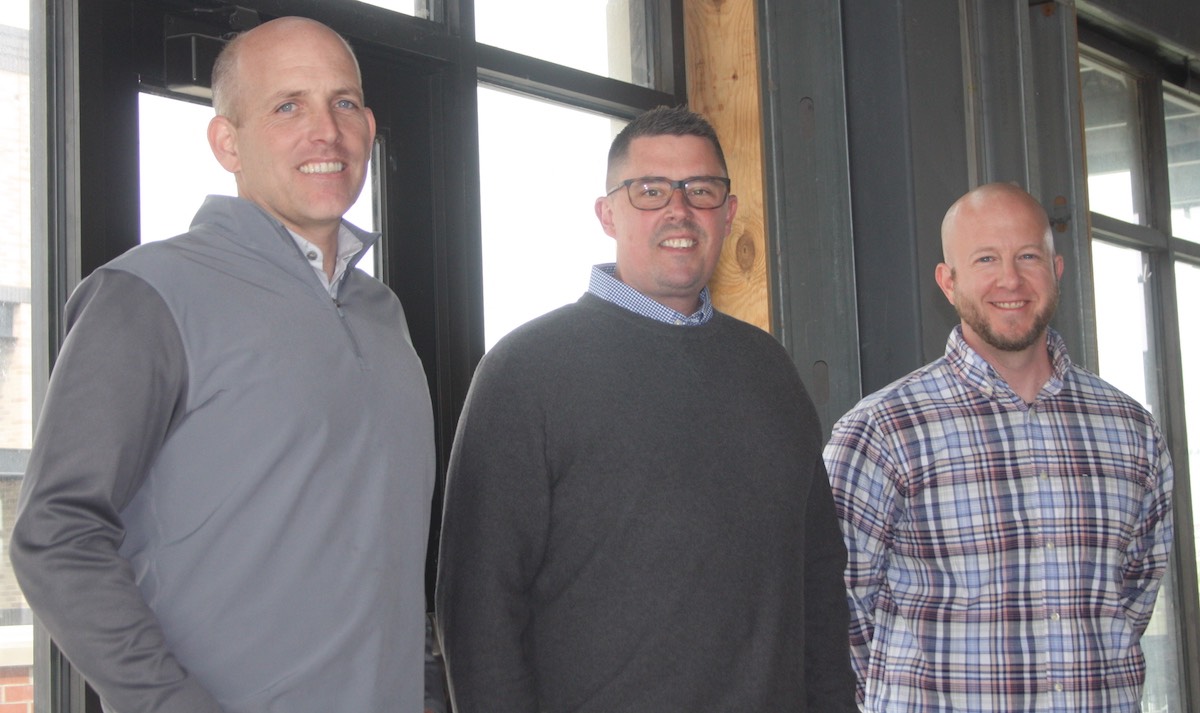 Tap room, 'virtual' kitchen brings new dining concept to Braeburn Square
For three years, three friends looked for a place they think will push Wichita restaurants and a neighborhood into a new era.
"I fully believe this will become a destination," Justin Neel said. "I walked in and said, 'This is it.' I can see the future of what this area can be, and being a part of that was just incredible."
By mid-July, Neel and partners Luke Luttrell and David Hopkins expect to open Social Tap Drinkery and Create Kitchens in a 5,680 square-foot space at Braeburn Square (4510 E. 19th St.) on Wichita State University's campus.
---
Wichita State softball rewards long-time fans with history-making season
Wichita State is ranked in the four major softball polls for the first time, including their first appearance in the National Fastpitch Coaches Association poll at No. 25 last week and now at No. 23.
NEWS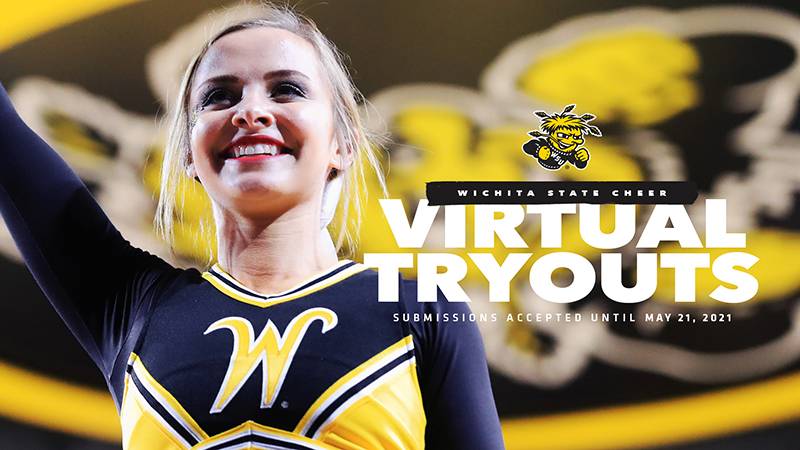 Shocker Cheer announces virtual tryouts
The Wichita State cheer team is holding virtual tryouts to become a member of the 2021-22 team. Perspective team members can submit a video to cheer@goshockers.com. Submissions will be accepted until May 21.
Video submissions should be made up of five sections: introduction and interview, motion technique, standing tumbling, running tumbling, and stunting.
Videos can be a compilation of past practices, previous performances or what you have access to in your area.
The selection process based on video tryouts will be announced on at 5 p.m. on May 29.
If you have any questions on the tryout process please feel free to contact Coach Megan Bayliff via email at megan.bayliff@wichita.edu or the Director of Marketing and Fan Engagement, Reginald McIntyre via email at rmcintyre@goshockers.com.
---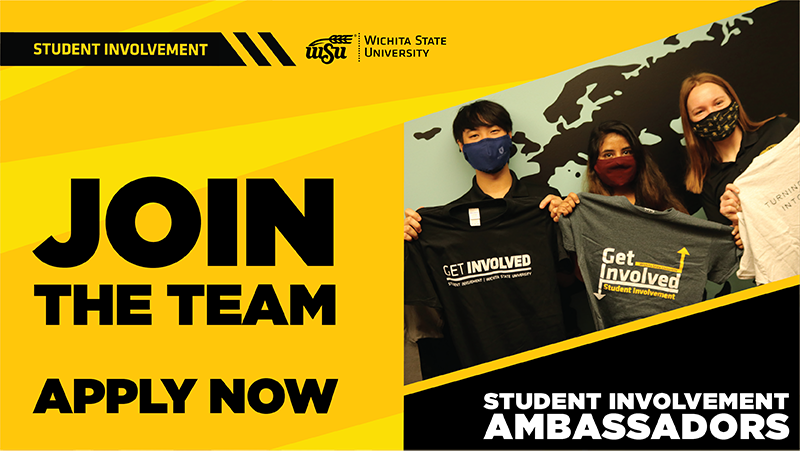 Join the Student Involvement Ambassador team
Are you a student who is passionate about getting involved? Or a student that wants to share your own involvement story at Wichita State? The Student Involvement Ambassador is a team dedicated to recruiting new Shockers, connecting current students to opportunities and celebrating campus leaders and sharing the student involvement story. If you're interested in sharing your Shocker experience, the deadline to apply is 5 p.m. Tuesday April 27.
Visit Wichita.edu/getinvolved for more details and to apply.
---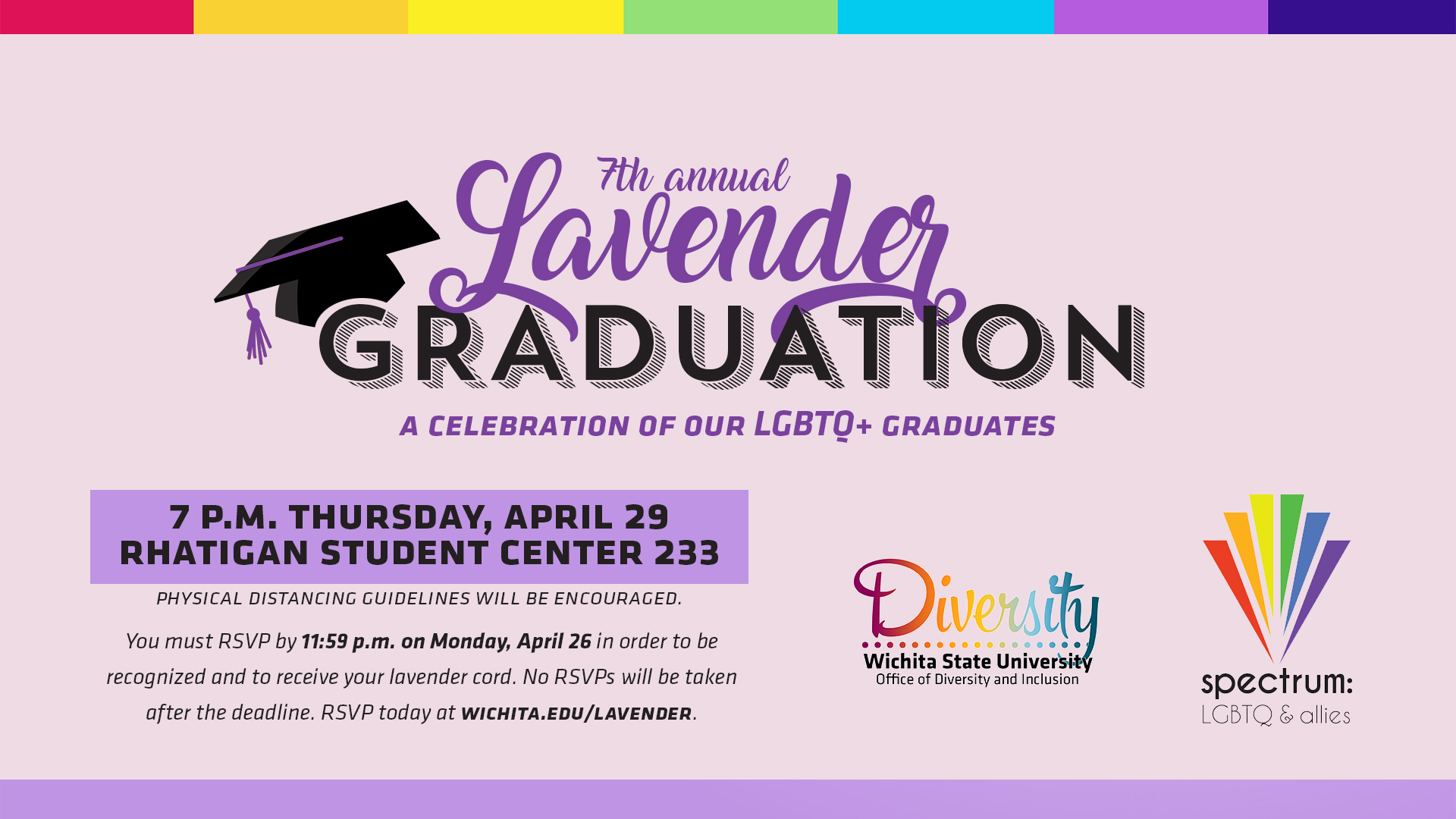 Register for Lavender Graduation
Lavender Graduation is a celebration of our graduating LGBTQ+ students. Join us for the seventh annual Lavender Graduation at 7 p.m. April 29 at the Rhatigan Student Center, room 233.
You must RSVP by 11:59 p.m. Monday, April 26 in order to be recognized and to receive your lavender cord. No RSVPs will be taken after the deadline.
---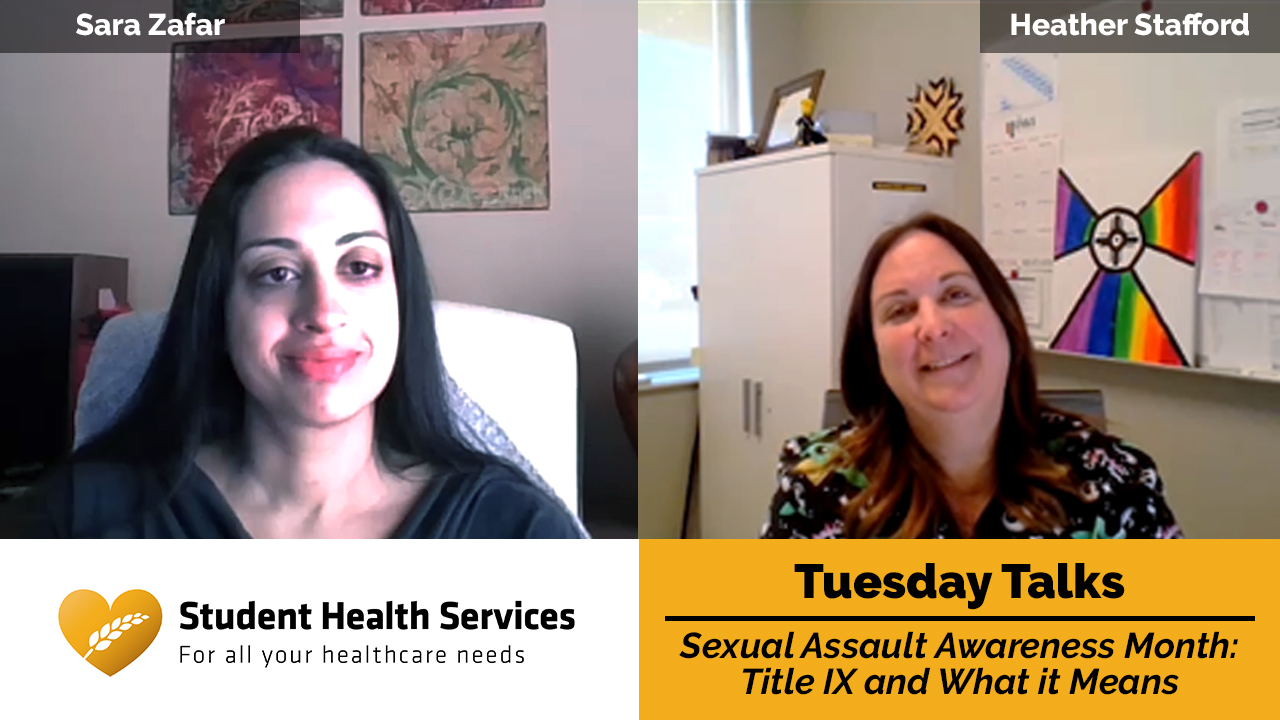 Sexual Assault Awareness Month: Title IX and What it Means
Have you ever wondered where to go if you experience a sexual assault or other violent behavior or discrimination?
Through wichita.edu/reportit, you can be connected to resources to assist you, such as through the Title IX report.
Title IX coordinator Sara Zafar joins Heather Stafford in this week's Tuesday Talks to discuss the office of Institutional Equity and Compliance (which covers Title IX) and how they can assist students, staff, and faculty at WSU.
---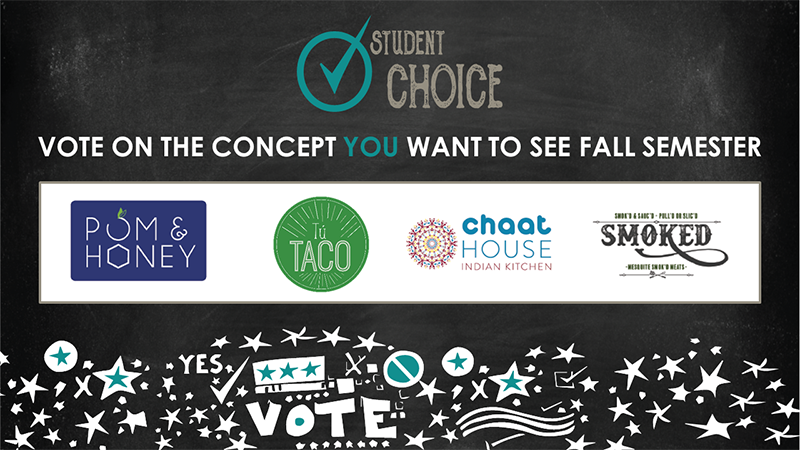 Vote for a new dining concept in the RSC
Which new dining concept do you want to see in the Rhatigan Student Center starting Fall 2021? Learn about your options and then vote!
---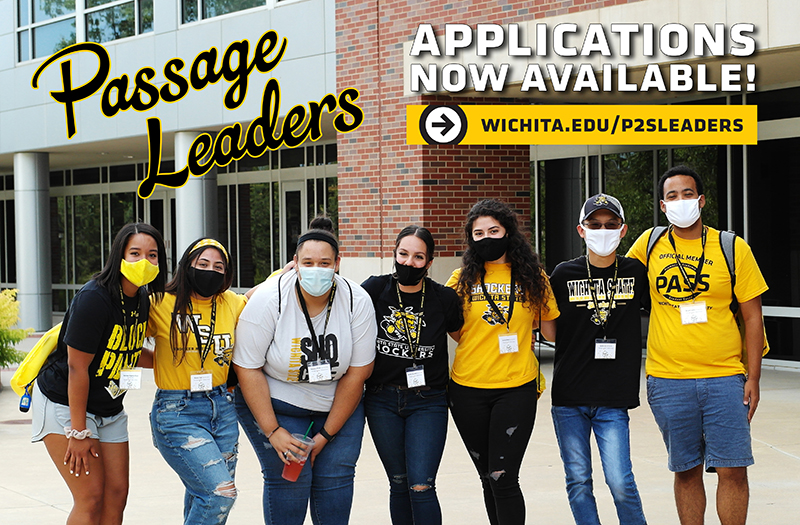 Apply to be a Passage 2 Success leader
Passage leaders are an integral part of Passage 2 Success, a week-long retreat for incoming freshmen from diverse backgrounds to help in their transition to Wichita State University. This year, the Office of Diversity and Inclusion is seeking eight to ten current Wichita State students to serve as the leaders for Passage 2 Success.
For more information about expectations, responsibilities, requirements and the application, go to wichita.edu/p2sleaders. The deadline to apply is Sunday, May 2.
---
Apply for the Student Government Association today
If ever there were a time to dare, to make a difference, to embark on something worth doing, it is now. Applications for the 64th Session of the Student Government Association are still open for the first round. Apply for positions on any of the three branches. Visit www.wichita.edu/sgaopenpositions to apply today!
EVENTS
Society of Asian Scientists and Engineers info meeting
The Society of Asian Scientists and Engineers (SASE) was founded in November 2007 to help Asian heritage scientific and engineering professionals achieve their full potential. Organizations existed for other affinity groups — The National Society of Black Engineers, the Society of Hispanic Professional Engineers, and the Society of Women Engineers — and there was a need for a similar organization where students representing all of the pan Asian cultures could connect and support each other.
Join the Engineering Student Success Center and representatives from the national SASE organization at 7 p.m. Wednesday, April 28 for a virtual informational session to learn more about SASE. Students interested in starting a SASE chapter at Wichita State will be able to learn more about the organization and the process for starting a chapter. For questions, contact Jason Bosch at jason.bosch@wichita.edu.
Join the live Zoom session at 7 p.m. April 28
---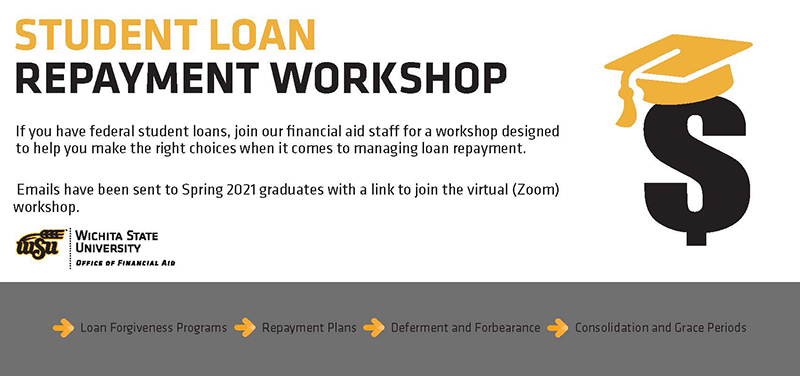 Learn about student loan repayment options
Join us at 2 p.m. Wednesday, April 28 for a Student Loan Repayment Workshop via Zoom. If you are graduating at the end of spring 2021, you should have received an email with a link to directly join the event. We look forward to seeing you then.
If you are unable to attend the workshop, feel free to schedule an appointment with one of our financial aid advisors at wichita.edu/finaidappt to discuss your loan repayment options.
---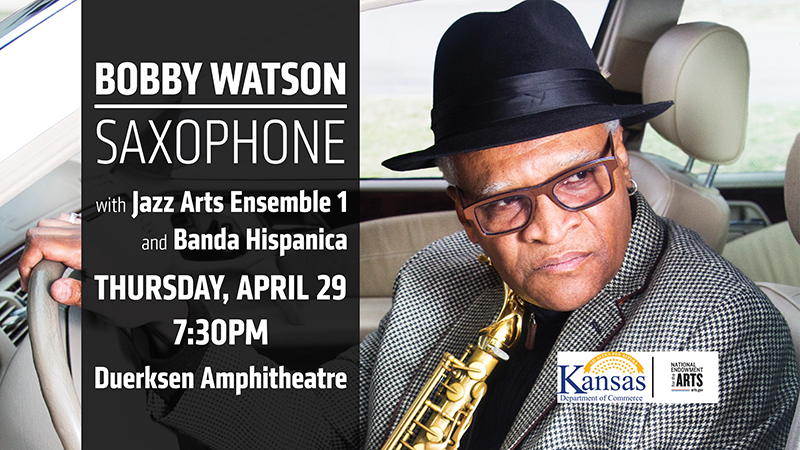 Acclaimed jazz saxophonist Bobby Watson to perform with Wichita State students
The School of Music welcomes renowned jazz saxophonist Bobby Watson, in a free concert at 7:30 p.m. April 29 at the Duerksen Amphitheater, with Jazz Arts 1 Ensemble led by James Pisano. Also featured is Banda Hispanica led by John Goering. Audience members are encouraged to bring a lawn chair or blanket. The rain location is Miller Concert Hall.
Watson will also present a free master class on at 11 a.m. April 29 in Duerksen room C107.
---
Criminal justice panel focuses on police reform
Wichita State's Michael Birzer, professor of criminal justice, will lead a panel discussion on police reform at noon April 27 via Zoom. The event is hosted by the League of Women Voters Wichita-Metro and will address the types of changes being sought within the police department in the wake of the "defund the police" movement.
The event will also address what it would mean to change the funding structure of the police department and how the Wichita Police Department is addressing community concerns. Along with Birzer, the panel will include Gwen Grant, president and CEO of the Urban League of Greater Kansas City; and Wanda Parker-Givens, deputy chief of the Wichita Police Department.
To register, call 316-261-8500 or visit wichitalibrary.org/events.
---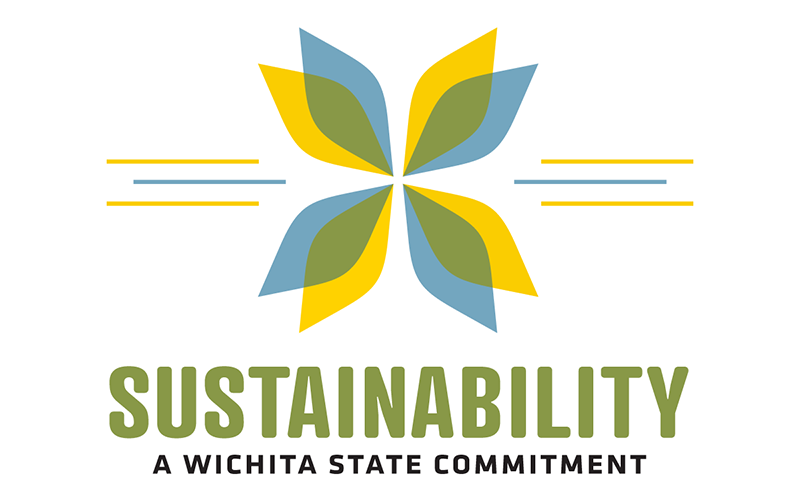 Panel: The Movement of the Plastics Industry Toward Sustainability
We wrap up our Earth Day celebrations with a special panel moderated by Associate Vice President for Research and Graduate School Dean Coleen Pugh at 2 p.m. April 30. Dr. Pugh will be be joined by experts in the plastics industry:
Joel Matsco, Covestro
Mike Biddle, Evok Innovations
Abdala Bashir, Danimer Scientific
---
Watkins Visiting Professorship Lecture: Physics
Join us via Zoom for at least one of the two talks: noon April 27 for the scientific lecture or 2 p.m. April 28 for the public lecture. Carlo Rovelli will present "Making Sense of the Quantum: Do Things Exist by Themselves?"
---
Learn about oSTEM for LGBTQ+ people in STEM
Out in Science, Technology, Engineering, and Mathematics (oSTEM), Inc. is a non-profit professional association for LGBTQ+ people in the STEM community. With more than 100 student chapters at colleges and universities and professional chapters in cities across the United States and abroad, oSTEM is the largest chapter-based organization focused on LGBTQ+ people in STEM.
Join the Engineering Student Success Center and representatives from the national oSTEM organization and the K-State chapter at 6 p.m. Wednesday, April 28th for a virtual informational session to learn more about oSTEM. Students interested in starting an oSTEM chapter at Wichita State will be able to learn more about the organization and the process for starting a chapter.
For questions, contact Jason Bosch at jason.bosch@wichita.edu.
Join the live Zoom session at 6 p.m. April 28
---
Panel will discuss campus sexual assault resources
April is Sexual Assault Awareness Month. Office of Institutional Equity and Compliance is hosting a virtual Resource Panel at 2 p.m. Wednesday, April 28. Panelists will include representatives from Student Health Services, Counseling and Prevention Services, the University Police Department, and the Wichita Area Sexual Assault Center, and the Title IX Coordinator. Panelists will discuss their roles on campus, services, and resources available to all students and employees.
The panel will be presented via Zoom. To register and receive the Zoom information, please email oiec@wichita.edu.
---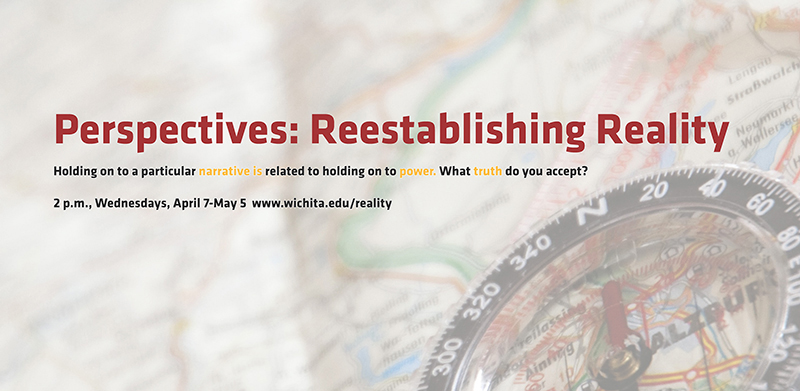 Who shares misinformation online?
Mythili Menon will present this fourth lecture of the five part "Perspectives: Reestablishing Reality" at 2 p.m. Wednesday, April 28. She is an assistant professor of English and linguistics and the director of the linguistics program at Wichita State University.
Misinformation on the web has several consequences for communities and democracy. Are consumers of news susceptible to false belief? Are certain personality traits more likely to share false information online? In this talk, Menon will report results of a news-sharing game where we tested the sharing behavior of consumers of news by incorporating fine-grained information such as personality traits, demographic information, including political beliefs. Our results have the potential of informing existing news-verification systems and social media of the differences between how end-users belonging to different personality traits consume and share misinformation online.
For more information on the Perspectives series and how to join the lecture, visit www.wichita.edu/reality.
---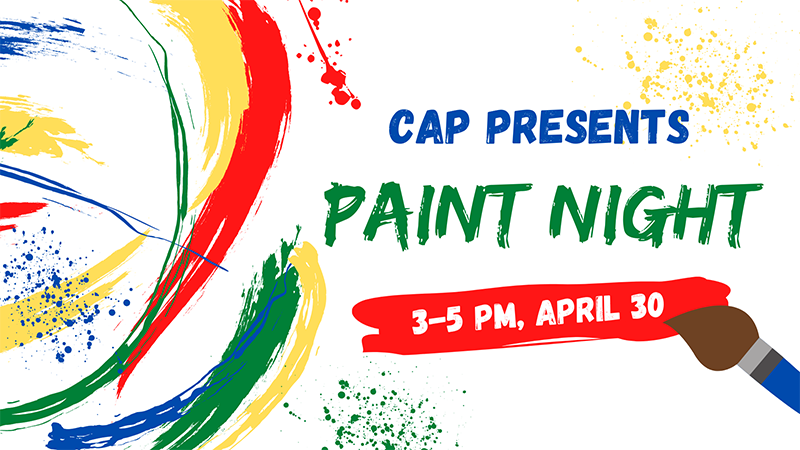 Join the Cultural Ambassadors for Paint Night
Sometimes you just need to relax and take a break, whether it is from a stressful week or from life itself. Make new friends while competing for a goodie bag for your masterpiece. Join us for a fun paint night hosted by CAP from 3 to 5 p.m. on Friday, April 30 in the RSC 266 Pike Room. Paint Night will feature art from Edith Jimenez, an artist from Paraguay. Space is limited, so let us know if you plan to be there by visiting the event on our Facebook page.
UNIVERSITY LIFE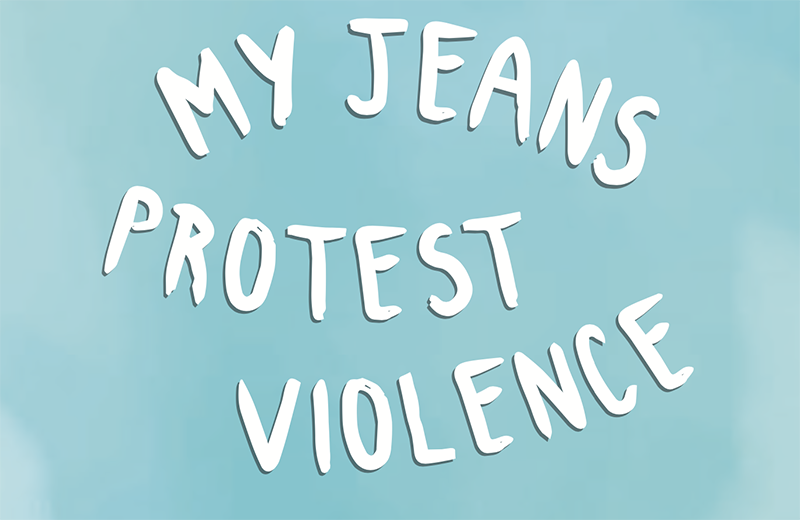 April 28: Wear jeans for a purpose
Join the Prevention Ambassadors on April 28, when millions of people across the world will wear jeans with a purpose, support survivors, and educate themselves and others about all forms of sexual violence. #WSUDenimDay
Visit denimdayinfo.org to learn more.
---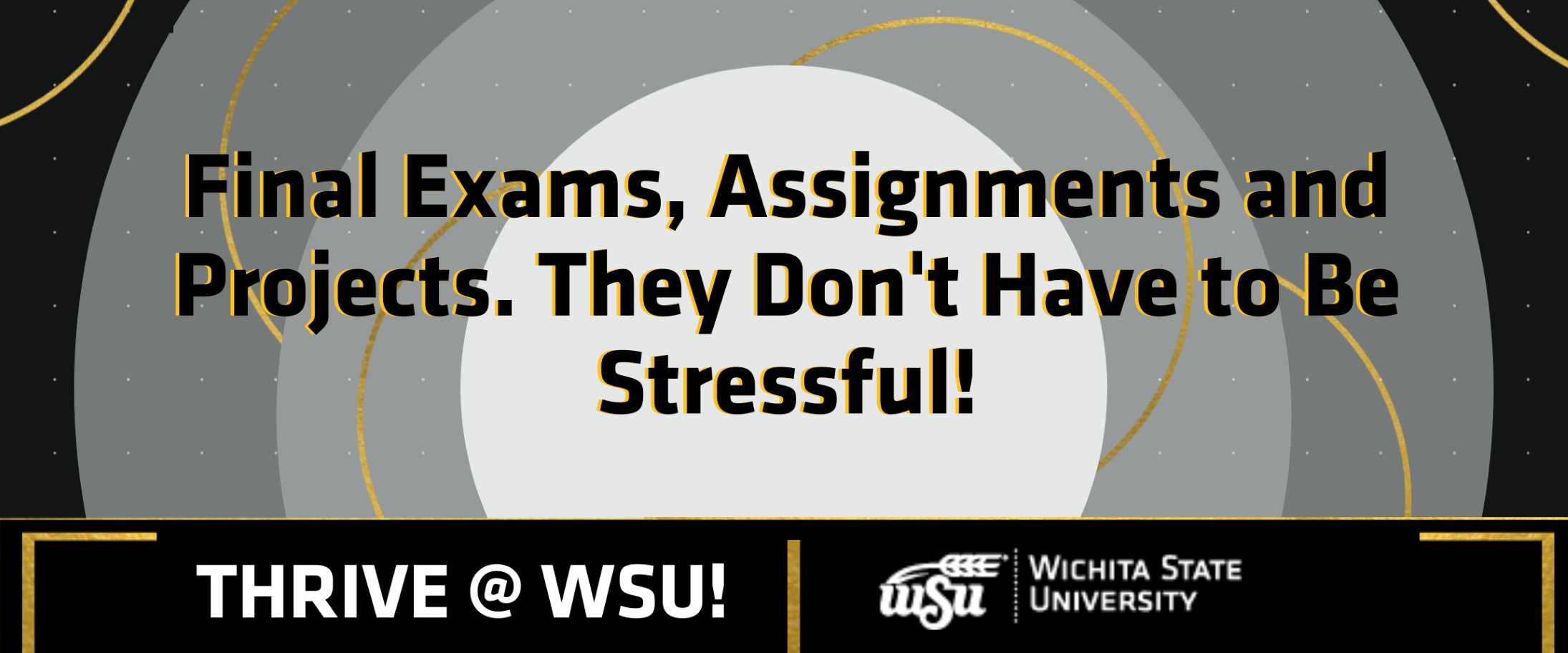 Preparation is key to stress-free finals
If you haven't already, we suggest you start planning for finals in order to avoid the stress that is often associated with the end of the semester. Knowing some simple things early will help you have a stress-free finals experience. Find out when your finals are scheduled. Know what kinds of exams will be given in each class. If you are new to online exams, be sure you know how online testing works and check your tech prior to your exams. Know what supplies you will need and get them ahead of time. You will also need to think about managing your time differently in the next couple of weeks. If possible, consider lowering your hours at work or changing your work schedule to accommodate your need to study. Find more helpful tips on the Student Success website to get prepared.
---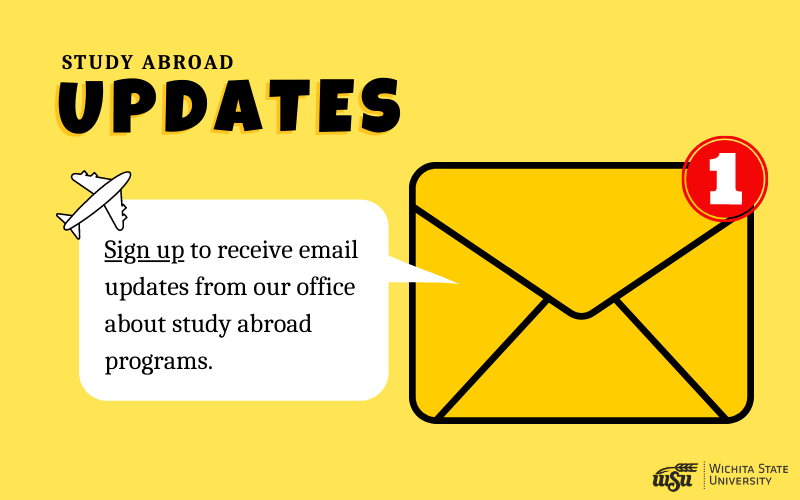 Get updates about study-abroad opportunities
Do you want to stay up to date about study abroad programs, scholarships, and events? Get the latest information when you sign up for updates.
SPECIAL OFFERS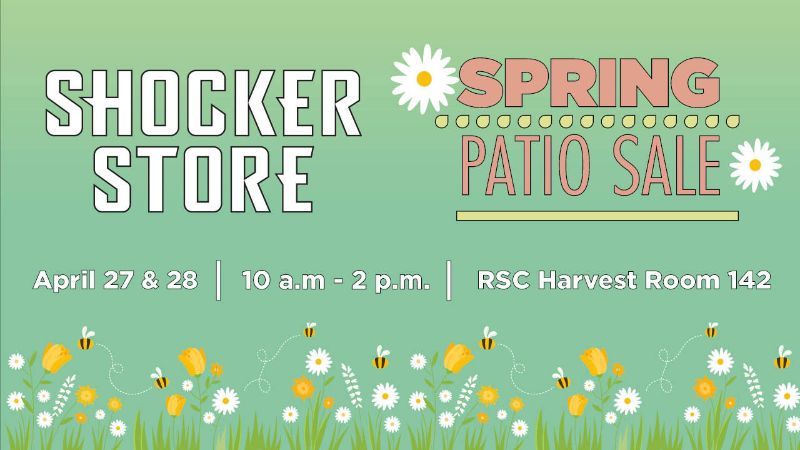 Shop at Shocker Store's spring patio sale
Head to the Shocker Store's annual Spring Patio Sale from 10 a.m. to 2 p.m. Tuesday, April 27 and Wednesday, April 28. You can find some great deals on Shocker gear. Stay up-to-date on the Facebook event page.