FEATURED STORIES
Teaching plans for summer and fall
Enrollment for summer and fall classes opens soon, and we need to provide students with some guidance about what to expect for their classes. Emails for summer courses went out Feb. 17 with links to submit your course plans. Emails for fall courses will go out Feb. 24. Please submit both plans by March 3.
We recognize it's impossible to predict what pandemic conditions will look like in the summer and fall. We anticipate having the same classroom capacities, distancing and masking guidelines as we have had to date. We will not be re-assigning classrooms after the schedule is finalized. Use the open text box to list any circumstances that might cause you to change your course instructional methods throughout the semester.
It is critical that you communicate to your students what to expect, especially on the first day of class. Post this information on your course Bb shell at least a week before classes start so students can be prepared.
If you have any questions or problems, or do not receive an email, please contact Carolyn.Shaw@wichita.edu.
---
Faculty Senate meeting today
The Faculty Senate meeting will be held via Zoom at 3:30 p.m. today (Monday, Feb. 22). The senators have been sent the meeting information. If you are interested in joining the meeting, please email Lee Ann Birdwell for the details.
---
Mental health advocacy – how to get involved
The pandemic has taken a toll on our students, staff and faculty. Students have indicated mental health is a top concern resulting from the change in classroom instruction because of COVID-19. In order to support students both in and out of the classroom, consider becoming a mental health advocate. You can help spread the message of mental health support in several ways.
Go to suspenders4hope.com and complete the Preventing Suicide Training to help give you more tools for supporting our students who may be struggling.
Follow, like and share @suspenders4hope to help the message of hope reach students.
Wear a suspenders shirt as a visual display of your support for mental health and to help decrease mental health stigma. Shirts are available in the Shocker Store. Wear them often, especially on Fridays.
Participate in the #WeSupportU Mental Wellness in the Classroom card project. This project is designed to give you a series of short 5-10 minute exercises you can do with any group of students to promote well-being and connectedness. You may request a set of cards here.
---
Celebrate International Mother Tongue Day through music
Do you enjoy music? The Cultural Ambassador Program invites you to celebrate and appreciate the diversity of language through music for International Mother Tongue Day! We gathered some of our favorite songs in our mother languages to share with you. You can listen by visiting our playlist called "Mother Tongue Day" on Spotify. Don't forget to follow us on Facebook @WSUCulturalAmbassadors to learn more about different cultures represented at Wichita State.
HR, BENEFITS AND TRAINING
Revisions to Remote Work Guidance and Review Process are now available
Notice of Revised Remote Work Guidance and Review Procedures – February 12, 2021
On Jan. 15, 2021, President Rick Muma announced new guidance and review procedures for remote work. After listening to questions and comments received about the guidance and review procedures, revisions have been made. The revised guidance and Employee Remote Work Request Form can be found on the HR web page Remote Work Guidance.
Read more about the revisions
Although remote work raises unique legal and administrative issues and must be reviewed and approved before remote work begins, HR and Legal colleagues have worked diligently to ensure only those remote work situations with the most risk require review/approval beyond the direct supervisor.
The Employee Remote Work Request Form is not required if Regular Remote Work is performed at an Alternate Work Location within the state of Kansas and in the case of an Employee on H1B/VISA, at the location contained on the VISA application. An optional form has been developed for use by leaders if they find it helpful to memorialize discussions with an employee regarding an approved remote work arrangement in which a review beyond the direct supervisor is not required.
The Employee Remote Work Request Form is intended to gather information needed for each of the three above situations so a review may be conducted and little, if any, additional information may be needed from the Employee. For ease of location and use, there is one form but only the sections that are pertinent to the individual request need be completed (i.e. if remote work is not being performed internationally, the international questions do not need to be answered).
All employees who are required to complete the Employee Remote Work Request Form and have not previously submitted the Form should complete and submit this revised Form no later than February 26, 2021. All previously submitted forms are valid and there is no need to complete the revised form.
We appreciate your feedback and patience as we work through the implementation of this Remote Work Guidance and Review process to ensure we have a process that works both in the immediate term as well as into the future. We know remote work will continue to be an important option for some employees to enhance work/life balance, job satisfaction and being an inclusive work environment.
---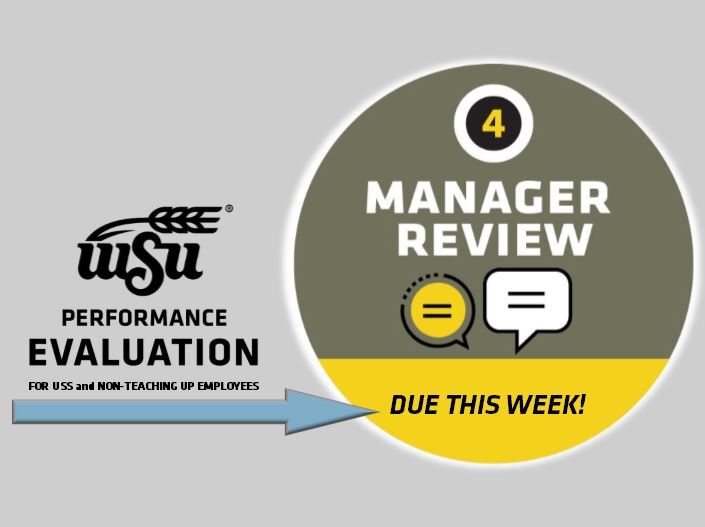 myPerformance manager review due this week
Managers of USS and Non-Teaching UP Employees should submit reviews and ratings for their direct reports for the 2020-2021 annual evaluations in myPerformance. This step is due by 11:59 PM on Sunday, Feb. 28. Managers should log in to myPerformance in myWSU to rate their direct reports and submit comments to justify the ratings.
Note: The Planning step for 2021-2022 annual evaluations in myPerformance will also be available on Feb. 1. This will allow managers to potentially meet with their direct reports for the current end-of-review as well as the next cycle's planning meeting at the same time, if desired.
For more information (including quick reference guides and other assistance) go to www.wichita.edu/myPerformance.
---
It's your password. Protect it.
Your password is your identity and your responsibility. Never share passwords with coworkers, managers or even tech support. In a situation where you need to share password, your IT team can help.
Sharing passwords or user accounts is a violation of the Acceptable Use Policy and impacts many of the data protection obligations.
Have questions or problems with password related sharing? Contact the information security department at Askinfosec@wichita.edu
NEWS
Faculty nominations sought for president's distinguished service award
Do you know a faculty member who is deeply engaged in service? Do you know A faculty member who exemplifies any of the following?
Distinguished service to the university
Distinguished service to the community
Notable outreach efforts and/or forging of connections between WSU and the community.
Long-term commitment to WSU through extensive committee service
Consider nominating them for the Presidential Service Award. Please send your nominations to leeann.birdwell@wichita.edu. Complete a nomination form and attach a CV that includes the nominee's service activities. Previous recipients of this award are not eligible for nomination. The deadline is 5 p.m. Feb. 24.
---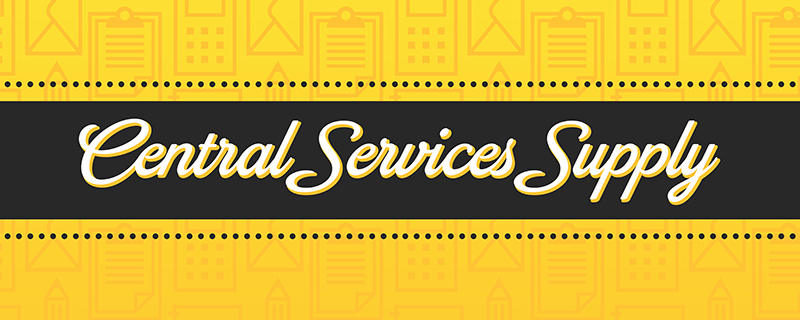 Central Services announces new office supply vendor
Central Services is pleased to announce that we are taking advantage of the Omnia Partners consortium pricing and have partnered with Office Plus of Kansas for office supplies. This site shows all pricing, and you will no longer need to ask for a price quote. The process for placing special orders remains the same, but you now have another option to find what you need. Staples Advantage will still be available if you cannot find what you need on the Office Plus shopping site.
Website: https://www2.ecinteractiveplus.com/1000/Authentication/Login
Username: WSUSupply
Password: WSUSupply
The username and password are universal and can be used by anyone on campus. Orders will still be placed via the Central Services storefront, and any orders inadvertently placed via the Office Plus website will be removed by the vendor.
Please contact Central Services if you have any questions or need assistance.
---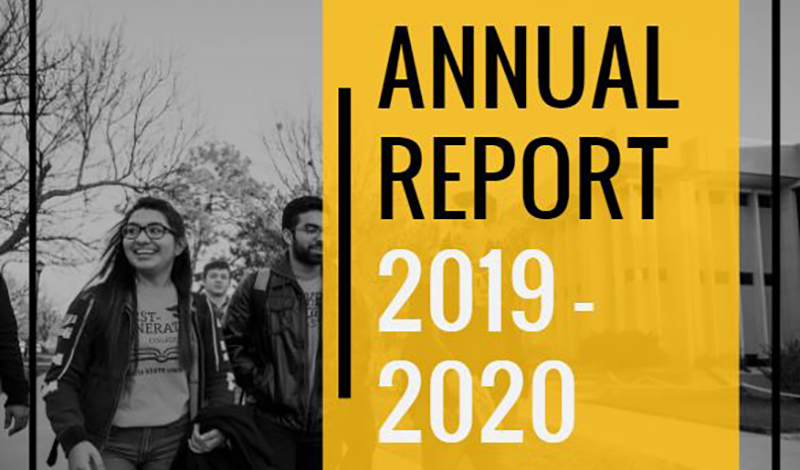 Shocker Career Accelerator annual report
The Shocker Career Accelerator's 2019-2020 Annual Report is here.
Some highlights include:
Students worked in 5,183 different on-campus positions, co-op/internships, and applied learning experiences.
Students earned approximately $27 million in wages.
Students worked with approximately 500 employers.
9,464 resumes were uploaded to Handshake.
69,351 applications were submitted.
Hosted 327 career events.
10,365 event interactions.
806 sharp dressed Shockers.
385 professional photos taken.
EVENTS
Wichita State Baseball unveils 2021 schedule
Wichita State Baseball has released its schedule for the 2021 season. After having the 2020 season come to an abrupt end due to COVID-19, the Shockers are looking forward to being back at Eck Stadium playing in front of some of the best fans in college baseball. Don't miss your chance to catch the Shockers in action this spring!
---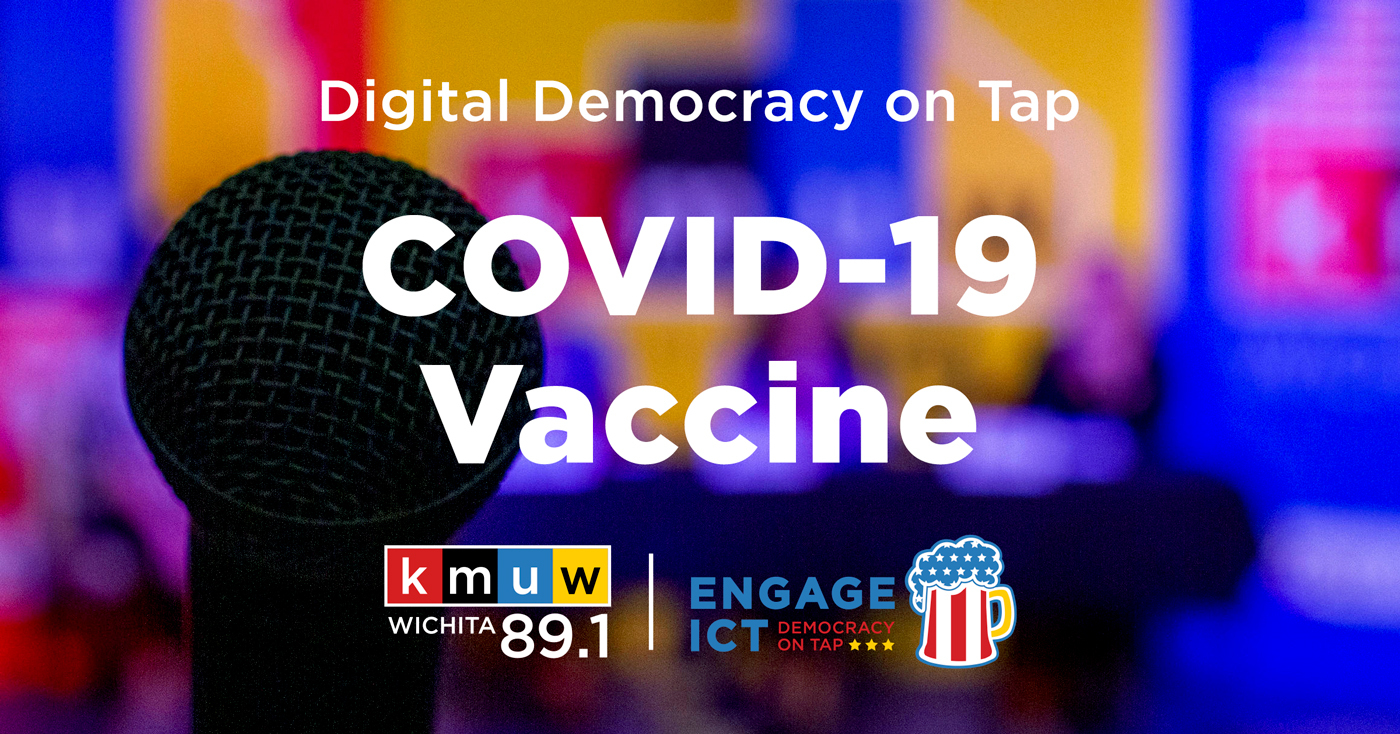 KMUW conversation focuses on COVID-19 vaccine
Join KMUW for its free, monthly community conversation series Democracy on Tap. This month a panel of experts will be discussing the COVID-19 vaccine. We'll hear from panelists about Kansas' rollout plan and who should get the vaccine. Plus, we'll answer your questions about all things vaccine related. The conversation will be streamed live on KMUW's Facebook page and on EngageICT.org at 5 p.m. on Tuesday, Feb. 23.
---
From ants to diversity: Harvard professor presents at WSU
Dr. Corrie Moreau from Harvard University will speak on "Piecing Together the Puzzle to Understand the Evolution of the Ants: Macroevolution to Microbiomes" on from 4 to 5 p.m. Feb. 22.
In addition to her research seminar, Moreau will provide a special discussion titled "Diversity, Equity, and Inclusion: An Everyone Issue" from 11:30 a.m. to 1 p.m. Contact Mary.Jameson@wichita.edu for more information.
More information on the discussion
---
Shocker Baseball hosts Oklahoma State
Wichita State baseball has added a pair of home games against the Oklahoma State Cowboys — the first of which was Sunday, Feb. 21, and the next will be played at 2 p.m. today. Stadium gates will open at 1 p.m. each day. All Wichita State baseball season ticket holders may use their season tickets from games one and two of the canceled Northern Colorado contests to receive admission to the Oklahoma State games. There will be single-game tickets available for purchase for both games. Capacity at Eck Stadium is limited due to COVID-19 guidelines. To purchase tickets, please visit GoShockers.com/tickets or call (316) 978-FANS. A limited amount of free student tickets will be available.
RESEARCH
Volunteers needed for a research study
A research study is being conducted to determine the validity of the SWAY app modules in assessing balance, reaction time and cognitive function measures in relation to cognitive overload, mental fatigue and sleep deprivation. If you are interested in participating in this study, please email rjbritton@shockers.wichita.edu or call 620-203-1164.
Read more details about the study and how you can take part
Validity of SWAY App in Detection of Cognitive Overload, Mental Fatigue and Sleep Deprivation: Telemedicine Approach

Purpose of the study: To determine validity of the SWAY app modules in assessing balance, reaction time, and cognitive function measures in relation to cognitive overload, mental fatigue, and sleep deprivation.

Procedures: Participants balance, reaction time, and cognitive function will be tested in rested and sleep deprived state using the SWAY application on a SMART device. Daily consensus journal will also be completed. Instruction will be received through a virtual zoom session.

Time: Participation will include sixteen (16) consecutive days. The SWAY assessment will be performed two (2) times a day and consensus journal once (1) daily. Each assessment will take approximately 10-15 minutes. If randomly assigned to the Fatigue Group, participation will also include two (2), 36-hour sessions of no sleep and seven (7) hourly SWAY assessment check-ins during each no-sleep session.

Inclusion/Exclusion Criteria:
Participants must be age 18 or older
No known muscular disorders
No known neurological disorders
No known orthopedic disorder
No uncorrected vision
No known sleep disorders

Location: Telemedicine approach: virtual Zoom appointments using computer technology and a SMART device.

Contact: If you are interested in participating in this study please contact RJ Britton at: rjbritton@shockers.wichita.edu or 620-203-1164.

Questions/concerns: Should you have any questions or concerns, email Dr. Heidi Bell at: heidi.bell@wichita.edu or 316-393-3339.
---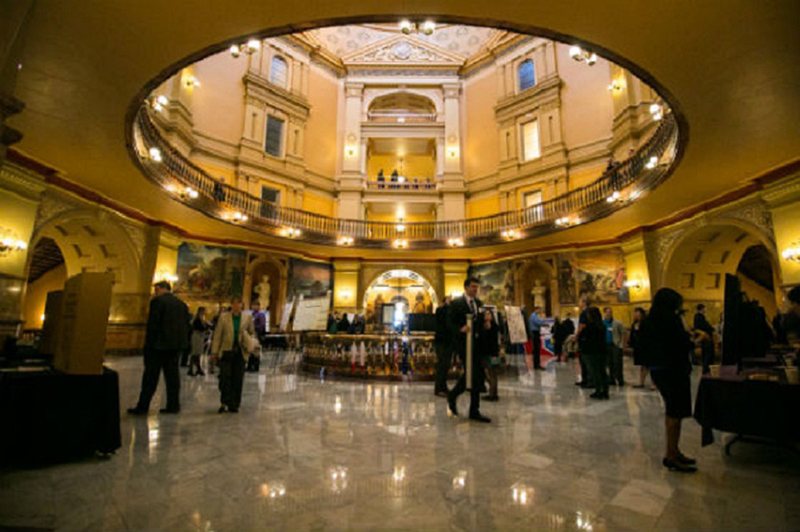 Capitol Graduate Research Summit is open for viewing
The 18th annual Capitol Graduate Research Summit (CGRS) is open for viewing. CGRS is a research competition and showcase for Kansas Board of Regents universities to raise awareness of graduate research that impacts the state of Kansas. We usually showcase this research at the Capitol in Topeka, but this year's competition is virtual — providing everyone, along with the the Kansas Legislature, the opportunity to see this great work. Online viewing is open. Take advantage of this opportunity to see the excellent research being showcased by Wichita State's graduate students virtually. Visit www.wichita.edu/cgrs for information about CGRS and to view presentations. Our appreciation goes to the faculty research mentors who have made all of this work possible.
STUDENT NEWS
SGA elections: Encourage students to take part
Do you have a student in mind to run for a position in the Student Government Association? Encourage them to make their mark on history. The Association Election Commission is excited to formally announce the kick-off of the 2021 General Election season.
It is now finally time for your students to take action and declare themselves a candidate in the 2021 elections. This is a great opportunity to give back to campus and allow their leadership skills to shine.
Students can visit www.wichita.edu/sgaelections to declare as a candidate. They can send questions to sga.elections@wichita.edu.
---
Nominate students for Student Ambassador Society
Nominations for membership to join the Student Ambassador Society are officially open. If you would like to nominate a student for SAS, visit
wichita.edu/SASapply
. Student Ambassador Society is supported by the Office of Admissions and provides support and outreach to prospective Wichita State students with Shocker spirit. SAS is a community of selfless, hardworking and involved students from all areas of our campus who seek to give back to our university through service to others.
The SAS nomination application is an anonymous form that allows the Wichita State community to recognize remarkable students at Wichita State who hope to give back to the university. Nominations are open from today (Feb. 2) through March 1. Questions? Email
sasvp@wichita.edu
.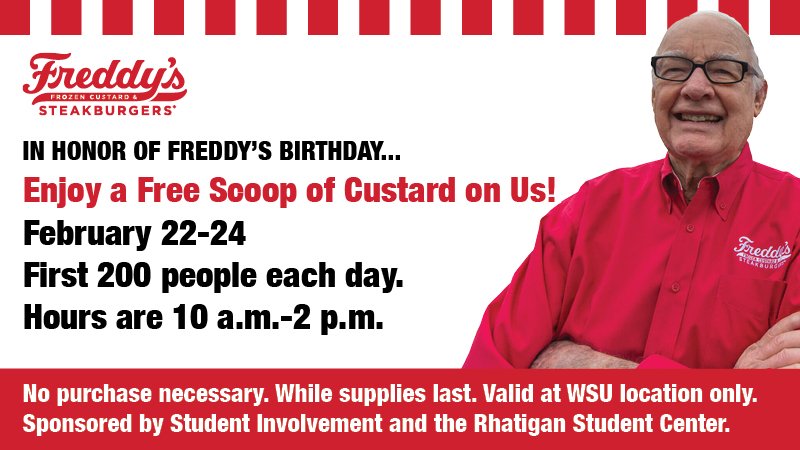 Enjoy a free scoop of custard
In honor of Freddy's birthday, enjoy a free scoop of custard, courtesy of Student Involvement and the Rhatigan Student Center. Offer valid for the first 200 people each day from Feb. 22-24. Hours are 10 a.m. to 2 p.m. No purchase necessary. While supplies last. Valid at the Wichita State location only.
---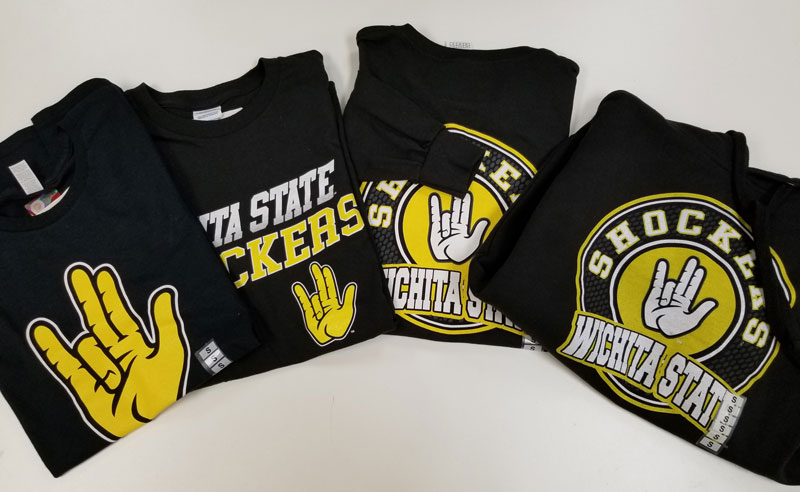 25% off select sportswear at the Shocker Store
This week at the Shocker Store, take 25% off the Root sportswear brand! Sale is valid in the RSC store and online at shockerstore.com.