FEATURED STORIES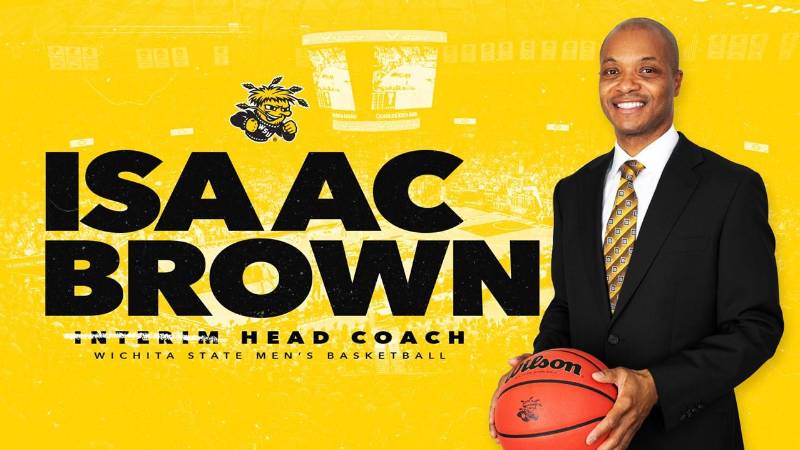 Brown promoted to full-time head coach
Wichita State director of athletics Darron Boatright announced Friday that he will remove the interim tag from men's basketball coach Isaac Brown.
Brown has verbally agreed to a five-year deal and will be formally introduced on Monday as the 26th full-time coach in program history.

Brown will also become the first Black men's basketball coach ever to lead a Division I program
in the state of Kansas.

Read more about Head Coach Isaac Brown
---
Join Dr. Muma for donuts on March 5
Employee Appreciation Day is right around the corner on Friday, March 5. To start the day off, President Muma and other university leaders will be at the Rhatigan Student Center with donuts between 8 and 9 a.m. for those who are able to swing by.
Employee appreciation tips for supervisors
We know leaders are probably looking for ways to show appreciation for faculty and staff on tighter budgets and modified for the remote work environment. While the usual catered lunch or in-person recognitions may not be in the plan (or in the budget) this year, it's still important for leaders to show their employees that they are valued both as people and for the work they contribute to the University.
Below are a few no-cost, creative ways to celebrate Employee Appreciation Day modified for your remote workforce.
Host a virtual Employee Appreciation Day for your remote team. Choose a fun theme, ask everyone to dress up (optional) and find virtual backgrounds that go along with your theme. You can ask your leader (next up the chain) to share an encouraging message or to facilitate a fun game for employees.
Write a handwritten note to your staff and personalize it with recognizing something they have done that has made a positive impact on your team.
Have a drawing to give away prizes during a Zoom call. Prizes can be university swag already on hand, and you can use

wheelofnames.com

to pick winners.
Create a Kudo Board to celebrate employees with an online group card filled with messages, GIFs, photos and videos.
Share praise received from customers. This shows employees that their work matters and may give them a needed boost.
Create a Hall of Fame where leaders can recognize someone in their division or college who made an extraordinary contribution to the institution's ability to manage during the pandemic.
---
Kansas Severe Weather Awareness Week
In conjunction with the National Weather Service, the State of Kansas will participate in https://www.weather.gov/top/swawSevere Weather Awareness Week, March 1-5.
At 10 a.m. on Tuesday, March 2, Sedgwick County Emergency Management Services will sound the severe weather sirens throughout the county. In past years, Wichita State has used this annual drill to have all employees, students and visitors report to their severe weather shelter area. However, this year, due to social distancing restrictions, we will not report to the designated severe weather shelter areas.
Instead, use this opportunity to review where your severe weather shelter area is in your building.
If you have any questions, please contact Mike Strickland, Director, Environmental, Health & Safety department. He can be reached at mike.strickland@wichita.edu or 978-3347.
---
Office hours are student hours
Successful students ask for help. Often, our students don't ask because they don't understand how, or know where to go. One way to help them feel more empowered to ask for help is to reconsider the term "office hours." As faculty and staff, we know those hours are when instructors set aside time to help students. But to students, many of whom are first-generation, they may be interpreted as hours that instructors are working and should not be bothered. You can help students feel more confident in communicating with their instructors by explaining that "office" hours really mean "student" hours.
---
SPTE request forms due March 3
Student Perception of Teaching Effectiveness (SPTE) Request forms are due to the Social Science Research Lab by Wednesday, March 3. If you do not have a form, you can download a fillable pdf request form at https://wichita.edu/SPTE_forms. You can also get additional SPTE information at www.wichita.edu/sslab. You can email the form to sandra.ranney@wichita.edu; mail the form to campus box 107, or hand carry the form to 429 Lindquist Hall.
---
Sherr Scholarship awarded to 7 CHP students
The College of Health Professions is proud to announce the winners of the third annual Sam and Rosemary Sherr Dean's Excellence Award (Scholarship/Fellowship) for academic year 2021-22. Each year all departments granting academic degrees in the CHP nominate one student for the Sherr Scholarship Award. The scholarship winner will be awarded $10,000 and all other student nominees will also receive $4,000.
The College of Health Professions congratulates the following recipients:
Dean's Excellence $10,000 award winner
Rola Khaleel, from Zarqa, Jordan, is an Audiology student in the Department of Communication Sciences and Disorders.
Additional Sherr Scholarship winners
Six additional students will be awarded $4,000 from the Sherr Scholarship Program for the upcoming 2021-22 academic year.
Sarah Buie, from Derby, Kansas, is a triple-major with Health Science, Psychology and Health Science Management.
Angel Holguin, from Lyons, Kansas, is a student in the Department of Medical Laboratory Sciences.
Dane Mitchell, from Perry, Kansas, is a graduate student in the Physician Assistant program.
Rosangela Pino-Alonso, from Sancti Spiritus, Cuba and Miami, Florida, is a student in the Department of Dental Hygiene.
Brooke Schutte, from Turner, Michigan, is a graduate student in the Physical Therapy program.
Lydia Schwertzfeger, from Wichita, Kansas, is a graduate student in the School of Nursing.
---
Understanding course codes in a nutshell
With so many changes in instruction this past year, we thought it might be helpful to provide some reminders:
Fully in-person courses (TCI): Same time, same place, on campus [not currently being offered]
Hybrid courses (HYB): Combination of in-person and online content (in real time or on demand)
Hybrid Online (HYO): Online instruction with no assigned meeting day or time, but with in-person tests
Online Synchronous courses (IIS): Offered in real time at an assigned day and time
Online Asynchronous courses (IIE): Content is 'on demand' with no assigned meeting day or time
HR, BENEFITS AND TRAINING
State employee health plan updates in response to COVID-19
Governor Laura Kelly announced four provisions on March 13, 2020 that have been extended until further notice for employees and dependents enrolled in medical insurance through the State Employee Health Plan.
SEHP will cover medically necessary diagnostic tests that are consistent with CDC guidance related to the COVID-19 at no cost share to member, where it is not covered as part of the Public Health Service response.
SEHP will allow early refills on 30 or 90-day prescription medications and/or allow members to use their mail-order benefit.
Given the nature of the COVID-19 outbreak, seeking in-person medical care has the potential to further spread the virus. SEHP partners with Aetna and Blue Cross Blue Shield of Kansas to provide Telehealth services with a virtual doctor's office. There is 24/7/365 access to this service. The member cost share will be waived for any Telehealth service. In addition to telehealth services provided by Teledoc or Amwell, the member cost share will also be waived for services from your in-network physician that are billed as telehealth services.
For plan participants that reside in the Topeka area, the HealthQuest Health Center available to members enrolled in the health plan, is located at 901 S. Kansas Ave., Topeka

Phone screening is recommended before going to the center: 785-783-4080
If a patient walks into the clinic, they will have them put on a mask and clean their hands with hand sanitizer. The health center staff will evaluate the patient's symptoms and recommend they isolate if the initial findings and/or symptoms present are a positive indicator for the virus.
COVID-19 testing is available at the HealthQuest Health Center for State of Kansas employees. Curbside testing will be available at the center by appointment only.
For all up to date information regarding COVID-19 and the Wichita State campus please visit www.wichita.edu/covid19.
NEWS

Sunflower Espresso, Dr. Tawook food trucks on campus March 4
Two food trucks to be at the Food Truck Plaza on Thursday, March 4.
Sunflower Espresso with be serving tasty coffees and other beverages between 8 a.m. to noon.
Dr. Tawook is a new authentic Mediterranean food truck that uses locally grown ingredients. Dr. Tawook will be here between 11 a.m. to 1:30 p.m.
---
Faculty Senate: Call for nominations
Nominations are now being accepted for two university-wide at-large seats for the Faculty Senate to serve a two-year term starting in the 2021-22 academic year. University-wide at-large Senators represent the faculty of the entire university, not just a specific college or division. The Senate meets twice a month during the regular academic year from 3:30 to 5 p.m. on the second and fourth Mondays of the month.
All faculty are eligible for nominations including current senators whose term expires this year. Please submit your nominations to Lee Ann Birdwell at leeann.birdwell@wichita.edu before midnight on Wednesday, March 10. Self-nominations are strongly encouraged. Your participation is essential to a fair and inclusive process of shared governance.
---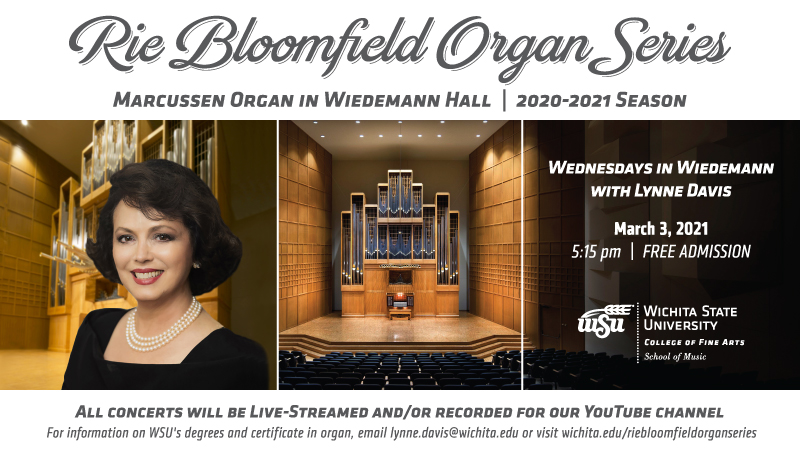 David Perez, to perform at Wednesdays in Wiedemann
Please join us for a special Wednesdays in Wiedemann in Wiedemann Hall on the Marcussen organ as we welcome master's degree candidate in organ performance, David Perez, in a recital of music by Franz Liszt and Maurice Durufle. It's the name game with each of the two pieces written on the names of well-known composers: B-A-C-H and A-L-A-I-N. The half-hour recital begins at 5:15 p.m. March 3, and admission is free. You can watch it on the live-stream through the WSU School of Music FaceBook page, or attend in person (social distancing and masks are required). This is part of the Rie Bloomfield Organ Series.
APPLIED LEARNING
Nominate your student employee for SGA's 2021 Student Employee of the Year Award
The Wichita State University Student Employee of the Year Award is sponsored by the Student Government Association and recognizes the contributions of student employees to the university community and honors their efforts. University employees may nominate a Wichita State student employee who is enrolled in a Wichita State University degree program at least half time and has completed or expects to complete, at least three months full time or six months part time employment during this academic year, July 1, 2020 to June 30, 2021. Hourly, work-study and salaried student employees are eligible. To nominate a student employee (undergraduate or graduate, non-teaching), please visit wichita.edu/SGAawards.
STUDENT NEWS
Encourage students to apply for TRIO DSS
TRIO Disability Support Services assists students with disabilities in obtaining academic success through free services such as academic advising, tutoring, study skill development, financial literacy, and more. Students benefit from any additional help available during this time, so encourage students to apply to TRIO DSS. Online and in-person services are being provided.
Encourage students who might be in need of TRIO DSS assistance to apply at www.wichita.edu/dss or in person in Grace Wilkie Annex, room 158, between 8 a.m. and 5 p.m. Monday through Friday.
---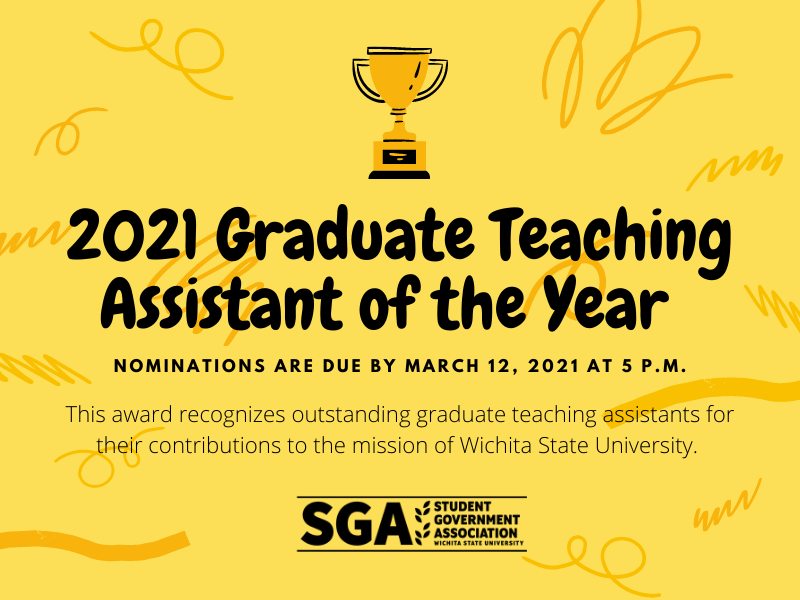 Nominate your GTA for the 2021 SGA Graduate Teaching Award of the Year
Started in Spring 2019, the Wichita State University Student Government Association awards the SGA Graduate Teaching Assistant of the Year. The purpose of this award is to acknowledge and recognize outstanding graduate teaching assistants for their contributions to the mission of Wichita State University.
If you know any outstanding GTAs, nominate them today! Nominations for the 2021 SGA Graduate Teaching Assistant of the Year are now open and will close at 5 p.m. March 12, 2021. Click here to nominate your academic advisor today.
---

SGA scholarships now open
The Student Government Association is excited to open its annual scholarships for the 2021-2022 academic year. Each year SGA awards about $80,000 to students on campus through four scholarships:
James J. Rhatigan Leadership Scholarship
International Student Scholarship
SGA Endowed Scholarship
SGA Summer Scholarship
Please let students know to apply at wichita.edu/sgascholarships. The deadline is Friday, March 5.
---

TRIO Student Support Services is now accepting applications
Student Support Services is funded by the U.S. Department of Education to provide free academic services to students from first-generation and limited-income backgrounds, as well as students with disabilities.
The free services include: individualized tutoring, academic advising, textbook loans, assistance completing financial aid application, and scholarships exclusively for student participants.
Please refer currently enrolled students to our program, located on the third floor of Grace Wilkie Hall in Suite 309. For more information, visit Student Support Services or call 978-3715.
UNIVERSITY LIFE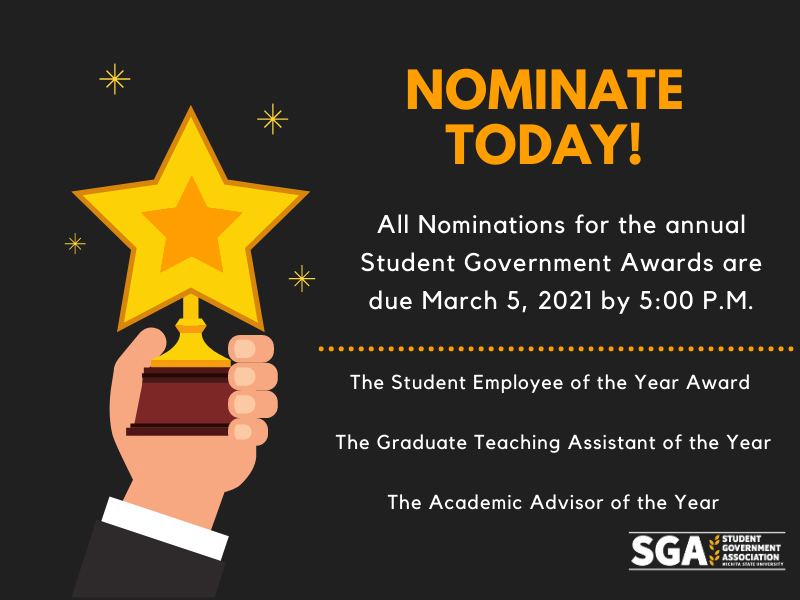 Deadline for SGA awards approaching
All three SGA Awards (The Wichita State University Student Employee of the Year Award, The Graduate Teaching Assistant of the Year, and the Academic Advisor of the Year) awards are still accepting nominations until 5 p.m. Friday, March 5. To learn more and submit a nomination, please visit wichita.edu/SGAawards. Questions? Please contact Gabriel Fonseca via email at gabriel.fonseca@wichita.edu
SPECIAL OFFERS
Chartwells Catering cookie special: Shamrocks
---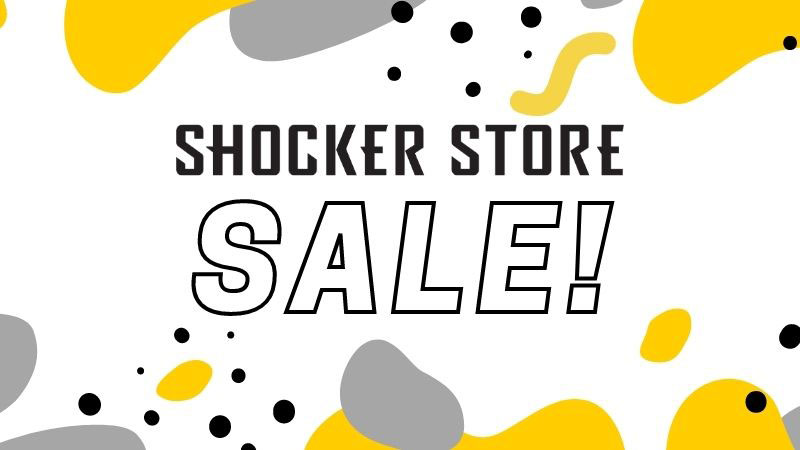 Sale on basketballs and volleyballs this week
This week at the Shocker Store, take 20% basketballs and volleyballs! Sale is in both the RSC and Braeburn Square stores and online at shockerstore.com.