FEATURED STORIES
Join Dr. Muma for donuts on March 5
Employee Appreciation Day is right around the corner on Friday, March 5. To start the day off, President Muma and other university leaders will be at the Rhatigan Student Center with donuts between 8 and 9 a.m. for those who are able to swing by.
Employee appreciation tips for supervisors
We know leaders are probably looking for ways to show appreciation for faculty and staff on tighter budgets and modified for the remote work environment. While the usual catered lunch or in-person recognitions may not be in the plan (or in the budget) this year, it's still important for leaders to show their employees that they are valued both as people and for the work they contribute to the University.
Below are a few no-cost, creative ways to celebrate Employee Appreciation Day modified for your remote workforce.
Host a virtual Employee Appreciation Day for your remote team. Choose a fun theme, ask everyone to dress up (optional) and find virtual backgrounds that go along with your theme. You can ask your leader (next up the chain) to share an encouraging message or to facilitate a fun game for employees.
Write a handwritten note to your staff and personalize it with recognizing something they have done that has made a positive impact on your team.
Have a drawing to give away prizes during a Zoom call. Prizes can be university swag already on hand, and you can use

wheelofnames.com

to pick winners.
Create a Kudo Board to celebrate employees with an online group card filled with messages, GIFs, photos and videos.
Share praise received from customers. This shows employees that their work matters and may give them a needed boost.
Create a Hall of Fame where leaders can recognize someone in their division or college who made an extraordinary contribution to the institution's ability to manage during the pandemic.
---
SEM Update: Goal 5
Goal 5: Increase non-degree for credit enrollment
WSU offers a variety of courses for non-degree seeking students and professionals in the community. These include badges, market-based tuition courses, and lifelong learning classes. WSU welcomes people from high school through retirement who enroll to gain new knowledge and skills. These short courses serve to advance the university's mission on several levels. Some of these courses include offering dual credit for high school students taking concurrent enrollment classes. Other courses are designed at the request of industry to serve specific workforce needs, and still others are ongoing education courses that enrich the lives of anyone who wants to engage intellectually. Those who complete the courses gain new skills, get to experience a small slice of what WSU has to offer, and may choose to seek further educational opportunities at the university. The decline in total non-degree enrollment this year is directly linked to the delayed start of the school year for USD 259 and surrounding districts. High school students taking dual credit courses did not get enrolled prior to the 20th day census count at WSU.
Read more for tips and shout outs
Recruitment and Retention Tips:
Strong relations with our alumni provide many benefits to our current students and programs. Invite alumni to campus to provide advice to current majors on graduate school opportunities, job preparation, career tips, etc.
Highlight alumni successes (on department webpage, in newsletters, in university communications) – this raises the profile of the program.
Invite alumni with capacity to support practicum students or employ students as interns by posting positions in Handshake.
SEM­ Shout Outs:
To John Hammer, IDA, for transitioning the digital credential system from Credly to Acclaim and creating the badge course art symbols for each course.
To Mary Morris, IDA, for assisting badge instructors and students with issues regarding Blackboard.
To Robyn Bongartz, Financial Operations, for assisting with the scholarship processes for Badges and Lifelong Learning.
To Amber Anderson and Crystal Dilbeck, Online learning/MRC, for working on ePafs and payments for badge instructors.
To John Calabro, Online Learning, for helping with the admissions process for students enrolling in graduate badges.
To Trisha Wenrich, School of Social Work, for helping with the behavioral badges.
---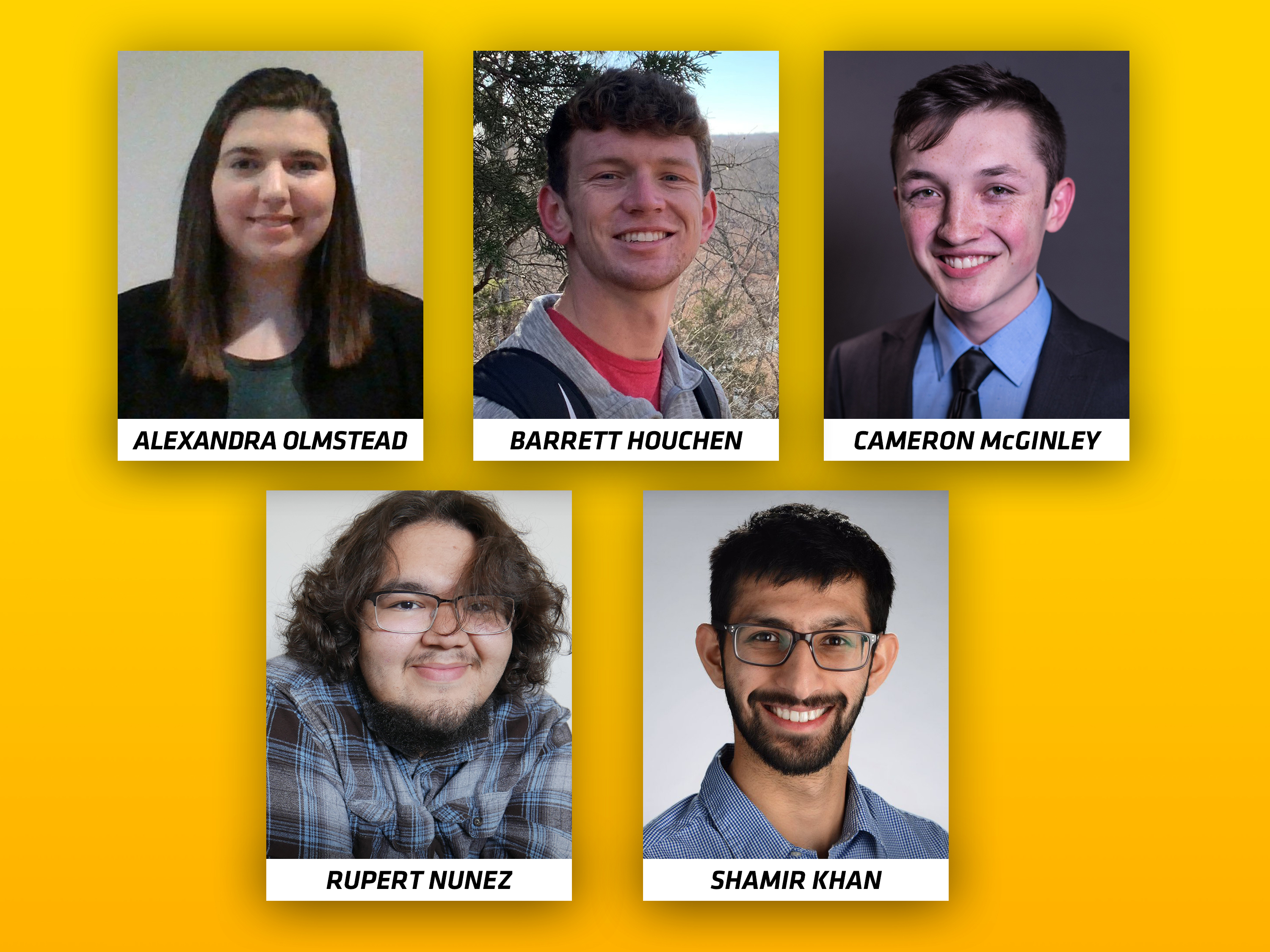 Five Shockers featured at Kansas Undergraduate Research Days
Five Wichita State students' projects are being highlighted as a part of the Kansas Undergraduate Research Day at the Kansas State Capitol March 2-4.
"We know that students engaged in faculty-mentored research and creative activity are better prepared for professional success. We are grateful for the opportunity to showcase the high quality of undergraduate work across Kansas to state legislators and other guests visiting Undergraduate Research Day at the Capitol," said Dr. Kimberly Engber, dean of the Dorothy and Bill Cohen Honors College, who is traveling with the students.
Students, faculty, Kansas Board of Regents members, state lawmakers and members of the public are invited to visit http://ltblogs.fhsu.edu/urd2021/ to view the video presentations, comment and post questions for the approximately 40 student presenters from across the state on these dates.
Learn more about students' research projects
---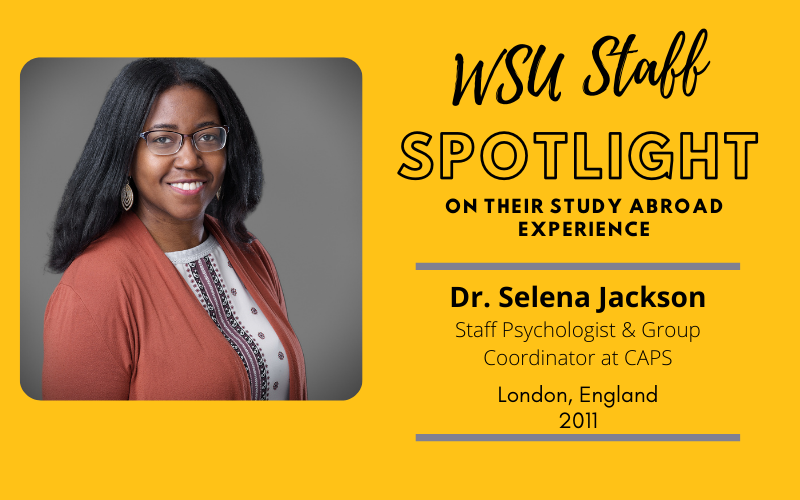 Study-abroad spotlight: Dr. Selena Jackson
Learn more from Wichita State faculty and staff as they share about their study abroad experiences in college. Faculty and staff will be featured each week through the month of March. This week, read about Dr. Selena Jackson's study abroad experience.
HR, BENEFITS AND TRAINING
CliftonStrengths Training for faculty, staff and student employees
Join us for a free professional development opportunity over CliftonStrengths.
As an employee of Wichita State, you can take the CliftonStrengths inventory and attend a module that explores your unique strengths and discover how you can utilize them daily. We are currently offering two virtual sessions on March 15th and April 19th. Sign up is through MyTraining and is open!
For any questions and services for your students, please contact Kennedy Rogers at kennedy.rogers@wichita.edu.
---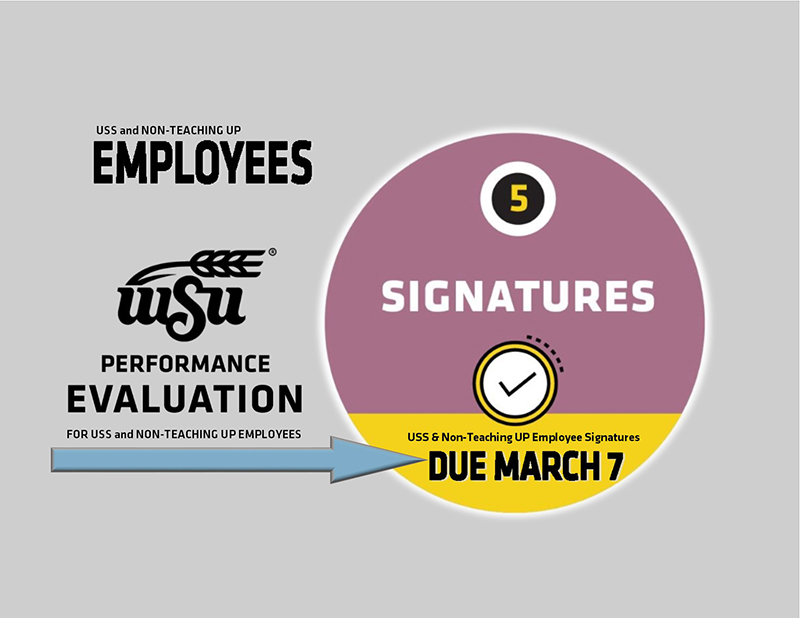 USS and Non-Teaching UP Employees: Signatures are Due This Week
Employee Signatures for 2020-2021 myPerformance Evaluations are due this week! USS and non-teaching UP Employees should log in to myPerformance in myWSU to submit electronic signatures by 11:59 PM on March 7.
Your evaluation will be available for the employee signature once your manager has submitted your evaluation with ratings.
For more information (including quick reference guides and other assistance) go to www.wichita.edu/myPerformance.
---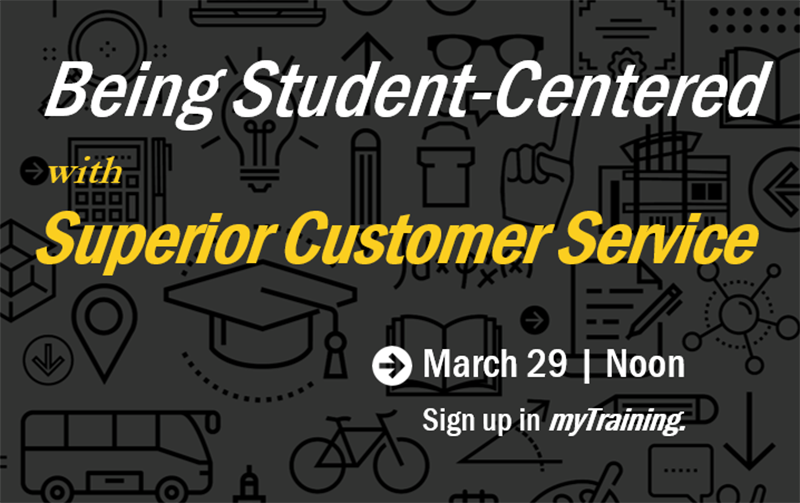 Join us for Lunch and Learn on March 29
What does it mean to be student-centered and how does that relate to customer service? Join us for this panel of Shocker experts who will share their insights on how to keep students at the center of our work and how to model superior customer service. Sign up to attend in myWSU under myTraining.
NEWS

Sunflower Espresso, Dr. Tawook food trucks on campus March 4
Two food trucks to be at the Food Truck Plaza on Thursday, March 4.
Sunflower Espresso with be serving tasty coffees and other beverages between 8 a.m. to noon.
Dr. Tawook is a new authentic Mediterranean food truck that uses locally grown ingredients. Dr. Tawook will be here between 11 a.m.-1:30 p.m.
---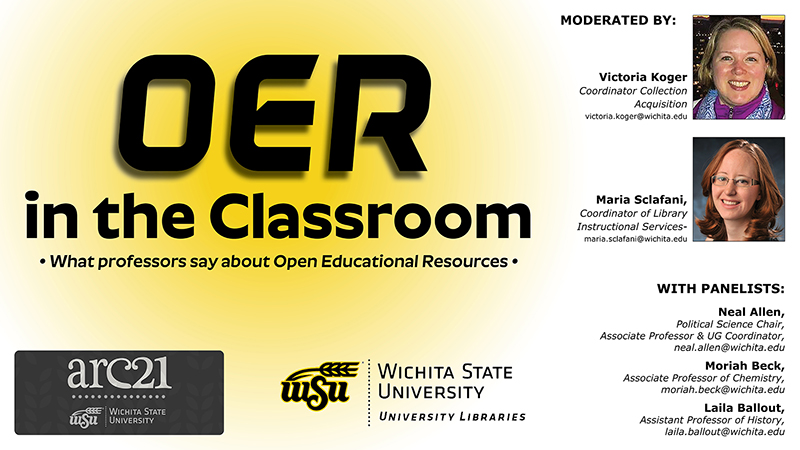 Revisit recorded OER panel during #OpenEducationWeek
As part of #OpenEducationWeek, University Libraries is inviting all to revisit the "OER In the Classroom" panel from this January's ARC21. To view the full recorded panel — featuring several Wichita State faculty and their input on the use of Open Educational Resources — visit bit.ly/37Zvi3I and enter the passcode: +py6VVRt.
---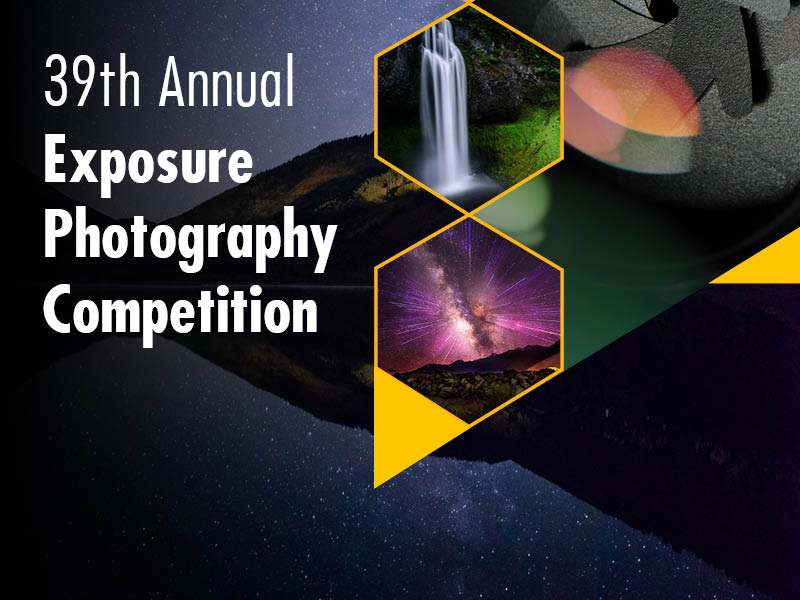 Applications open for 39th annual Exposure Photography Competition
Exposure celebrates the talents of student photographers from every corner of Wichita State University. Any degree-seeking student is eligible to apply. Students can submit up to six works in three divisions: analogue, digital, and photo manipulation. Professional artists, critics, and curators from Wichita and the surrounding community will be selecting the works for the exhibit as well serving as jury for seven awards with cash prizes including Best of Show, as well as first and second place in each category.
More information on the selection process and access to the application can be found at www.wichita.edu/cadmangallery
The deadline for submissions is midnight on Friday, March 12.
---
2021 LEAD Conference call for proposals
Student Involvement in partnership with the Student Government Association are seeking presentation proposals for our 2021 LEAD Conference taking place on Friday, May 28, in the Rhatigan Student Center. Virtual options available pending university and CDC guidelines.
This year, we are offering four different conference tracks featuring various speakers and topics.
Read more for conference tracks with some general ideas.
Please feel free to submit any of those suggestions or include your own.
Civic, Campus, & Community Leadership (Activism)
Global Leadership
Service-Learning
Student Organization Leadership
Mentorship & Coaching
Recruiting & Engagement
Diversity & Inclusion
Inclusive Leadership
Women & Leadership
Leadership & Self-Discovery
Leading Your Wellness
Leadership in the Workforce
Adaptive Leadership
Leading through a Pandemic & Moving Forward
We will be selecting up to four presentations per track.
Please submit your presentation proposal no later than April 1.
For more information or questions, please reach out to Kennedy Rogers at kennedy.rogers@wichita.edu or Gabriel Fonseca at gabriel.fonseca@wichita.edu.
EVENTS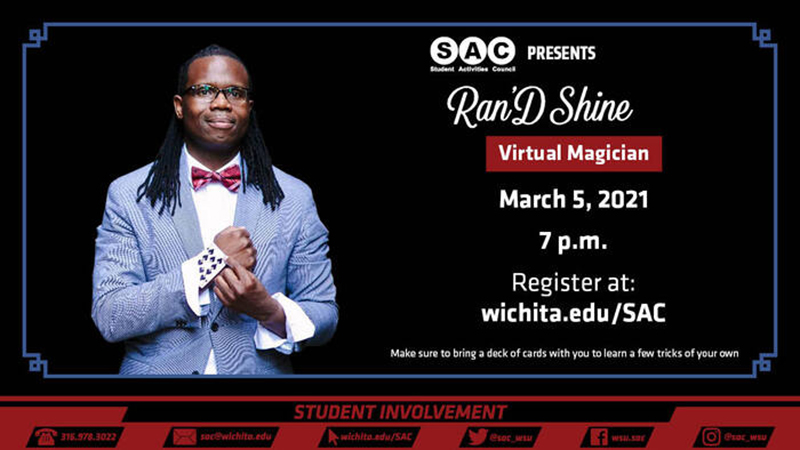 SAC event features virtual magician
Ran'D Shine is the face of the new millennium magician. He has wowed audiences with his brilliant presentation at the 44th Presidential Inauguration in Washington, D.C., as well as Capetown, South Africa. He has captured the imaginations of audiences from Hollywood to New York City for more than a decade. He has already read your mind and knows that you want to know more. Come see for yourself — and even learn a few tricks yourself. Make sure to have a deck of cards with you for this virtual event.
Register to attend at wichita.edu/SAC. For more information about SAC sponsored events, visit wichita.edu/SAC or contact us at SAC@wichita.edu.
---
Andy Sykes leads lifting clinic
The next lifting clinic is from noon to 1 p.m. Friday, March 5 on Campus Recreation's Facebook page. This week's clinic is about warm-ups to the Olympic lifts. Join Andy Sykes this Friday on Facebook Live.
---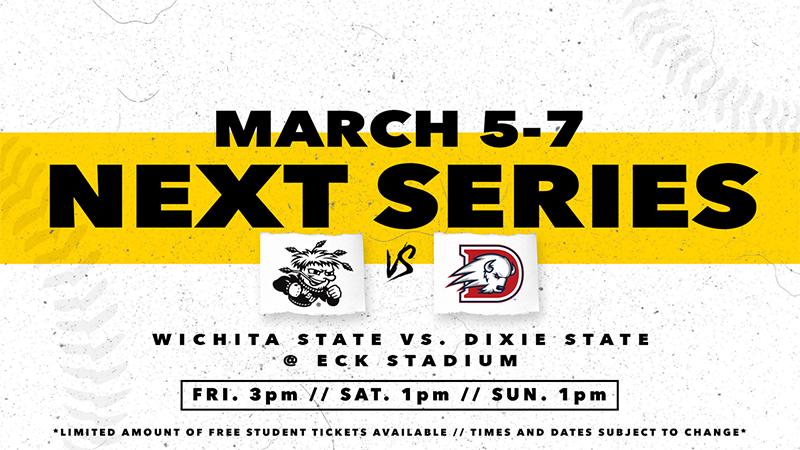 Shocker Baseball hosts Dixie State
Shocker Baseball hosts a three-game series versus Dixie State this weekend, March 5-7. First pitch times are set for 3 p.m., 1 p.m., and 1 p.m. respectively. A limited amount of single game and free student tickets are available, so come out and enjoy a weekend of Shocker Baseball. Dates and times are subject to change.
---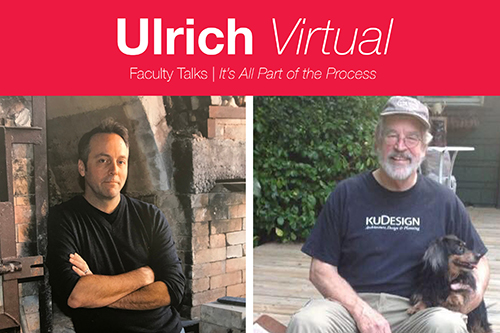 Ceramic media scholars featured in Thursday's Ulrich talks
Join the Ulrich Museum of Art virtually at 11 a.m. Thursday for the latest in the series of talks with faculty artists featured in the 23rd Faculty Biennial exhibition. This time around, the Department of Art, Design and Creative Industries' Ted Adler, associate professor of ceramic media and Gary Lincoln, lecturer in ceramic media will share their thoughts on process.
The virtual program is free and open to all, but registration is required to get the Zoom link.
The Faculty Biennial exhibition is on display at the Ulrich Museum of Art on the Wichita State University campus until May 8. The museum is open from 11 a.m. to 5 p.m. Monday through Saturday, closed Sundays and university and major holidays. Safe self-distancing practices are observed. Admission is always free.
---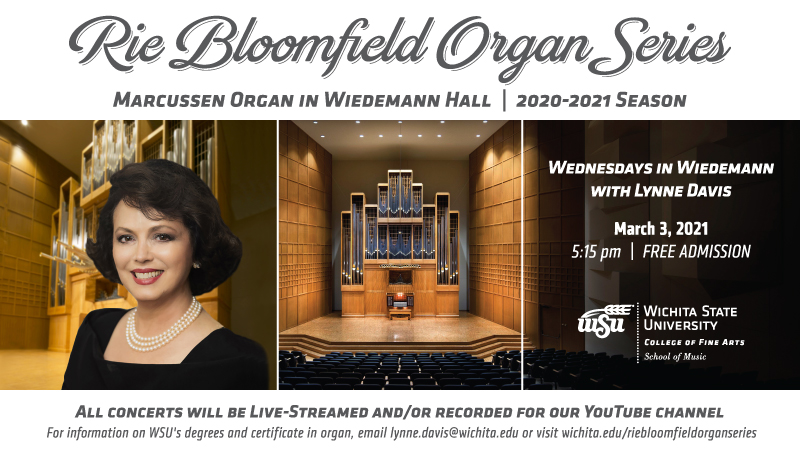 David Perez to perform at Wednesdays in Wiedemann
Please join us for a special Wednesdays in Wiedemann in Wiedemann Hall on the Marcussen organ as we welcome master's degree candidate in organ performance, David Perez, in a recital of music by Franz Liszt and Maurice Durufle. It's the name game with each of the two pieces written on the names of well-known composers: B-A-C-H and A-L-A-I-N. The half-hour recital begins at 5:15 p.m. today, and admission is free. You can watch it on the live-stream through the WSU School of Music FaceBook page, or attend in person (social distancing and masks are required). This is part of the Rie Bloomfield Organ Series.
KUDOS, PUBLICATIONS AND PRESENTATIONS
Barton faculty authors Eagle article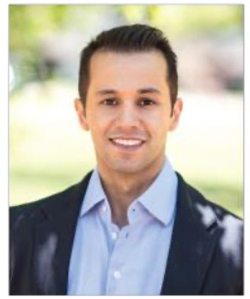 Dr. Eric Mota
A special article "Kansas needs skilled workers. Why not make it easier for them to move here?" in the Feb. 28 edition of The Wichita Eagle was penned by Dr. Eric Mota, W. Frank Barton School assistant professor of management and research fellow at the Institute for the Study of Economic Growth and Dr. Edward Timmons, faculty member and director of the Knee Center for the Study of Occupational Regulation at Saint Francis University in Loretto, Penn.
---
Barton faculty interviewed on NPR's 'Marketplace'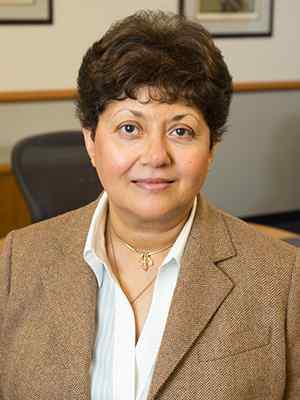 Dr. Usha Haley
National Public Radio's (NPR)'s "Marketplace" approached Dr. Usha Haley, W. Frank Barton Distinguished Chair in International Business, as a globally-renowned expert on industrial policy for her views on "if China can do it, why can't we?" Industrial policy deals with strategic investments by governments in key industries.
Besides Dr. Haley, the incisive radio interview featured leading experts such as David Autor (MIT), Steven Vogel (University of California Berkeley), Thomas Duesterberg (Hudson Institute), John Neuffer (Semiconductor Industry Association), and Matthew Goodman (Center for Strategic and International Studies).
The wide-ranging interview covered topics such as the US government's investments in technology and NSF's programs for basic research. With over 14 million discrete daily listeners through more than 800 public radio stations, "Marketplace" is the most listened to business program in the United States on radio or TV. Indeed, its audience surpasses the top 5 cable TV programs combined.
Click below to listen or read the audio transcripts. Dr. Haley's comments are at the 21:40 minute mark.
JOB OPENINGS
Manager of building trades position open to Wichita State employees only
The Office of the Facilities Director's Office is looking for a manager of building trades. Applications will be accepted until Monday, March 8. To apply, go to Internal Postings and follow the directions there. For questions or assistance, contact the Talent Acquisition Team at 978-3065 or emailing employment@wichita.edu.
RESEARCH
Share your matrilineal memories
Share your unique stories of home and be a part of this research visualization, a collaboration between the Ulrich Museum and the Departments of Dance and Sociology. "Sharing Matrilineal Memories at WSU," the fourth exhibition in the "Solving for X = Identity" series is primarily focused on collecting memories of home for Wichita State students, faculty, staff, retirees, and alumni.
Please follow the link to the Google form to submit photos, as well as your responses to the following questions:
What do you remember about your mother's home?
What do you remember about your grandmother's home?
All submitted stories and images will be included in this "Solving for X" exhibition and on display in the Ulrich's Grafly Gallery from Jan. 21 to May 8. If you have any questions, please contact Cheyla Clawson at cheyla.clawson@wichita.edu or 978-3378 or Twyla Hill at twyla.hill@wichita.edu or 978-7151.
SPECIAL OFFERS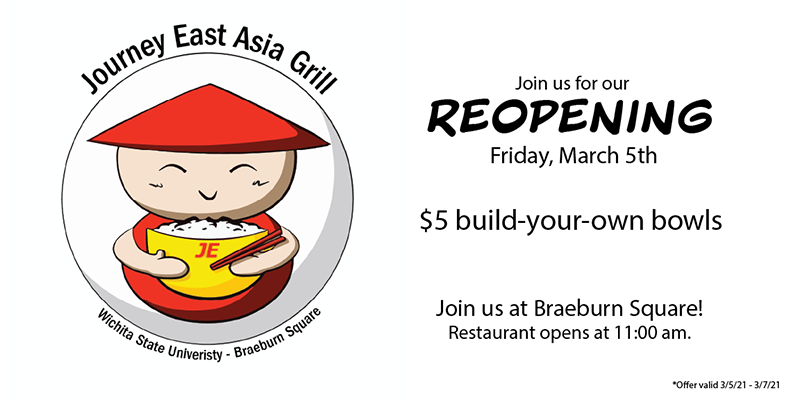 Journey East Asia Grill reopening Friday
We know you missed us, but don't worry, we are back. Join us at Journey East Asia Grill this Friday, March 5, for our store reopening. We will be offering $5 Build-Your-Own bowls all weekend. Store opens at 11 a.m. in Braeburn Square.
---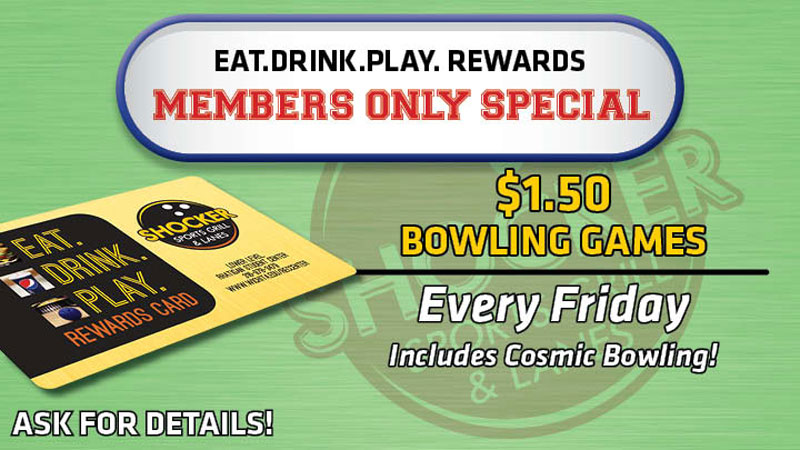 $1.50 bowling on Fridays for rewards members
Members of the Shocker Sports Grill & Lanes Eat.Drink.Play. Rewards program can enjoy $1.50 bowling games every Friday in March. This includes cosmic bowling. Not a rewards member? Joining is free and easy, simply stop by today.