This semester flew by and we celebrated five Masters of Innovation Design (MID) students as they crossed the Wichita State Commencement stage and are starting their next adventure, post-college. We asked them "What's next?" and "What will you miss most about the MID program?" Keep reading to hear from our Spring 2022 Cohort!
---
PHILIP ZAVALA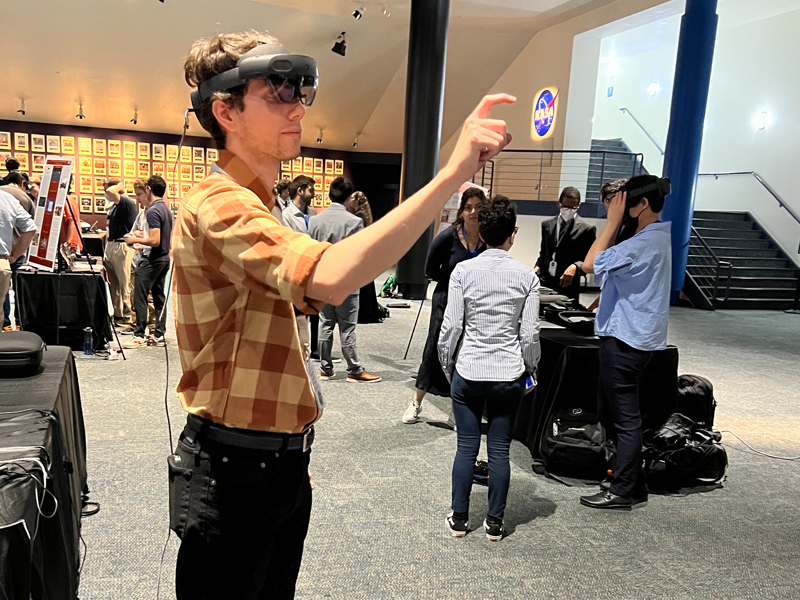 Philip Zavala testing out the VR Hololens at Johnson Space Center in Houston as part of the NASA SUITS Challenge.

What's next for Philip?
"After graduation, I will be returning to Paraguay where I plan to use everything I learned in the program in my professional life. This could be in the education field as a professor or as a business owner selling my own furniture and products."
What will he miss the most about the MID program?
"My favorite part was meeting and collaborating with people from all sorts of backgrounds. Each person had a different approach while working or helping with projects which made the teamwork more fun and entertaining. Learning about their experiences in their field of expertise and their culture is what I will miss most."
ARNOLD KIM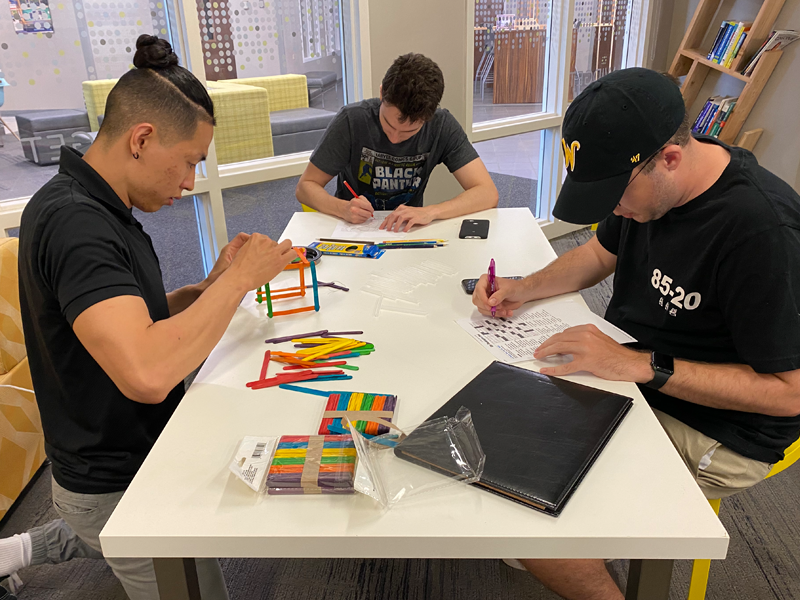 Arnold Kim (AK) working with classmates in the ID 506 Leadership for Innovation Course.

What's next for AK?
"I will be heading to Los Angeles, California to start as a consultant for Deloitte."
What will he miss the most about the MID program?
"My favorite part of the program was collaborating with my fellow classmates in the MID program. They all come from different industries and offer unique perspectives."
MINDY HUYNH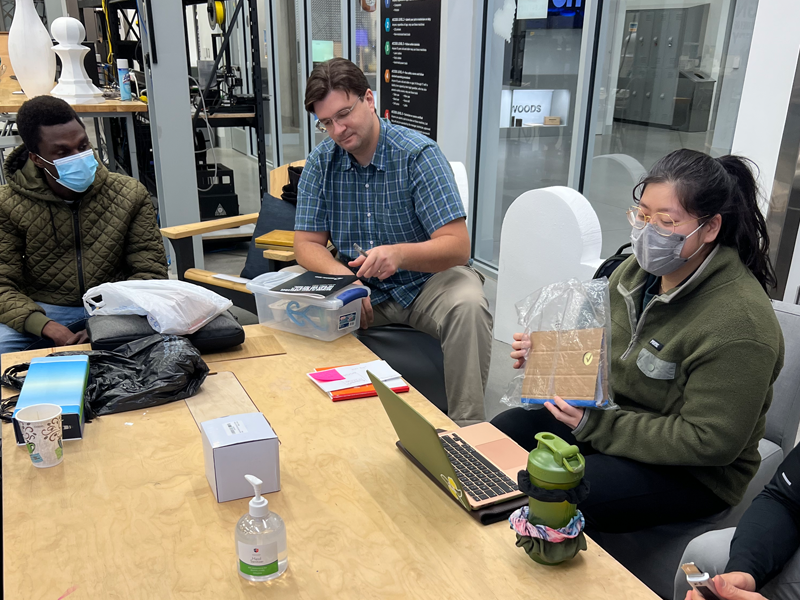 Mindy sharing her prototype in the ID 752 course this Spring semester. Oluwasayo and Felipe also pictured.

What's next for Mindy?
"There are an endless number of possibilities open for me post-graduation. I plan to utilize all the concepts I have learned throughout my education, to grow in my professional life. Especially utilizing my gained knowledge in business operations and agility with the collaboration of fellow cohorts. My goals are to advance within the field of biomedical engineering and continue to absorb and expand my skill set in the industry."
What will she miss the most about the MID program?
"I will miss both my professors and cohorts of innovators and status quo challengers. All of whom I have had the pleasure of encountering during my time within the program. I value the diverse conversations and collaborations we had creating an environment that stimulated great camaraderie. We gave one another encouragement to not only strive for excellence but also pursue what we enjoy."
LONG WANG
Long Wang shows off his newly printed tshirt in GoCreate during the ID 752 Prototyping Course.

What's next for Long?
"I will be heading back to China to visit with family and start a career in consulting for startup companies. Innovation as an occupation is still new in my country, so I will take what I have learned from the MID program and incorporate it in everything I do."
What will he miss the most about the MID program?
"I've enjoyed getting to learn so many new things and take on opportunities that were offered to me. The program has some of the best people and professors, I will really miss the collaboration with the team."
RJ BRITTON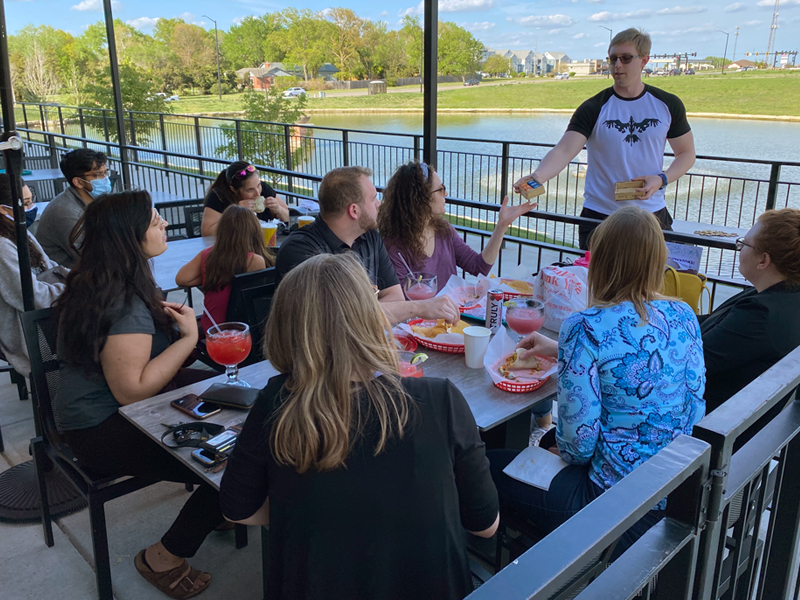 RJ Britton presents his final project to other MID, alumni, and professors for ID 752 Prototyping Course.

What's next for RJ?
"I will be going to Iowa to start my career in innovation with my significant other who is starting their career in prosthetics. I will be doing work in various different industries because I enjoy working on a wide variety of interesting problems. I hope one of those industries will be gaming."
What will he miss the most about the MID program?
"Honestly, the learning. There were so many interesting courses that I'm glad I got to take while here.."
Congratulations to the Class of 2022!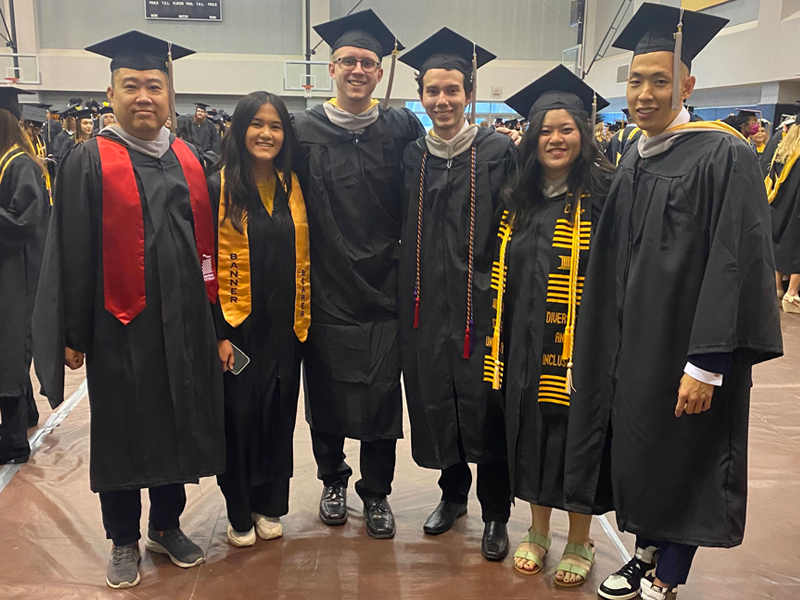 From left to right: Long Wang, Valerie Gurung (our CID Banner Bearer), RJ Britton, Philip Zavala, Mindy Huynh, Arnold Kim