More facilities in Biological Sciences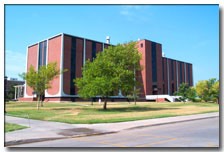 The Department of Biological Sciences is housed in R. Dee Hubbard Hall on the main campus of WSU. The building houses a variety of classrooms, many with multimedia capabilities. The faculty occupy over 40,000 square feet of laboratory and office space. A great variety of modern laboratory equipment is available including the following: a suite of microscopy equipment, a core laboratory in protein chemistry that includes peptide synthesis and sequencing machines, a cell culture facility, a host of analytical equipment such as gas chromatographs and high performance liquid chromatographs, and molecular biology equipment for sequencing, electrophoresis, imaging, and mutation analysis.
The Department maintains large common facilities such as environmental growth chambers, refrigerated rooms, a herbarium, and vertebrate study collection. A computer laboratory is available for student use. The library contains more than 22,000 titles of books and periodicals covering all areas of biology. A climate-controlled greenhouse sits atop Hubbard Hall. A large animal care facility provides resources to the Department and to other local researchers. The WSU Field Station is used for research and educational experiences by WSU students and other area students. The station maintains native and restored prairie lands along the Ninnescah River.