Ninnescah Reserve
28900 W 87th St S, Viola, KS 67149
__________________________________________________________________________________
The Ninnescah Reserve came to WSU from Ms. Louise Powell as two separate gifts. The initial 69.6 ha (171.9 +/­ acres) were acquired in 1984, with the remaining 65.1 ha (160.8 +/­ acres), in 1985. The late Ms. Powell's generous donation came with the request that the property be restored to a prairie ecosystem and utilized for research and education. Through the tireless efforts of a few dedicated faculty, especially D.A. (Doc) Distler, the property now consists of nearly 80% restored and native prairie while about 20% of the property is comprised of riparian and woodland habitats.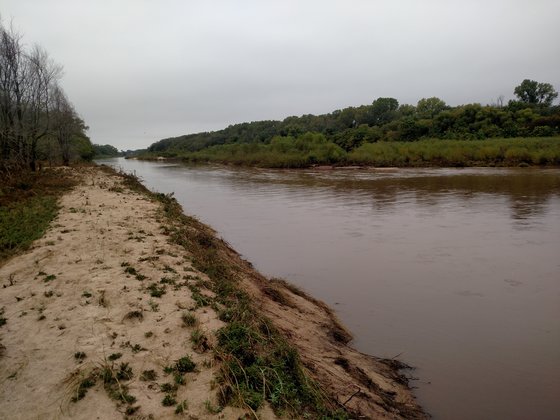 West view of the Ninnescah River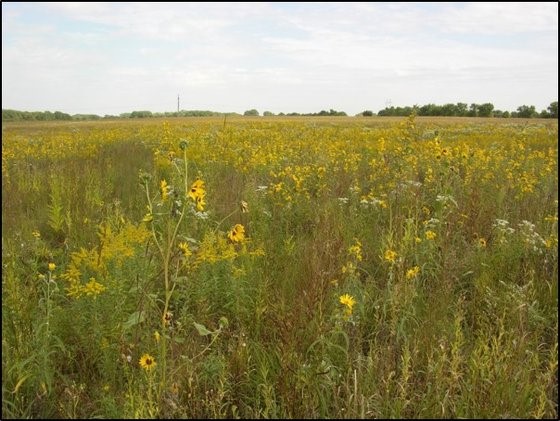 The site consists of about 332 acres of which, 66 acres of native mixed grass prairie and more than 200 acres of restored tall and mixed grass species, riparian and road border woodlands, wetlands, and stream tributary sites along a mile of the Ninnescah River. The entire area is fenced, except along the river, and has been divided into 33 permanent ten acre plots marked by steel poles. The geology, depth of ground water, and archeological sequence of the site have been determined. Burning, mowing, and haying are the major management practices on the prairie segments. As a result of recent BioBlitz activities and ongoing research, more than 530 species have been recorded for the Ninnescah Reserve including 289 vascular plants, 168 birds, 33 mammals, 16 fish, 17 reptiles and 10 amphibians.
Larval Smallmouth Salamander, rediscovered after more than 20 years of absence
on the reserve
Ongoing Research: A variety of individual studies have occurred at the Ninnescah Reserve, but several long-term studies are ongoing including: 1) testing models of optimal energy storage in wintering birds (Dr. Rogers' lab); 2) factors affecting the overwinter survival of a declining boreal- forest breeding songbird, the Dark-eyed Junco (Dr. Rogers' lab); 3) effects of insect herbivory and plant competition on tall thistle (Cirsium altissimum) fitness and population growth (Dr. Russell's lab);4) the potential interaction between herbivore diversity and soil fertility on plant communities (Drs. Houseman and Russell); and 5) effects of experimentally manipulated soil heterogeneity on plant diversity (Dr. Houseman's lab). In addition to these on-going studies, the site offers a unique hydrology on the uplands, a relatively unfragmented river, and restored prairie that provides ideal locations for a diverse set of ecological studies.
Houseman soil heterogeneity experimental plot
Houseman & Russell herbivore diversity experiment
Ninnescah Reserve past Bio-Blitzes
If you are interested in utilizing the Ninnescah Reserve, or the Field Station Building, please contact the manager at 620-584-6627.