Music and Languages Innovation Center
Location: 313 Jardine Hall
Phone: (316) 978-3422
Language Lab Director: Dr. Cuitlahuac Chavez
Music and Languages Innovation Center (MALIC) includes the Savaiano-Cress Language Lab and the Thurlow Lieurance Music Library.
---
Hours of Operation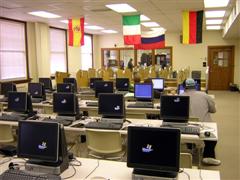 Day
From
To
Mon.
10:00 a.m.
6:00 p.m.
Tues.
10:00 a.m.
4:00 p.m.
Wed.
10:00 a.m.
4:00 p.m.
Thur.
10:00 a.m.
4:00 p.m.
Fri.
9:00 a.m.
1:00 p.m.
Sat.
closed
Sun.
closed
OPEN STUDY SPACE:
6 Mac computers and 6 PCs with access to electronic research tools such as library databases and subject guides, MS Word, Excel and PowerPoint
4 Macs and 1 PC are installed with Sibelius composition/notation software for creating and/or editing music scores
Audio/visual playback equipment for compact disc, LP, DVD, laser disc, VHS and tape cassette formats
Movable furniture for individual and group study
5 PC laptop computers available for use within the facility
Pay-for-print availability
SERVICE DESK:
Language Lab reservations and services
Computing and other technical assistance
Reference/Research assistance and circulation
KEYBOARD STUDIO:
88-key electronic keyboard with headphones, for playing through a music score in the collection or for creating and/or editing one's musical work
Mac computer with Sibelius composition/notation software
Wireless computer keyboard and mouse
Headphones with microphone for recording language examples/exercises
LANGUAGE LAB:
14 student PC study stations equipped with webcam capability, MS Word and Rosetta Stone software
Rosetta Stone Software, for use in self-paced and class instruction (For: Arabic, Chinese, French, Italian, Japanese, Latin, Portuguese, Spanish, Russian)
Primarily for classes upon reservation by MCLL instructors, individuals may be logged onto classroom stations upon request
Instructor station with BlueRay/DVD player operated by standard gray box controls and connected to lab study stations by way of classroom management software for collective analysis of student work
COLLECTIONS:
Music scores including monuments and complete works of the composers, as well as CD Sheetmusic titles
Audio recordings in LP and compact disc formats
Video laser discs relating to the performing arts
MCLL video collection in DVD and VHS formats
Music Reference resources
Reserve materials for music and languages
Still and video cameras.