Who shares misinformation online?
Misinformation on the web has several consequences for communities and democracy. Are consumers of news susceptible to false belief? Are certain personality traits more likely to share false information online? In this talk, I will report results of a news-sharing game where we tested the sharing behavior of consumers of news by incorporating fine-grained information such as personality traits, demographic information, including political beliefs. Our results have the potential of informing existing news-verification systems and social media of the differences between how end-users belonging to different personality traits consume and share misinformation online.
Mythili Menon is an assistant professor of English and linguistics and the director of the linguistics program at Wichita State University. She received her Ph.D in linguistics in 2016 from University of Southern California. Her research investigates the unique capacity that we have to understand and build an infinite number of sentences that we've never encountered before (syntax-semantics interface), how we uncover domain-general mechanisms across several cognitive processes (psycholinguistics), and working with endangered and underrepresented languages (language documentation and revitalization). Her recent projects include interdisciplinary work with computer scientists (misinformation), and development of educational technologies for vulnerable populations (refugees).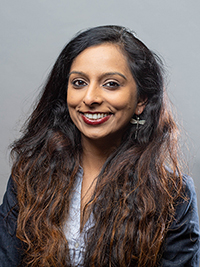 Mythili Menon