Honors Community News
Congratulations Honors Graduates!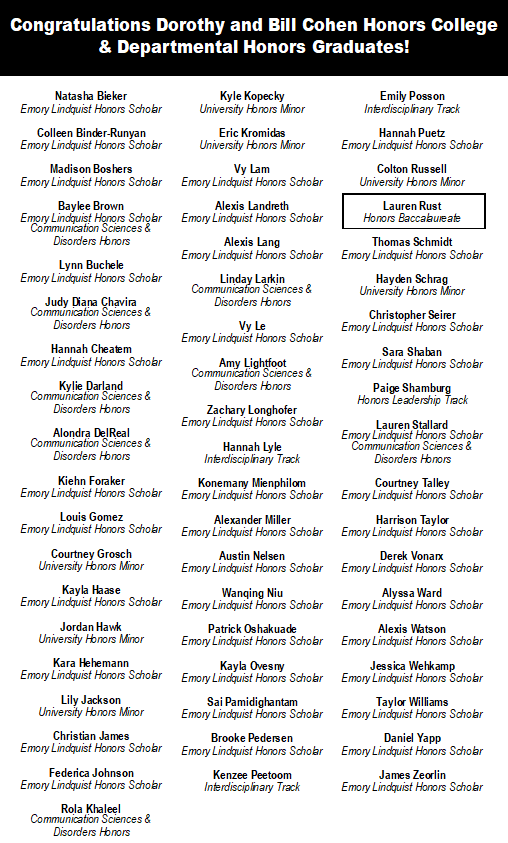 Outstanding Cohen Honors Student - 2019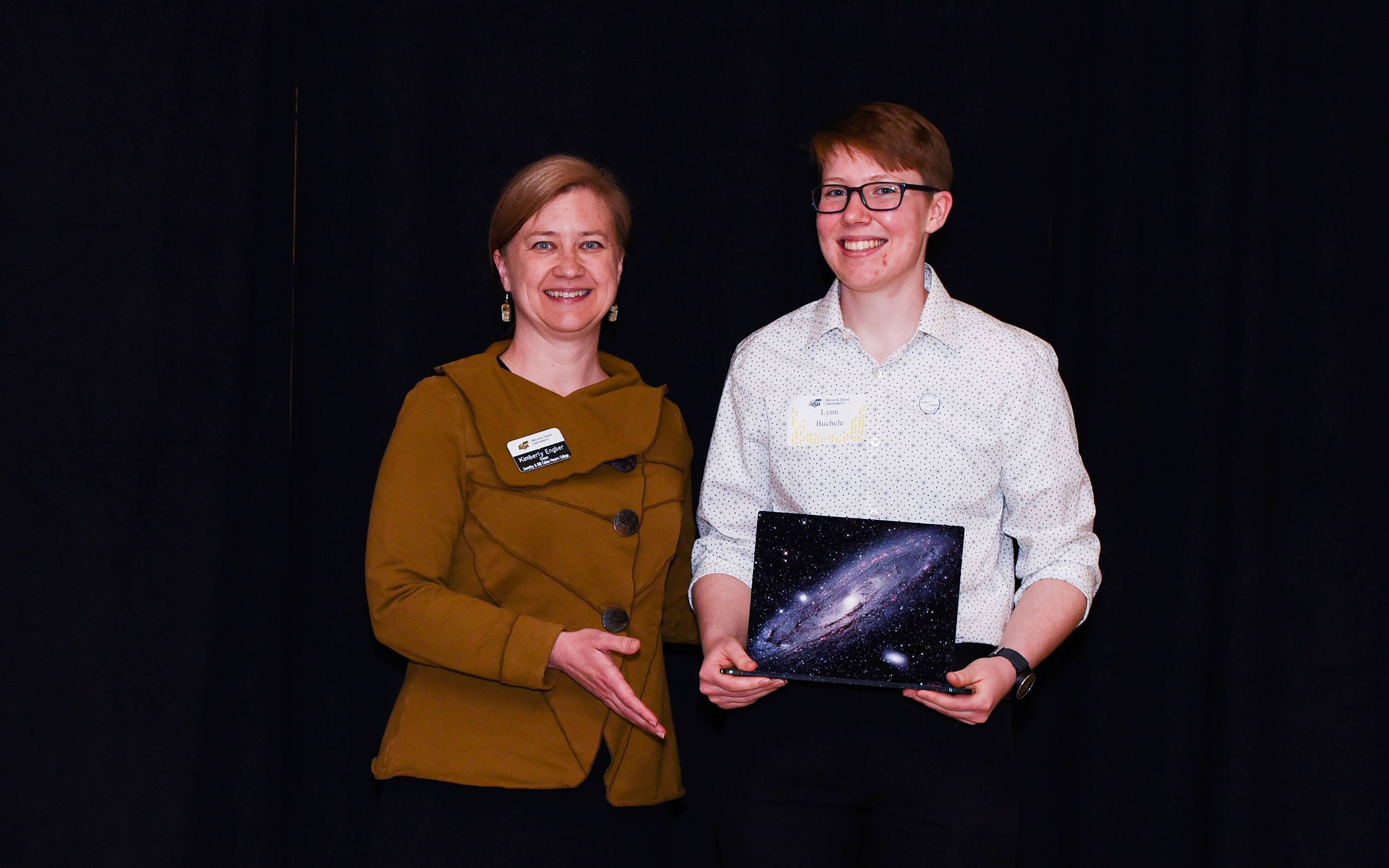 Lynn Buchele, Emory Lindquist Honors Scholar
Lynn Buchele is a physics major who loves looking up at the night sky and asking questions. When not doing physics homework they can be found at the climbing gym, either halfway up the wall or on the ground coaching young climbers. After graduating they plan to pursue a MS of Physics at Wichita State.
Honors Faculty Award Announced
Congratulations to Dr. William Woods! The Honors College is pleased to award the Honors Faculty Award to Dr. William Woods.
Honors Engagement Awards
For spring 2019, the Honors Student Council presented the student body with the Honors Is a Verb challenge. This effort challenged all Honors Students to serve at least 25 hours of community service during the semester. The three students with the most hours, will win the Honors Community Engagement Award.
The 2019 Honors Community Engagement Award Winners are:
Abigail Sheahan
Jadie Chauncey
Lauren Rust
Congratulations to our winners, and to all Honors students on their #meaningfulwork!
Honors College Student Council 2019-2020 Announced
Chair - Abby Jurgensmeier
Vice Chair, Director of Retention - Noor Farhoud
Director of Records - Analisa Bridge
Co-Directors of Marketing - Jeromiah Taylor, Elizabeth Nguyen
Director of Outreach - Lucy Cook
Director of Diversity Initiatives - Amanda Scroggins
WHEAT President TBD via election by WHEAT members.
SGA Honors Senator - Jacob Tubach
SGA Honors Senator - Lucas Web
Honors LLC RA - Linda Harl
First Year ADvisory Board:
Zachary Bollinger
Kari Coster
Storm Dial
Cameron Holston
Manish Mahajan
Hannah Piros
Francis Slagely
Tyler Stice
Mariah Thompson
Apply Now for WHEAT Executive Board Positions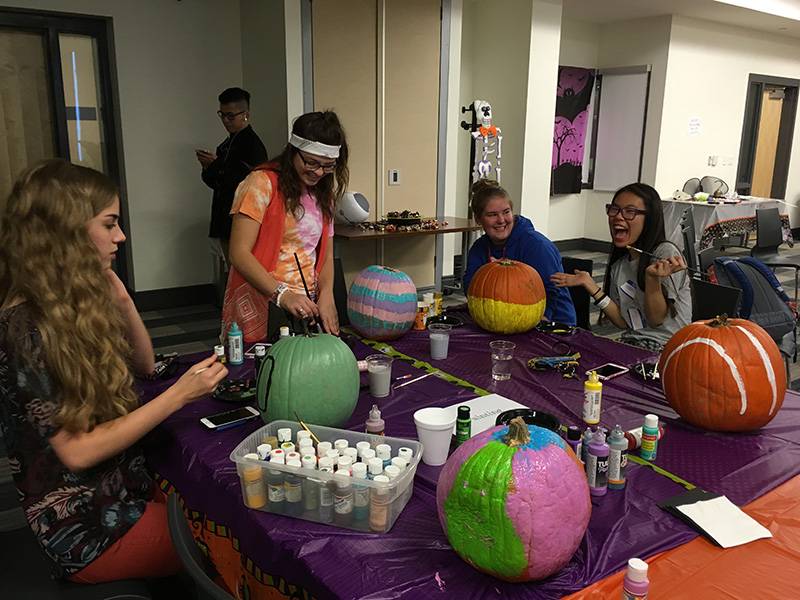 Interested in taking on a leadership role in the Cohen Honors College? Consider applying for a WHEAT executive board position! WHEAT plans the community service and social events for all Honors students. If serving as the Community Service Chair, Academic Chair, or Public Relations interests you, please fill out this form. We will be accepting applications through May 18, 2019. If you give any questions, please contact Tabatha Polk. Learn more about WHEAT by clicking on the image!
Seeking Cohen Honors Faculty Fellows - First-Year Experience
Interested Honors Faculty are invited to serve as Cohen Honors Faculty Fellows with a particular emphasis on the Honors first-year experience. Fellows and Honors teaching applications from individuals and departments are welcome in other areas of interests throughout the year.
Attend the Teaching in Honors Panel August 15th
Instructional Design and Access is hosting an Academic Resources Conference for established instructors on August 15th. Please join Honors teaching faculty and interested faculty for a panel on Teaching in Honors during Session 2, 10:40-11:30.
Honors Faculty Council 2018-19 - New Curriculum and More
Faculty and student participation in the University and College governance is vital to the proper functioning of the University. Faculty interest in direction and development of the Honors College not only reflects their formal right to contribute to University decision making but indicates their responsibility to do so as professional scholars and researchers. Honors faculty and the faculty council have been busy this year!
Particular thanks to council chair, Doug Parham, Communication Sciences and Disorders.
Visit the Faculty Council page to learn about new Honors curriculum opportunities and other council business, including:
Honors Science Track Minor Proposal
Science Track Minor Tracking Sheet
Curriculum Changes Proposed - University Honors Minor, INterdisciplinary Track & Transfer Policy
HNRS 306G Alternative Spring Break Leadership - Repeatable for Credit
Curriculum Changes Proposed - Leadership Track
Honors Summer Courses
The Philosophy of Space Exploration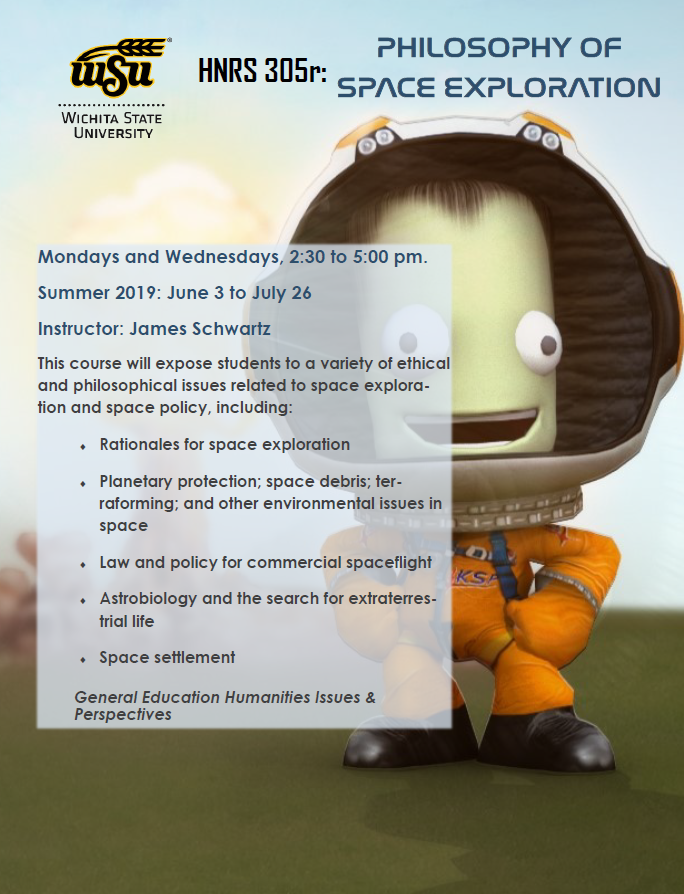 Sustainability and Technology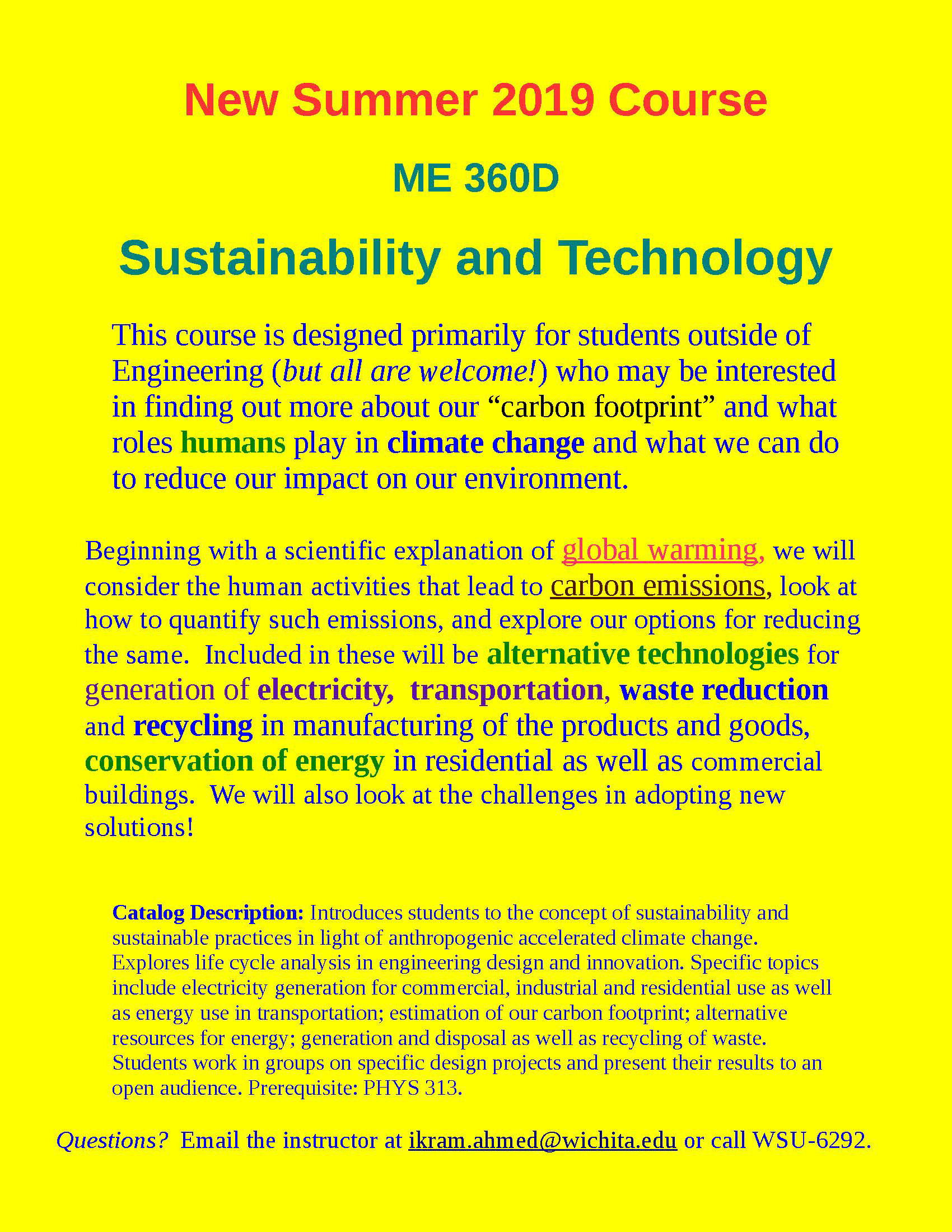 Honors Office News
Advising Appointment Protocol
To schedule an Honors Advising Appointment email Honors@wichita.edu or Jessica.Raburn@wichita.edu. If you happen to be in Hubbard Hall or nearby when a question occurs to you, please feel free to stop by to see if the Honors Academic Advisor can visit with you immediately.
Jessica Raburn
Assistant Director and Academic Advisor
The Dorothy and Bill Cohen Honors College
Office Hours of the Dean
None: Dean is traveling.
Have More News?
To submit a story to the Weekly Update fill out this form.
Looking for More Updates?