How We Work
Strategic Engagement and Planning along with its reporting units support the university mission and engage the community by:
Developing strong, meaningful, and high impact partnerships with government agencies, industry, educational institutions, and non-governmental community organizations.
Coordinating across the campus to create and expand innovative applied research and community-based projects by our faculty, staff, and students.
Working with other university divisions to actively engage our alumni, donors, and friends to give of their time, ideas, and financial support.
Researching new and emerging ways to address disparities and drive economic growth.
Tracking our efforts and progress in a transparent manner with our internal and external stakeholders.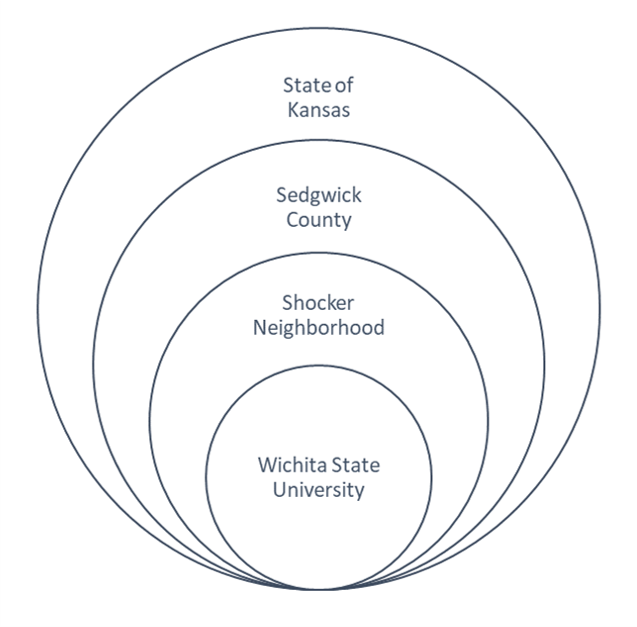 ---
The Office of Strategic Engagement and Planning works though both a central office and its reporting units. The office bridges individual units to campus administration and sets strategy for meeting the university mission of service. The connector for community members who seek to engage university assets to support work on dogged community problems. Engagement serves as a front door to university.
Beneficiaries
While all Kansans, benefit indirectly from the community engagement and economic development programs and initiatives sponsored by the Office of Engagement, several community stakeholder groups are direct service recipients. The following is a list of exemplars followed by a short list of those benefits.

Students (Wichita State University Students, Middle and High Schools students in Wichita, Haysville and Derby Public Schools, Kansas children in foster care)
Community (members, boards, partners, Medicaid recipients, current and prospective business owners, parents/families)
Wichita State Campus Community (students, faculty, staff, innovation campus partners)
Small Businesses
Non-Profit Orgs
Kansas School Districts (Wichita, Haysville, Derby, Garden City, Topeka, etc.)
Local and state governments and affiliates
Key Partners
Key to the Office operations model is the solicitation and management of partnerships with persons and entities who share a like vision for the possibilities. The following is a short list of engagement partners.
Tracking our efforts and progress in a transparent manner with our internal and external stakeholders.
Government Agencies

---

City of Wichita

Atwater Neighborhood City Hall

Sedgwick County

State of Kansas

Kansas Creative Arts Industries Commission

U.S. Department of Education

Associations and Non-Profits

---

United Way of the Plains

Storytime Village

Finance Clerks City/County Managers

Working Men of Christ

Workforce Alliance

Common Ground

Black Alliance

University Partners

---

Student Government Association

Office of the Provost

Office of Student Involvement

Office of Diversity and Inclusion

Office of Financial Aid
Learn More About Engagement