Upcoming Table Top Exercise
The Business Continuity table top exercise is scheduled for Friday, April 15, 2022, at the Metropolitan Complex, Room 180. The trainer will lead us in a simulated "event" to test the business continuity plan for each area.
Check in starts at 1:00 pm and the exercise will start promptly at 1:30. We will serve refreshments and hope to conclude the exercise by 5:00 pm. Please put this on your calendar as this is not optional, someone from your department is required to participate in the simulation.
To register for the exercise, log in to myWSU. On the Faculty/Staff tab, select myTraining, then type BCP in the search bar.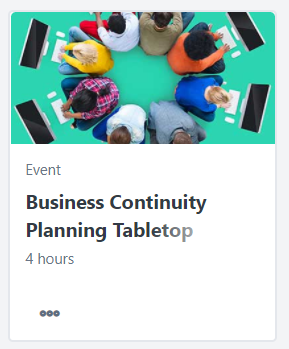 If you need assistance, email myTraining@wichita.edu or call ext. 5800.
If you have questions regarding your plan or the exercise, please contact Ellen Abbey at Ext. 5864 or ellen.abbey@wichita.edu.
Leadership
Project Manager: Ellen Abbey, Director of Auxiliary Services
Project Co-Manager: Phyllis "Fiffy" Petty, Executive Assistant (VPFA)
Project Leader: Werner Golling, Vice President for Finance and Administration
Business Technology Support: Emily Geer, Director of Business Technology
Facilities Manager: Emily Patterson, Executive Director of Facilities Planning
IT Manager: Jason Holmes, Director of Server Infrastructure
HR Manager: Vacant
Faculty Consultant: Linnea Glenmaye, Associate Vice President and Associate Professor
Business Continuity and Recovery
Preplanning is essential in identifying and prioritizing the critical business operations and services necessary to be delivered during an emergency, while maintaining institutional integrity and serving the best interests of the University community, under difficult circumstances.
The Business Continuity Plan was developed in order to ensure the University has the ability to maintain critical services and functions in the event of a disaster or other disruption of service. Business continuity is a process used to restore operations after an unplanned interruption of normal business processes that is beyond the immediate ability of an organization's normal staff and management structure to control. The recovery response includes information systems, networks, hardware, software and people – not just data. The Business Continuity Plan will be executed after health, life, and safety issues are addressed.
Business continuity planning includes:
Planning and organizing business operations to be utilized after the EOP response
Identifying and minimizing (mitigating) vulnerabilities in a future continuity response
Prioritizing business continuity and recovery concerns
Perform exercises to test the plan and train users
The Business Continuity Committee goals include:
Develop and Maintain Business Continuity Plan: Define the scope of recovery for the University and create a project plan which defines tasks and resources required for each phase of recovery
Perform Risk Assessment: Complete a risk assessment and business impact analysis which will define critical services and vulnerabilities
Develop Plans: Develop recovery plans for critical services which include identifying resources required for recovery (i.e., equipment software, employees, vendors, customers, vital records and documents)
Exercise and Maintain Plans: Exercise and maintain plans on a regularly scheduled basis or when significant changes occur
Based upon the circumstances of the Level 1, 2, or 3 Emergency, recovery priorities will be determined by the Presidents' Executive Team. They may choose to set timelines when recovery is required to occur.
In order to prepare University community members to perform competently during a Level 2 or 3 Emergency, senior executives and senior managers are required to create business continuity and recovery plans to protect their essential records and programs for their respective colleges and departments. This is required to insure the University will be able to resume normal business operations within a reasonable period of time and with minimal destruction to critical business records. The ultimate goal will be to resume business operations in order to continue the mission of the University.