Teams: The Basics of Creating a Team
Have you already explored how to Get Started with Teams? Perhaps you have check out all the cool chat and meeting functions, but would like to do more and begin creating your own Team within the program. If so, this page is for you.
Create a Team
1. To see existing Teams, join a Team, or create a Team, select the Teams button in the left navigation.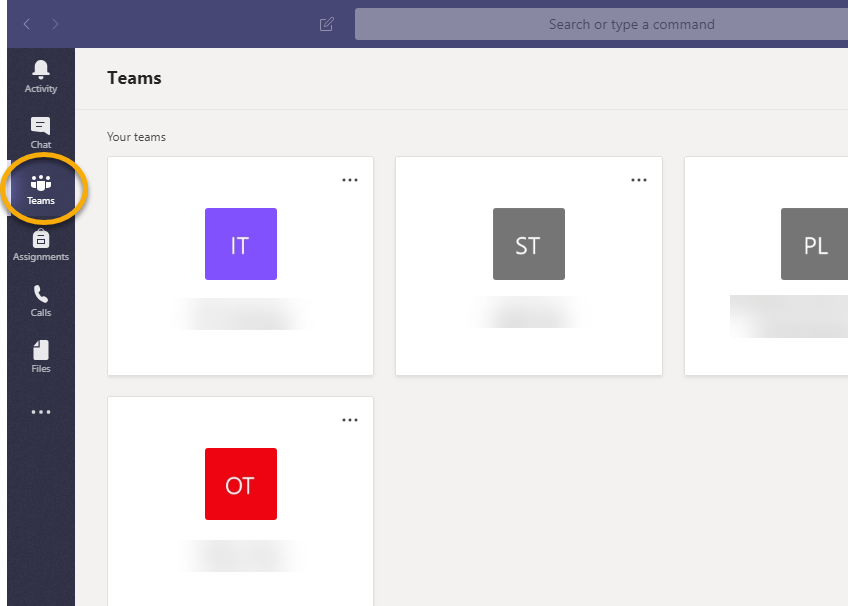 2. Select Join or create team.

3. In this screen are several options. You may:

A. Create a new team
B. Join an existing team with a code
C. Search for public teams to join
4. Select Create a Team to get started with a new team
Choosing a Team Type
When you create a team, you will see several choices; the various team types will have remarkably similar options. The Staff Team type is arguably the most popular, but it is worth exploring some if the similiarities and differences before creating your Team. One note: one difference with the Class Team type is the owner has the ability to create assignments.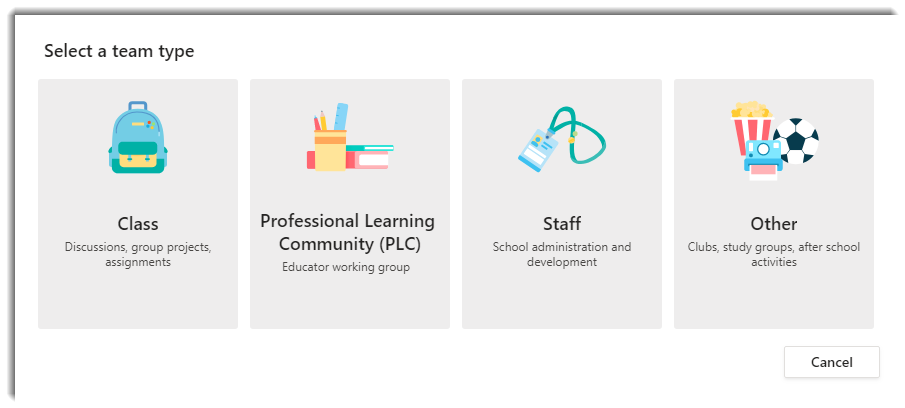 If you need help deciding what type of Team to create, take a look at Microsoft's helpful comparison chart.
Options
Next, you will be prompted to create a team name, description, and select privacy settings. Private is recommended, unless you would like for your team to be searchable by anyone at the university.
For your Team name, please use the following format: College Code/Department Name - Descriptive Information.
For instance: Fine Arts - Office ; or Music - Composition, or Anthropology - Fieldwork.
Note that others will be able to see your Team name.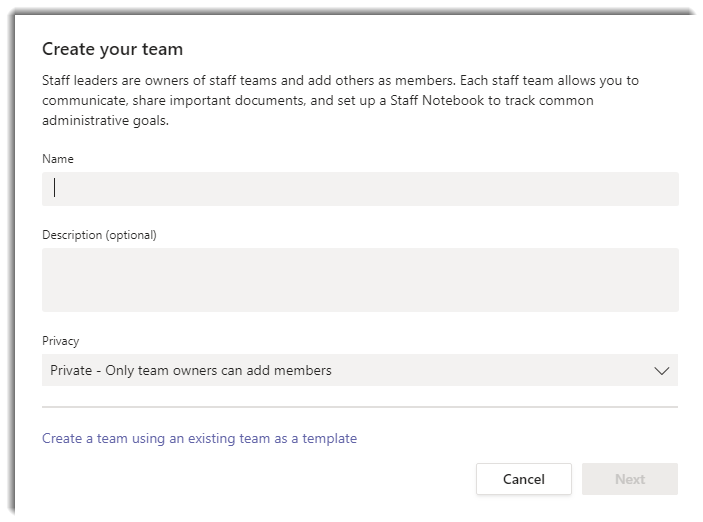 Next, start adding member names to your team.

Team Navigation
The navigation in a team view is remarkably similar to what you are used to in the Teams Chat, but there are a few differences.
1. @ Mention: Note that the conversation bar contains the ability to "@ mention" someone else in your team. This is similar to social media @mentions. Simply type @(username) to tag them in a post.
2. Camera: Underneath the conversation bar are a series of icons. These are much the same as the chat, but they also contain a Camera icon to instantly start a meeting with the whole team.

3. Reply in Thread: each conversation thread has a reply button underneath. This keeps the chat screen cleaner, as replies are organized into conversations.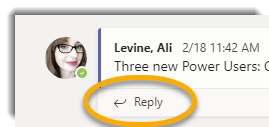 Channels
You can further organize your team by adding channels.
1. Select the ellipses (...) to the right of the team name.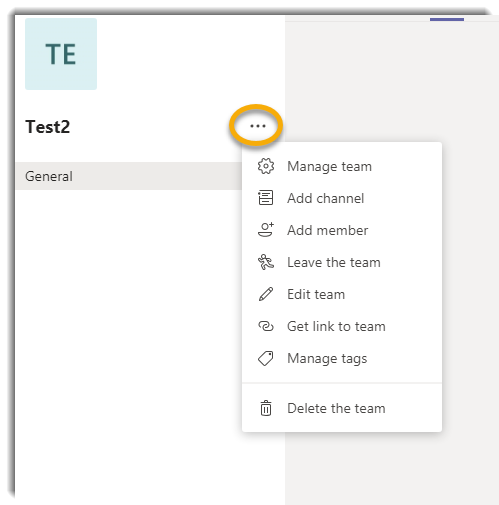 2. Select Add Channel.
3. Customize: Create a Channel Name, description, and select privacy settings, if desired. Press Add.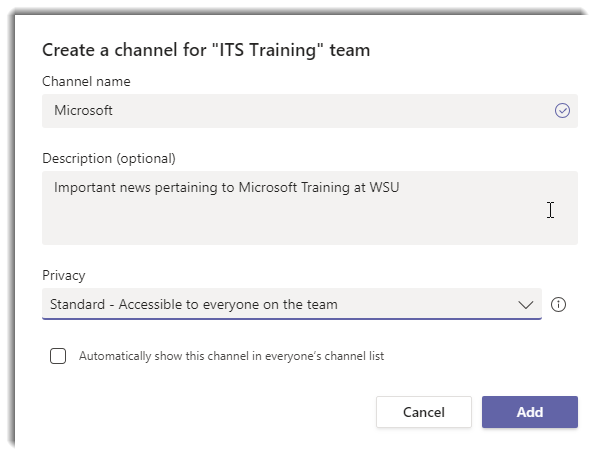 4. Channels will appear underneath the team name on the left side of the screen.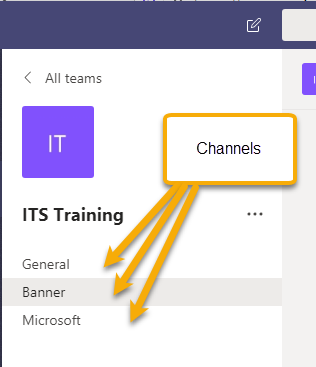 Tabs within a Team
At the top of your Teams screen are a series of tabs. These tabs can vary from channel to channel within a Team. By default, you can see Posts and Files. Files will be composed of any files shared within your Teams tab.
You may also see a Notebook tab. If not, there is way you can add this tab (below). This is a quick link to a OneNote Notebook shared with your team. This notebook can also be accessed through the OneNote application.

Adding a Tab
You have numerous tab options for your Teams experience, and OneNote is just the beginning. Press the + sign to see a full list of Apps.

Some popular apps include OneNote, Website, and Wiki.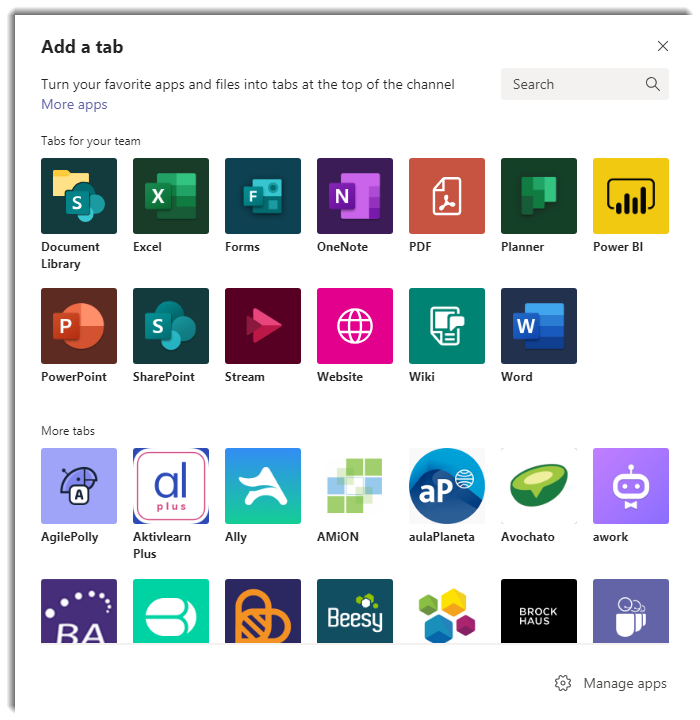 Warning... not all of these Apps will work with WSU's configuration of Teams, and not all are supported through ITS.
Team Meetings
You can create a Team Meeting in either way discussed in the Getting Started with Teams page. In addition, notice the camera image at the bottom of the Teams chat screen. This will create a meeting instantly with members of your Team.

Member Roles
Once you have created a Team, you can manage settings through the ellipses (...) next to the Team name. Here you can quickly add or manage team members.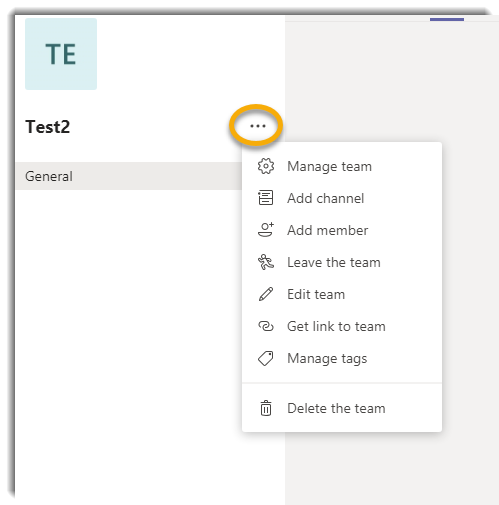 Select Manage Team. Select the dropdown next to each member to promote additional Members to Owners. It is a good idea to have more than one Owner on each team.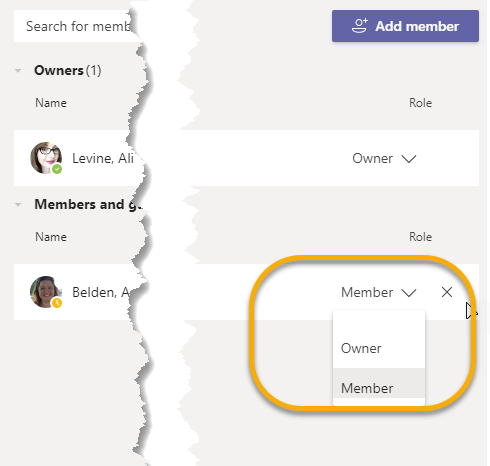 Teams Hub
For guides and training information, visit the Teams hub.