Team Owner Responsibilities
Team owners are responsible for the overall management of their Team. Please read through the responsibilities detailed below, and contact the Help Desk if you have any questions (see sidebar).
It is also recommended that Team owners attend Teams Essentials and Teams Advanced training offered by ITS Applications Training. Sessions are listed and updated regularly in myTraining.
Team Owner Responsibility Checklist
It is the Team owner's responsibility to maintain the Team's member list and guest list. Owners should review the member and guest lists frequently. If a member or guest is no longer involved with a Team, their access should be removed.
Member Inactivity
ITS will provide activity logs to Teams owners. If the Team owner sees that a member has been inactive on their Team for more than 90 days, it is Team owner's responsibility to remove access.
To view the member list:
Select the ellipses (…) to the right of the Team name. and select Manage Team.

To remove a member, click on the X to the right of their name.

Pending Requests
The Team owner will monitor pending requests to join a Team and ensure that only intended members are approved. Team Owners will receive notification of pending requests by Teams notification and by email.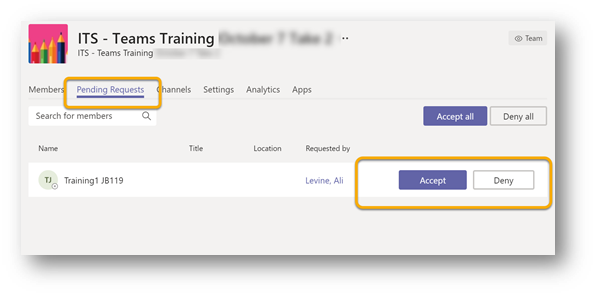 The Team owner is responsible for managing member and guest permissions in a Team. To access these permissions:
Click on the ellipses (…) next to the Team name. Select Manage Team.


Select Settings.
Expand the dropdown next to Member Permissions and/or Guest Permissions to access a list of options.

Manage Team Inactivity
If a Team has been inactive for 90 days the Team owner will receive a notification email prompting them to remove or renew the Team.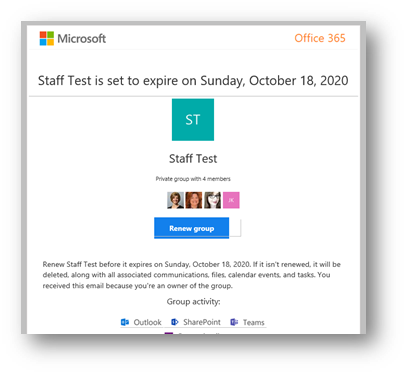 It is Team owner's responsibility to check with the members of the team and decide whether or not to renew the team. After 14 days without response, the Team will automatically be deleted.


SharePoint Document Access: Review Monthly
Note: This is only for Teams where owners have granted special file permissions in SharePoint.
If the Team owner has granted special permissions in SharePoint for file access outside the Team, the Team owner should review these permissions monthly to confirm that access should be maintained for these users.
To review document access in SharePoint:
Click on the ellipses (…) next to a document. Select Manage Access.


If a link has been generated for a Team, it will appear toward the top of the Manage Access screen. Press the ellipses (…) next to the link.

Click on the X to the right of the link to deactivate it.

Also check for names underneath the link, in the area titled Direct Access. Select the dropdown arrow next to a name or group and Stop Sharing to remove access.


If the Team owner generates a Team Code for individuals to join a Team, this code should be removed after all the members have joined. A new code could always be generated later for future use.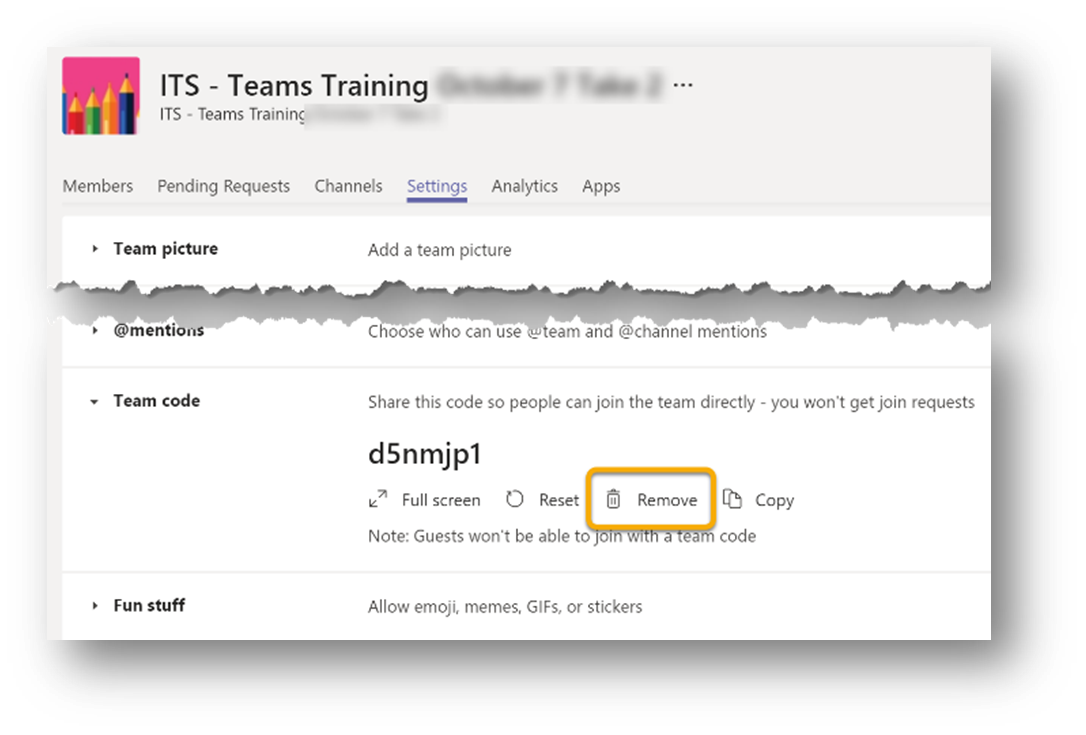 Ensure FERPA Policies are Followed
FERPA is the federal law designed to protect the privacy of education records. It provides guidelines for appropriately using and releasing student education records. When working with programs like OneNote, OneDrive, or Microsoft Office 365, remember to take note of where documents are stored. If a document or notebook will be stored in the cloud (e.g. OneDrive, Sharepoint), it may not contain any non-directory information. For full details about FERPA at WSU, visit www.wichita.edu/ferpa
Non-Directory Information
The following types of student information are examples of information that are not directory information, and should neither be stored in any cloud based storage location nor shared by email:
GPA
Grades
Race/Ethnicity
Gender/Sex Type
Social Security Number
WSUID
Financial information, including Financial Aid
Directory Information
The following types of student information are considered directory information, and are therefore permitted to be stored in the cloud:
Student's Name
Address
Telephone listing
Email
Photograph
Age
Major field of study
Dates of attendance
Grade level
Enrollment status
Participation in officially recognized activities and sports
Weight and height of members of athletic teams
Degrees
Honors and awards received
Most recent educational agency or institution attended
Any student, current or former, may withhold disclosure of "directory information." If a student is marked with the indicator "confidential," their directory information should not be stored in the cloud.
Examples
| | |
| --- | --- |
| Acceptable* | Unacceptable |
| A list of current students with contact information and majors | A list of students that contains WSUIDs and/or grades |
| A document discussing the previous school of a recent transfer student | A document discussing the GPA of a recent transfer student |
*It is always unacceptable to save information in the cloud regarding any student marked "confidential."