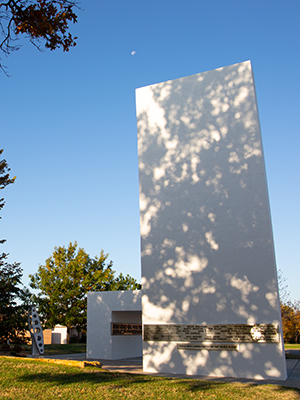 Never forgotten ...
In an annual ceremony of remembrance, a wreath is placed at Wichita State's Memorial '70 at 9 a.m. each Oct. 2. The brief ceremony honors WSU football players, administrators and supporters who died in a plane crash October 2, 1970.
In one of the worst tragedies of college sports history, the WSU "Gold" plane, a Martin 404 carrying 36 passengers and a crew of four, crashed at approximately 3 p.m. on a mountain near Silver Plume, Colorado while en route to Logan, Utah for a game with Utah State University.
Twenty-nine persons died at the scene, while two others died later after receiving medical attention for their injuries.
This time of remembrance is to acknowledge the changes that the plane crash made in the lives of the victims, their families, their friends and the University.
Remembrance and Reflections
For family, friends and survivors, the events of Oct. 2 remain forever vivid in memory. But the plane crash didn't just impact those close to the team. Read their remembrances and reflections.