Thank You, Instructors
Provost, Shirley Lefever: As we approach the Thanksgiving Holiday, I'd like to take the opportunity to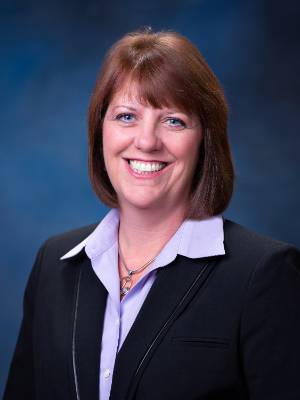 express my deep appreciation to all of our course instructors. For so many of our students, you are the single most important factor in determining student success. Beyond ensuring our students learn your course material, you play an important role in connecting our students with applied learning experiences as well as a myriad of campus resources. I appreciate everything you are doing to stay informed about those resources and sharing that information with students. Your commitment to our students is deeply appreciated. I hope you all have a wonderful Thanksgiving holiday and are able to spend some quality time with friends and family.
Thank you, Library
John Jones: The Media Resources Center has been a close neighbor of the Library as long as they've existed as separate organizations, and we do our best to be good allies, but my appreciation for what the Ablah Library provides to Shockers is really based on my experience as an instructor.
Between subject matter librarians, databases and streaming services, there's a wealth of resources that are available to all of us, to support our classes, and it's all just there for the asking. In my case, I was making a change in my science fiction class and wanted to add films in addition to reading, but I was concerned about how my students would access the films I wanted to teach in my online class – especially given the way movies move in and out of streaming services over time.
The Library's Swank service provides a huge library of films, and I was able to build the film content in my class from that library, making them all available for my students through blackboard – and to do it at no cost to my students. The staff has been easy to work with and has helped me make adjustments to my list over time.
So, my message of thanks today is for the Library, from both of my roles – as a good ally and partner with the MRC, and a good partner and supporter of my work as an instructor.
Thank You, Physical Plant
Carolyn Speer: I am grateful to all the people who work hard to make Wichita State a wonderful destination each day. Our campus is a lovely oasis of trees, plantings, and lawns, and it's all maintained by some of the nicest people on campus. Thank you to everyone who keeps WSU's grounds and buildings in such good shape. You give each of us the gift of a beautiful place to work.
Thank You, ITS
Ryan Corcoran: This year (like every year), I am particularly thankful for ITS (Information Technology Services). The short answer as to why is that simply, they make everything we do here in Campus Media Services possible. In the past eight years, we have transitioned from "old school" audiovisual technology to "managed AV" where we now have the ability to remotely support and track issues with classroom and meeting space technology over the network across all of our distributed campuses. There's not even one team in ITS that doesn't provide CMS with invaluable services that enable us to provide our level of service to the faculty, staff, and students at Wichita State. Between the Networking team, Telecommunications, both Windows and Linux server groups, Information Security, Desktop Support & Help Desk, Applications Training, and all the others I didn't mention, ITS has helped us take that transition from just an idea to actual implementation. As of November 2022, 100% of our Master Classrooms are now classified as managed AV spaces, and we couldn't have done that without ITS's support and guidance.
Thank You, Kansas State Legislature
Ken Harmon: As we get closer to Thanksgiving and reflect on all that we are thankful for, I would like to share something that I am thankful for: increased funding for WSU IT Infrastructure!
As part of the FY 2023 budget passed by the state legislature, $20 million in one-time funding was allocated to Kansas universities to address aged IT infrastructure. Those funds were distributed proportionately across KBOR institutions and, as a result, WSU has an opportunity to materially improve its technology base. First, major investments are being made to address old in-classroom equipment: projectors, ADA equipment, podium microphones, cameras, computers and other equipment. Additionally, new workflow and web portal software has been purchased, which will allow us to upgrade the myWSU portal and improve e-forms and associated processes. Cybersecurity measures will also be enhanced, core network assets will be replaced, and some computer labs will be upgraded. In short, these improvements will make classroom learning and university processes more reliable, efficient, and secure. For that, I am very thankful!
Thank You, Our Students' Support Networks
Anna Porcaro: When we think about students at Wichita State, we often think of the faculty interactions they have in classrooms, labs, over a seminar table or over coffee, but we may not think about all the student support that oftentimes goes unnoticed, but is so vital to the students. This Thanksgiving season, I want to remind us all to think about and personally thank all of the people tirelessly supporting our students success: faculty, staff, fellow students, family and community members. Without all your support, many students would struggle and perhaps never reach their educational goals. If you have ever given a student help in any way, no matter how small it seems, I thank you. I'm proud to be part of a service-focused community and I am thankful to be a part of it.
Thank You, from Moriah Beck
I have a whole list of people I'm thankful for at WSU!
My F45 instructors (Maddie, Brittney, Claire, Morgan, and Tristram) who get me motivated to workout every morning at 6 am.
My department's senior administrative assistant, Margene Webster, who always has a smile and is very responsive to requests from everyone (students, staff, and faculty).
Our stockroom/safety/social worker/supervisor of labs/purchaser Susan McCoy, who wears many official hats and still manages to volunteer for more.
My chair Doug English who truly cares about the well-being of the students, faculty and staff in our department.
My students whose success I use as a measure of my own.
The staff at the WSU Post Office (Matt, Gordon, Meghan, and Cindy) who are just as excited as I am to get surprise packages!
Thank You, from Rachel Porcaro
I am thankful for Dr. Mike Levine, Assistant Professor of Musicology, for being all in on making his class accessible to all students. He is eager to learn and willing to do the extra work required in such a task. He includes material on individuals with disabilities in early music history, which adds diversity and inclusivity to a topic that doesn't otherwise highlight those figures. You're the best, Mike!
Thank You, from Mary Morriss
Special thanks to the Enrollment Office and the Registration Office for all the help they give in verifying enrollments and instructors of record, and thank you to Patty Soth for all you do for us!
Thank You, from Ali Levine
This fall I am thankful for WSU's phenomenal faculty and the generous Tuition Assistance program. Thanks to WSU's tuition assistance, I have finished my degree program and will graduate this fall! Over the semesters I have had the opportunity to learn from the WSU's distinguished faculty across several colleges and schools. The great minds residing on our campus are both humbling and inspiring. Each class has left an indelible mark on my character, and I am a better person for having had this experience.
Thank You, from Jeremy Webster
I'm thankful for the opportunity to meet and empower so many people at Wichita State University through Omni CMS Support and Training. It's rewarding to help so many bring their visions to life and discover that creating and editing webpages is something they REALLY CAN do.
Thank You, from Em Kribs
I'm thankful for administrative staff for all they do to keep the world turning and for transforming mountains into molehills like it's easy, and I'm thankful for academic advisors and all they do to help students navigate college and reach graduation.
Thank You, from John Hammer
I'm grateful for my two team-teaching colleagues, Nick Johnson, and Dr. Tim Jones. They both add a tremendous amount of knowledge, insight, support, and empathy to our course, FA110, Introduction to the Fine Arts, and the students. It is a true joy to work alongside them, both.
Thank You, from Glenn Gunnels
My "Gratitude List" has people from across campus:
Jenn Lopez and Megan Steele in the Business Dean's office have been our point-people and department liaisons to address faculty concerns and technology issues in Woolsey Hall. Because of their communications, we have often been steps ahead in our progress.
A shout out to those helping bring the classrooms online at Woolsey this semester:
Aaron Conyers, Electrical Shop; Pat Wilson, Telecommunications; John Alexander, ITS Networking. They have demonstrated teamwork and cooperation across departments.
Quinn Munk, Welcome Center, has allowed us to provide better service with her outstanding communication and kind personality.