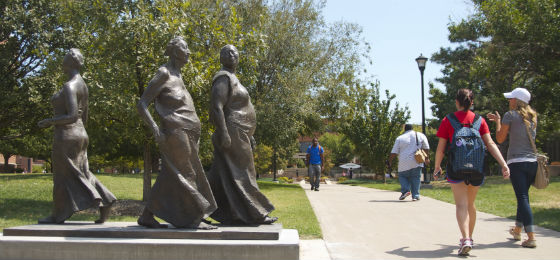 Consider the items below prior to meeting with your advisor.
Math and English Placement Exams
If you have not taken the ACT or SAT, or do not have the qualifying scores to enroll in Math 111 or English 101, you will need to complete the appropriate placement test(s) prior to your advising appointment. You will need to know your ID number in order to take the exams. A schedule of when exams are offered can be found online beginning in mid-February at wichita.edu/placementexams.
Advanced Placement, International Baccalaureate or Concurrent Enrollment
If you are bringing Advanced Placement credit or International Baccalaureate credit with you, or if you are in a Concurrent Enrollment program, be sure your transcripts are on file so you receive the appropriate placement in courses. Find out more at wichita.edu/counselingtesting.
Honors College
Honors Students: Let your advisor know if you are an Honors College student. Honors students are required to take one general education HNRS seminar in either the fall or spring semester of their first year at WSU. They are encouraged to take honors sections of department courses. Honors students are advised in their primary colleges but are encouraged to meet with the Honors Dean or advisor after completing their primary college advising. Click here for more information on the Honors College.

Living Learning Communities
Living Learning Communities (LLCs) offer an opportunity to live on campus and learn among those who share your interests. Residents are assigned to the same floor and have the following options from which to choose: Honors Scholars, Business, Education, Engineering, Fine Arts, Health Professions, Global Citizens, Community Engagement and Service Learning, Fraternity and Sorority, Mosaic: DiverseCity and Wellness. Some LLCs may require enrollment in a specific course, so be sure to share this with your academic advisor. Find out more at wichita.edu/housing.

Out-of-State Students
Students who live out of state may inquire about completing a long-distance advising appointment over the phone. You will find out more about this process when you are contacted to set up your advising appointment.