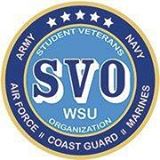 WSU Student Veterans Organization Committees
Every member of the Wichita State SVO is encouraged to become a member of one of the following committees. The success of this organization and the committees is dependent upon the devotion of each and every member! If you are interested in joining any of the committees or have any idea feel free to contact the SVO Vice President.
---
Marketing Team
Team Lead: Jack Newland
Creates and enhances digital/physical marketing tools on platforms such as facebook, email, and the website.
Maintains Rosters for Each Event

Bolsters numbers for each event
Members needed : 5
Current Members: 1
---
Events Team
Team Lead: In Process
Establishes Event Ideas for the semester/year
Coordinates Events
Members needed : 5
Current Members: 0
---