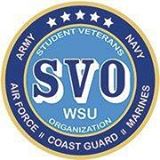 Purpose Statement
Article II: Purpose Statement (From the SVO Constitution)
It shall be the purpose of the Student Veterans Organization (SVO) to provide opportunities to members of the SVO in the following areas:
Opportunities for socialization and campus involvement that enhance personal wellbeing and the academic experience.
Assist SVO members with personal needs that may hinder their success in obtaining a higher education degree.
Enhance self-worth and the welfare of others through opportunities of philanthropy within Wichita State University and the community.
Advocate for SVO members at the University, Local, State and Federal Levels when required by the Executive Board and or membership of the organization.