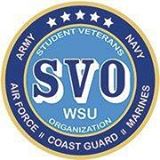 Membership Information
Membership is open to any enrolled WSU student who is:
Enrolled in at least three hours, and;
Is a United States Military Veteran, or:
Has a desire to be a member of the Student Veterans Organization
Membership is open to any non-WSU student who:
Is a high school student, student from another two year, four year or technical college, or;
is a dependent of a veteran, enrolled or not enrolled at WSU, or
any person who has a desire to be a member of the Wichita State University Student Veterans Organization.
The Student Veterans Organization observes a policy of nondiscrimination in its membership, education and activities in accordance with the policies of Wichita State University, the laws of the State of Kansas and laws of the Federal government. In accordance with those policies and laws, it is the policy of the SVO of Wichita State University to prohibit discrimination in membership, educational programs, and all activities on the basis of race, religion, color, national origin, gender, age, sexual orientation, marital status, political affiliation, status as a veteran or disability.
If you are interested in discussing membership with someone or have already made the decision to become a member of the SVO but have not done so, please fill out the form below and an organization member will contact you promptly.
Contact Form For Membership
Last Name