Strategic Planning in Action
Jay Price • Department of History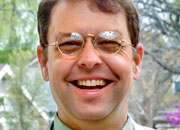 Strategic planning has had a big impact on WSU's Department of History.
Jay Price, professor and chair, says the department used the concept of "Steward of Place" to reframe its Public History Program into a "Local and Community History Program." This allows faculty and students to engage the immediate area as sources of scholarship and study.
The goal to pioneer an educational experience for all that integrates interdisciplinary curricula across the university, led to the department's participation in a newly-created Museum Studies Certificate Program, and already is a core participant in the Asian Studies Certificate Program.
To help accelerate the discovery, creation and transfer of new knowledge, the department launched a television series, "Issues in History Today" that now appears on WSU-TV. It has also launched a regular speakers series, often working in connection with the Ulrich Museum of Art and other institutions on campus. Several faculty members work with KMUW as commentators with its "Past and Present" series.
To help guarantee an applied learning or research experience for every student, the department created the Miner-Unrau Award to support graduate students in conducting research and presenting it in conferences. The department continues to support the Fairmount Folio, a student journal with a student editor.
Best of, Price says, the creation of these programs have been team efforts, each with its own dynamic and participants. Student organizations, such as the Society of Public Historians, were valuable sounding boards for ideas as the plans were developed.
"Many of these efforts are too new to gauge the long-term results," Price said. "We know, however, that the Fairmount Folio editors have gone on to pursue a range of graduate and career paths, finding that the Folio experience provided skills and professional experience that helped them be more competitive vis a vis their competition.
Price said changes are easiest to make when it is one person who proposes them and can run with things. Larger, long-standing changes have involved larger discussions.
One direction has been to use small groups to start conversations and think through how to proceed. Then, the idea is presented to the larger faculty gathering. By having a smaller group frame a policy or direction, it gave other faculty and students a chance to react to a direction instead of several persons trying to come up with it on their own.
For his champions, Price singled out Assistant Professor Helen Hundley as a valuable sounding board and source of ideas and John Dreifort, professor and graduate coordinator, whose years of service at the university provide needed perspective on policies and direction.
---