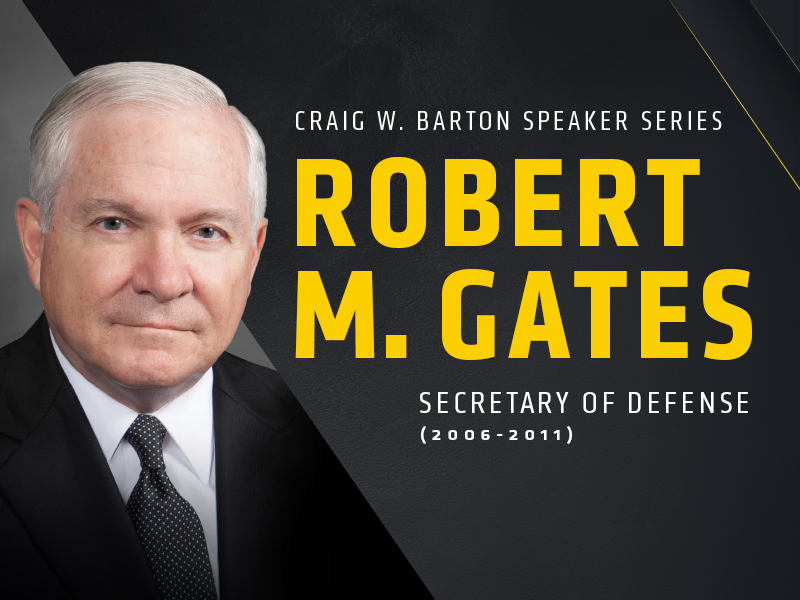 ---
Robert M. Gates, U.S. secretary of defense from 2006-2011 and former director of the CIA, will kick off Wichita State University's inaugural Craig W. Barton Speaker Series this spring.
Gates, who grew up in Wichita, will be the featured speaker in the moderated discussion at 6 p.m. April 27, in WSU's Wiedemann Hall.
The event is free and open to campus and the public.
The new speaker series was created as another opportunity to encourage free expression, critical thinking, and the engaging in discourse of various perspectives.
Individuals can reserve their free seat and learn more about the Craig W. Barton Series at wichita.edu/BartonSeries.
The new speaker series picks up where the WSU Forum Board Lecture Series left off. Originally established in 1937 and discontinued in 2002, the series brought in over that time more than 500 national and internally known speakers, from poets to politicians.
Robert M. Gates biography
Gates served as the 22nd secretary of defense (2006-2011). He is the only secretary of defense in U.S. history to be asked to remain in office by a newly elected President. Dr. Gates served eight U.S. presidents across both parties.
On Gates' last day in office, President Barack Obama awarded him the Presidential Medal of Freedom, America's highest civilian honor.
Gates joined the Central Intelligence Agency (CIA) in 1966 and spent nearly 27 years as an intelligence professional. During that period, he spent nearly nine years on the National Security Council at the White House, serving four presidents of both political parties.
He served as director of Central Intelligence from 1991 until 1993. He is the only career officer in CIA's history to rise from entry-level employee to director. He served as deputy director of Central Intelligence from 1986 until 1989 and as assistant to the president and deputy national security adviser at the White House from Jan. 20, 1989, until Nov. 6, 1991, for President George H.W. Bush.
Gates has been awarded the National Security Medal, the Presidential Citizens Medal, has three times received the National Intelligence Distinguished Service Medal, and has three times received CIA's highest award, the Distinguished Intelligence Medal.