Ayshea Banes knew she wanted to study astronomy when a class at Wichita State nearly brought her to tears.
"I took Astrophysics II in the fall, and that was with Dr. [Jason] Ferguson, and that class really solidified my love for astronomy and physics," said Banes, a senior in physics. "I remember I was sitting in class and, I don't remember exactly what he was teaching, I think it was more of the cosmology we were learning in the class, and I literally wanted to start crying. I was like, 'Oh my God, this is exactly what I want to do.'"
Banes took that passion and ran with it, taking any opportunity to immerse herself in her newly chosen field. One of those opportunities occurred this past January, when Banes was chosen to present at the American Astronomical Society's annual meeting in Seattle.
Banes' presentation focused on neutrinos, which are particles that rarely interact with any other matter in the universe — specifically her research on the neutrinos coming from the galactic core of the Milky Way galaxy.
"I was really nervous," Banes said about presenting at the event.
Banes, a senior who is also a WSU Honors student, set up a kiosk with a digital poster detailing her research and summarized it to the other participants. She was initially discouraged by the lack of interest her research was getting, but by she stuck with it, and she was eventually flooded by curious passersby.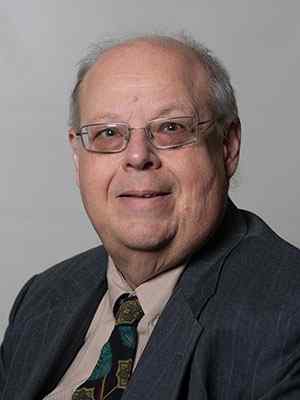 Dr. Nick Solomey
A chance encounter with WSU Physics Professor Dr. Nick Solomey — while she was eating lunch one day on campus — is what led to the opportunity. The research is part of Solomey's larger research project funded by the NASA Innovative Advanced Concepts (NIAC) grant.
"I had my lunch in the common area of physics that day, and she was having her lunch in the common area of physics that day," Solomey said. "We chatted and she found my project interesting. I said, 'Well, you know, my other undergraduate student is done with his one year [under the NIAC grant]. Any interest in doing the work?' And she said sure."
Banes created a model to estimate the number of neutrinos coming from the galactic core and how many could be concentrated with gravitational lensing using the sun. Banes is primarily working with Solomey on creating a neutrino detector that would go into orbit.
Banes is originally from Mascoutah, Illinois, and was initially attracted to the affordable tuition at Wichita State. She quickly found her place in Wichita.
"I just really like Wichita in general," Banes said. "I found a community, and I fell in love. I really liked the classes and the people."
Banes said the whole experience at the AAS was a positive one and that she was able to make many connections with those in the fields of physics and astronomy.
The trip to AAS was paid for by the Dorothy and Bill Cohen Honors College. She plans to graduate in May and is applying to grad school to get her doctorate in physics or astronomy.
---
About Wichita State University
Wichita State University is Kansas' only urban public research university, enrolling almost 22,000 students between its main campus and WSU Tech, including students from every state in the U.S. and more than 100 countries. Wichita State and WSU Tech are recognized for being student centered and innovation driven.
Located in the largest city in the state with one of the highest concentrations in the United States of jobs involving science, technology, engineering and math (STEM), Wichita State University provides uniquely distinctive and innovative pathways of applied learning, applied research and career opportunities for all of our students.
The Innovation Campus, which is a physical extension of the Wichita State University main campus, is one of the nation's largest and fastest-growing research/innovation parks, encompassing over 120 acres and is home to a number of global companies and organizations.
For more information, follow us on Twitter at www.twitter.com/wichitastate and Facebook at www.facebook.com/wichita.state.