FEATURED STORIES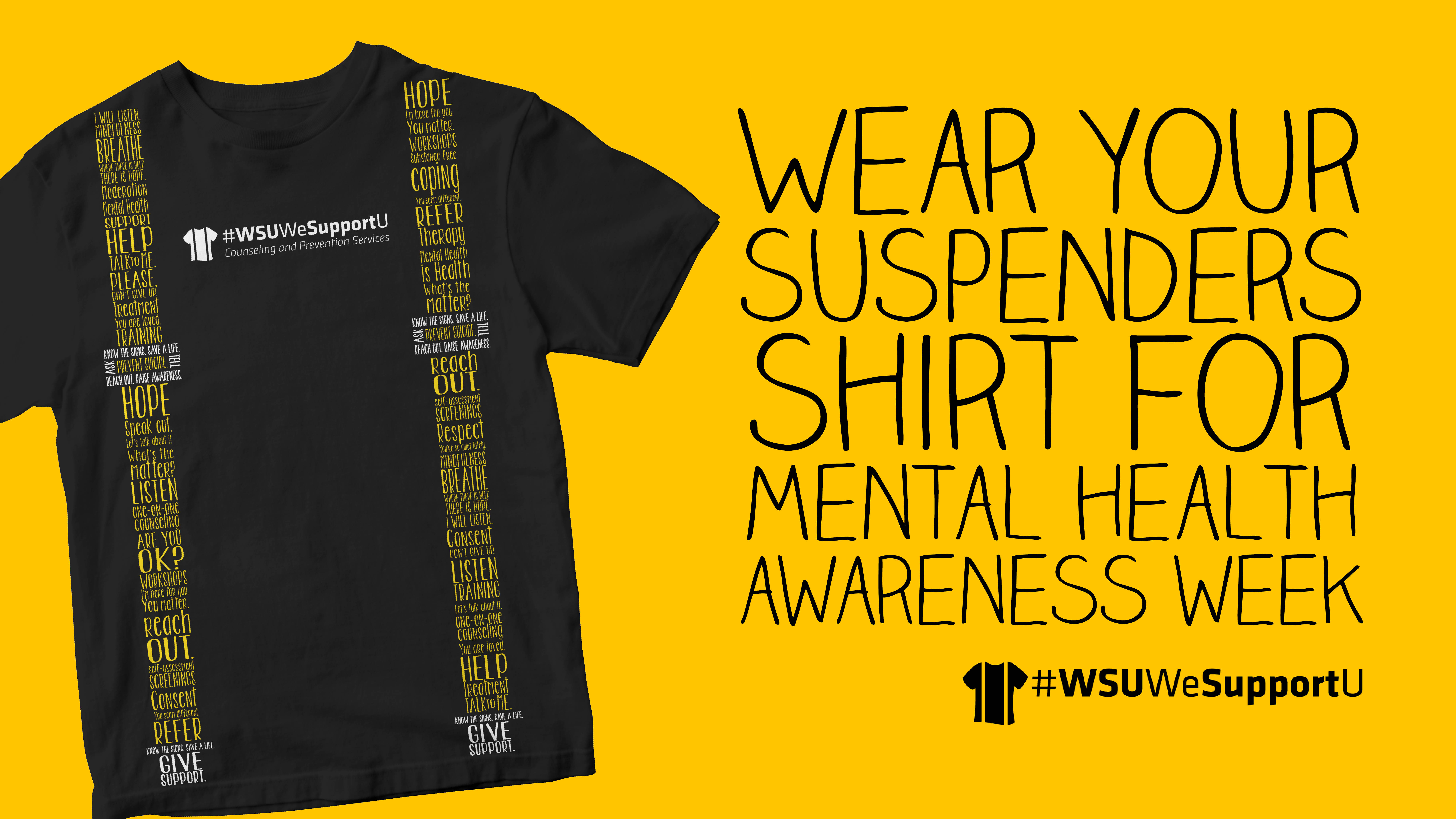 Wear suspenders shirt for Mental Health Awareness Week
April 19-23 is mental health awareness week, and you can show your support by wearing your #WSUWeSupportU Suspenders4Hope shirt!
Shockers can also support someone in need by learning the "Share, Ask, Support" method of preventing suicide for free by visiting wichita.edu/TakeTheTraining and taking the #WSUWeSupportU Preventing Suicide Training.
---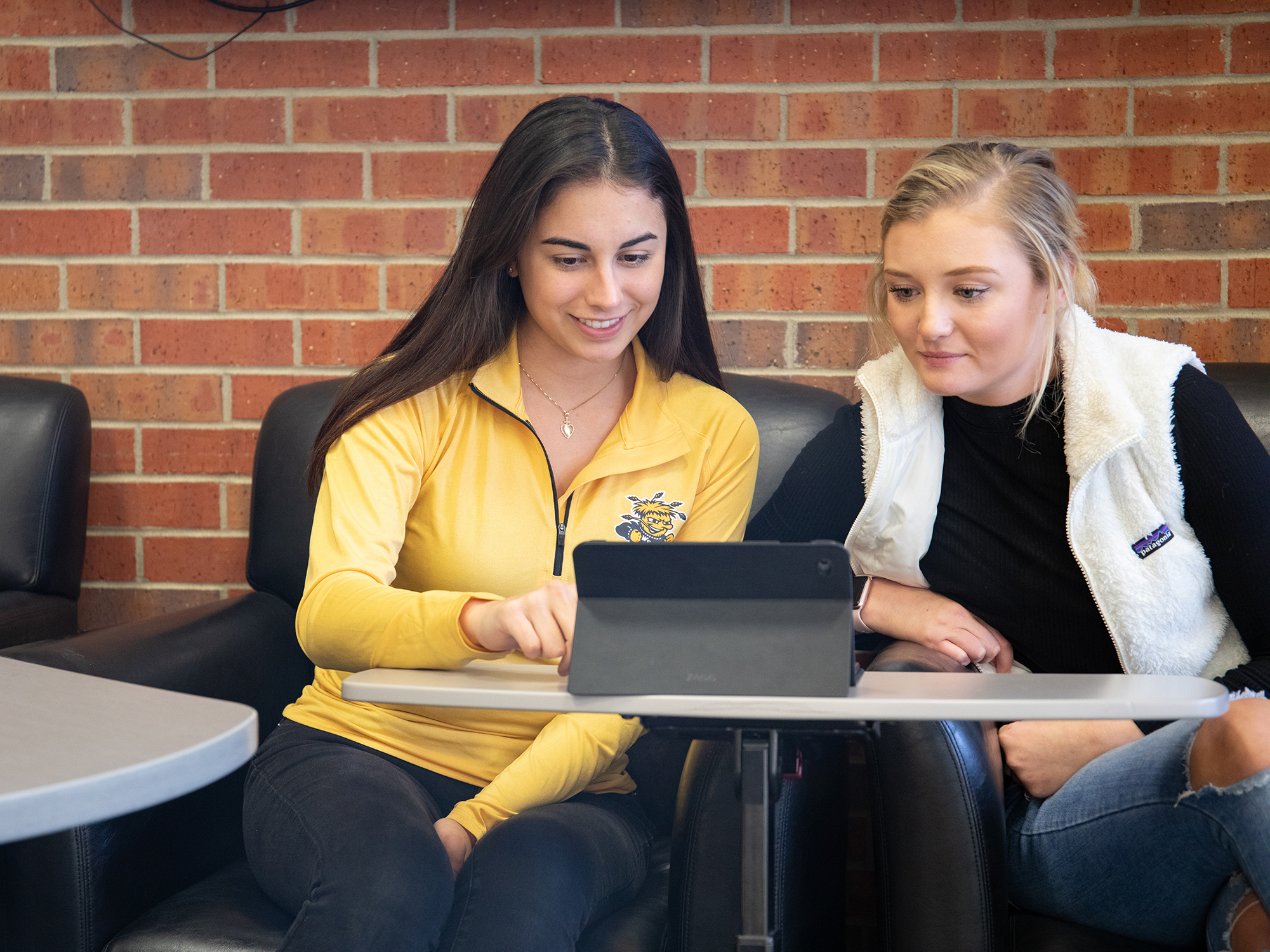 English 102 approved for Open/Alternative Textbook course designation
Starting in fall 2021, Wichita State students will no longer have to buy textbooks for English 102. The course was recently approved for Open/Alternative Textbook Course designation, which is part of an effort to advance the use of freely available educational resources and texts in Wichita State classes and decrease the financial burden of textbook expenses on students.
---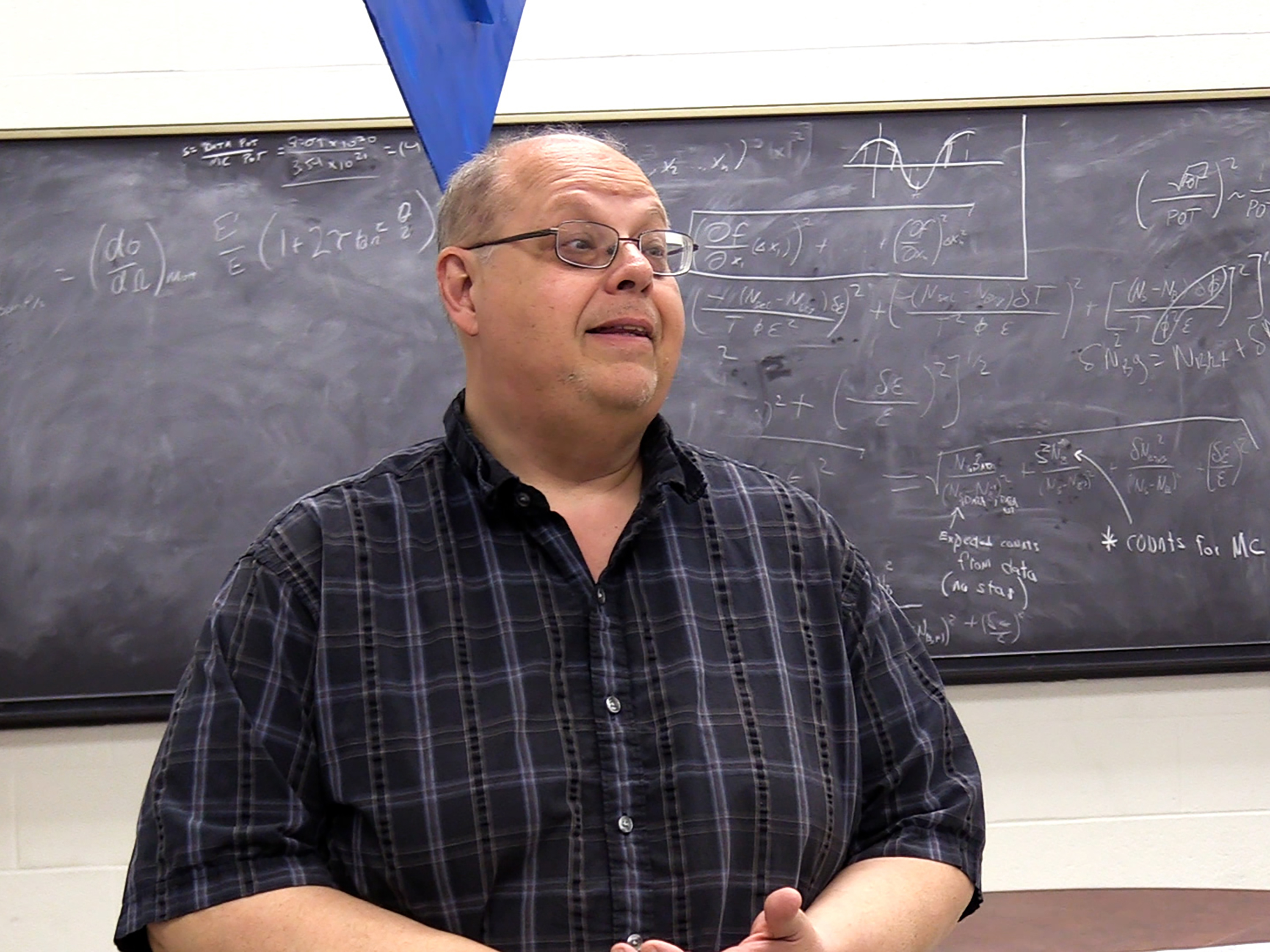 NASA awards $2 million for Wichita State professor to study the sun
Wichita State University's Dr. Nick Solomey, professor of physics, has been awarded a $2 million grant from NASA for his work on developing a neutrino detector to work in space and close to the sun.
Solomey's grant was one of five grants NASA announced earlier this month from the NASA Innovative Advanced Concepts (NIAC) program.
According to a NASA Press release, "neutrinos are one of the most abundant particles in the universe but are challenging to study since they rarely interact with matter. Therefore, large and sensitive Earth-based detectors are best suited to detect them."
Read more on Solomey's NASA grant
---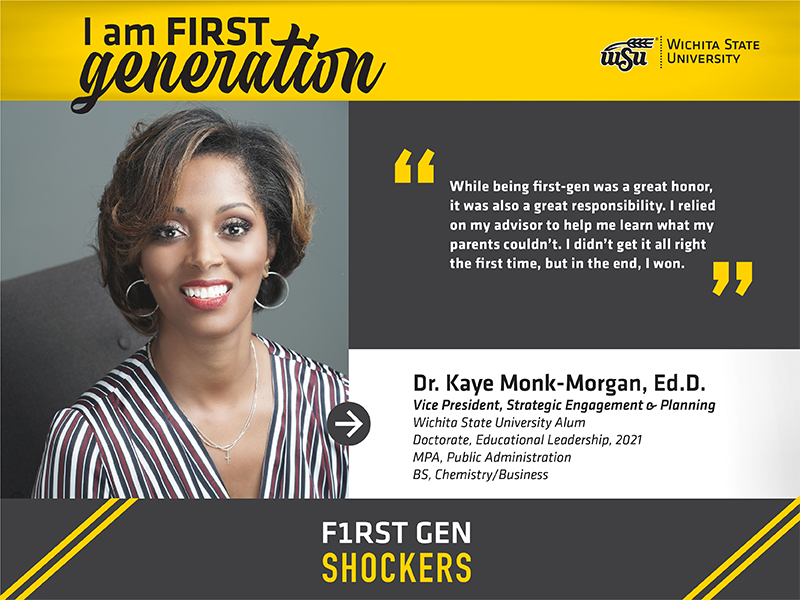 F1RST-Gen Friday profile: Dr. Kaye Monk-Morgan
What is a first-gen Student?
A first-generation college student is defined as a student whose parents/legal guardians have not completed a bachelor's degree. A student who is the first person in their immediate family to attend a four-year college/university to attain a bachelor's degree.
FORM-A-LINE: Become a subcommittee member of FGCC. The First-Generation Coordinating Council (FGCC) is looking for individuals to join in the work. Currently seeking subcommittee members for the following:

Marketing
Faculty and staff engagement
Data and assessment
Graduate school

FOCUS ON FIRST-GEN: This week we highlight Dr. Kaye Monk-Morgan, Ed.D., vice president of Strategic Engagement & Planning.
If you're interested in being featured as a first-generation profile, contact Lydia Santiago at

fgshockers@wichita.edu.
NEWS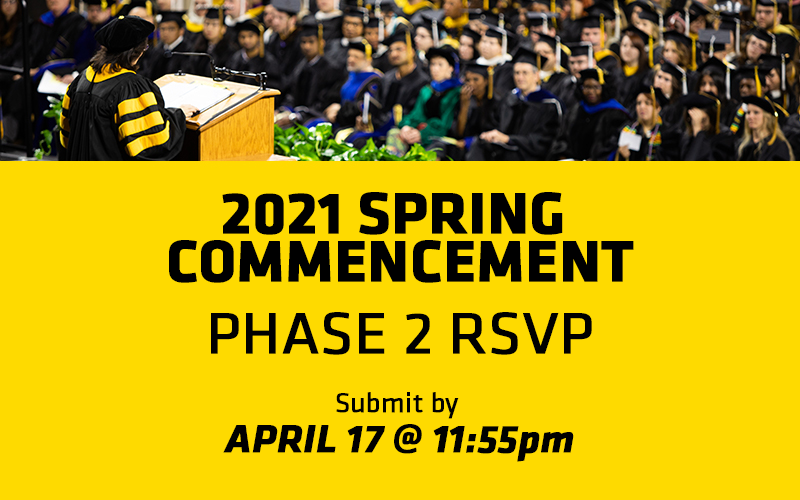 Spring commencement update, RSVP reminder
The phase two RSVP deadline is 11:55 p.m. Saturday, April 17. Students must be RSVPd by the deadline in order to participate in the commencement ceremonies. Graduates should be aware of these ceremony updates:
While mask-wearing is highly encouraged, it will not be required of graduates and guests.
Graduates and guests will be assigned seats.
Each in-person graduate will receive six guest tickets.
Graduates still have the opportunity to switch between the virtual and in-person ceremonies. Please email commencement@wichita.edu

with this request and we will make the change. Requests must be received by the Commencement Office no later than 11:55 p.m. April 17. Changes cannot be made after that date.
Read more commencement information
In-person Graduates
If you have not yet chosen a ceremony or recorded the pronunciation of your name, please go to the marching order web page and login with your WSU email.
Graduates will have until 11:55 p.m. Saturday, April 17 to RSVP. Graduates must be RSVP'd by the deadline to participate in the commencement ceremonies. No exceptions.
E-tickets
Each student will receive six guest tickets.
E-tickets will be available to print or email after the phase two deadline.
E-tickets will be accessed through the commencement website.
Keep an eye on your email for more information about how to access your guest tickets when they become available.
Virtual Graduates
If you have RSVP'd to participate in the virtual commencement ceremony, and have not already submitted a photo or recorded your name, please go to the commencement website and login with your WSU email.
Graduates will have until 11:55 p.m. Saturday, April 17 to complete this form. Graduates must have completed the form by the deadline to participate in the commencement ceremonies. No exceptions.
Visit www.wichita.edu/commencement for up-to-date commencement information.
---
Water shutdowns planned for April 19
The City of Wichita will be replacing two water meters on Monday, April 19. The buildings affected will be the Flats, the Aviation Testing Lab, Beggs Hall, the Beech Wind Tunnel, and Wallace Hall. The outage will last from about 9 a.m. to 1 p.m. During this time, these buildings will not have water service — including restrooms, water fountains, and sinks.
There's a possibility the outage may affect additional buildings. We appreciate your patience.
---
15 teams to advance to Shocker New Venture Competition Trade Show
The Center for Entrepreneurship's Shocker New Venture Competition (SNVC) is underway and will award start-up capital to aid competitors in the launch of their new ventures. Sponsors of this year's competition include IMA Financial Group, INTRUST Bank, NetWork Kansas, Riverside Health Foundation, Jeff & Kelley DeGraffenreid.
This week wrapped up the judging of the Business Model Video round. Teams were judged on their ability to succinctly encapsulate their business concept through a market analysis, a clear value proposition, and a sustainable competitive advantage.
Read more about the SNVC teams
The result is the movement of 15 teams into the Trade Show round of the competition. Selection was based upon market viability, the likelihood to launch.
The 15 teams advancing to the Trade Show are:
Alalia Technologies
Anonymous Tech
Ascend
Bar C Innovations
BME Innovations
BME Innovators
Elio Biomed
Excreta
Kermode Solutions
PARROT
Pregnancy Protector
Renewable Tech Solutions
The Fortress
The Inventors
The Real Estimate
The Trade Show will take place virtually 3-6 p.m. Friday, April 23, where these teams will set up virtual booths and pitch their business concepts to over 100 business leaders.
At the close of the Trade Show, the six teams with the most "investments" by the judges will be announced. These teams will advance to the final round which takes place on April 30. The Final Round will take place from 1-5 p.m. virtually.
The public is welcome and encouraged to attend and witness this next generation of entrepreneurs and innovators.
---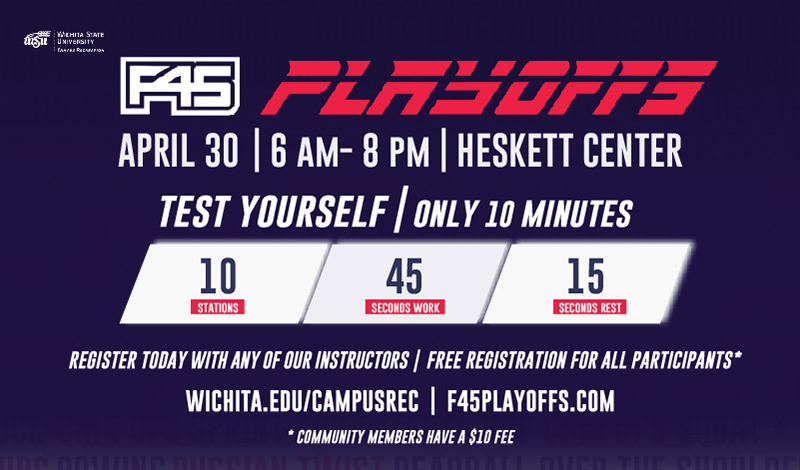 Register for the F45 Playoffs today
The F45 Playoffs are back this semester. Join us on April 30 to see if you have what it takes to be crowned the F45 champion. Registration is free for all students and $10 for all other participants. Register today with an F45 instructor.
---

Celebrate Wellness Week with Students Affairs
April 19 is the beginning of Wellness Week! Relax and decompress with self-care activities sponsored by Student Affairs departments like Counseling & Prevention Services, Student Health Services, Campus Recreation and CARE Team. Activities include:
Drop-in support groups
Grab-and-go DIY kits
Free chair massages
Free potted plants
Making mandalas
Find the full list of events, times and locations at wichita.edu/SAwellness.
---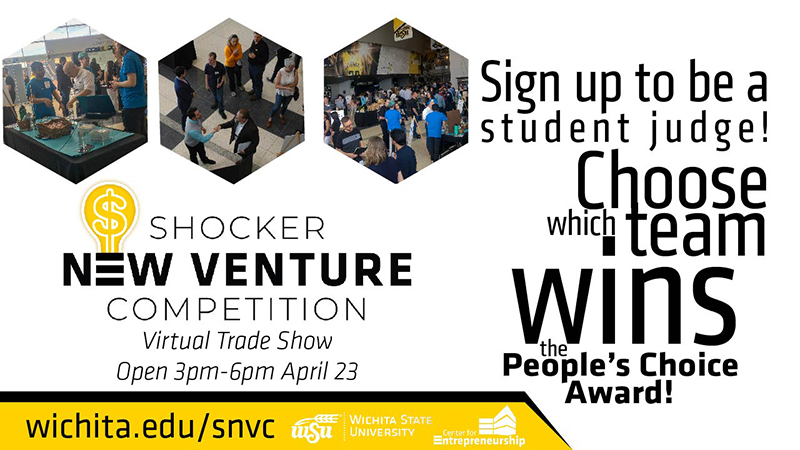 Shocker New Venture needs student judges
Held virtually this year, the Trade Show still promises to be an event brimming with intriguing ideas and booths. Sign up today to be a student judge. Choose which team wins the People's Choice Award.
---
Sustainable research videos due today
The Earth Day 2021 organizing committee invites students to present their research at the 2021 Shockers Go Green-Earth Day Student Poster Competition. Topics of interest include but are not limited to the following:
Sustainable manufacturing
Climate change
Green buildings and infrastructure
Green energy
Green materials, waste and recycling
Social awareness
Sustainability in education
Urban planning / smart cities
Each student participant will create a five-minute video presentation of their research. The video presentation should contain a single static slide/poster. Top presentations will receive $250, $150 and $100 awards
Get more information on the poster competition
---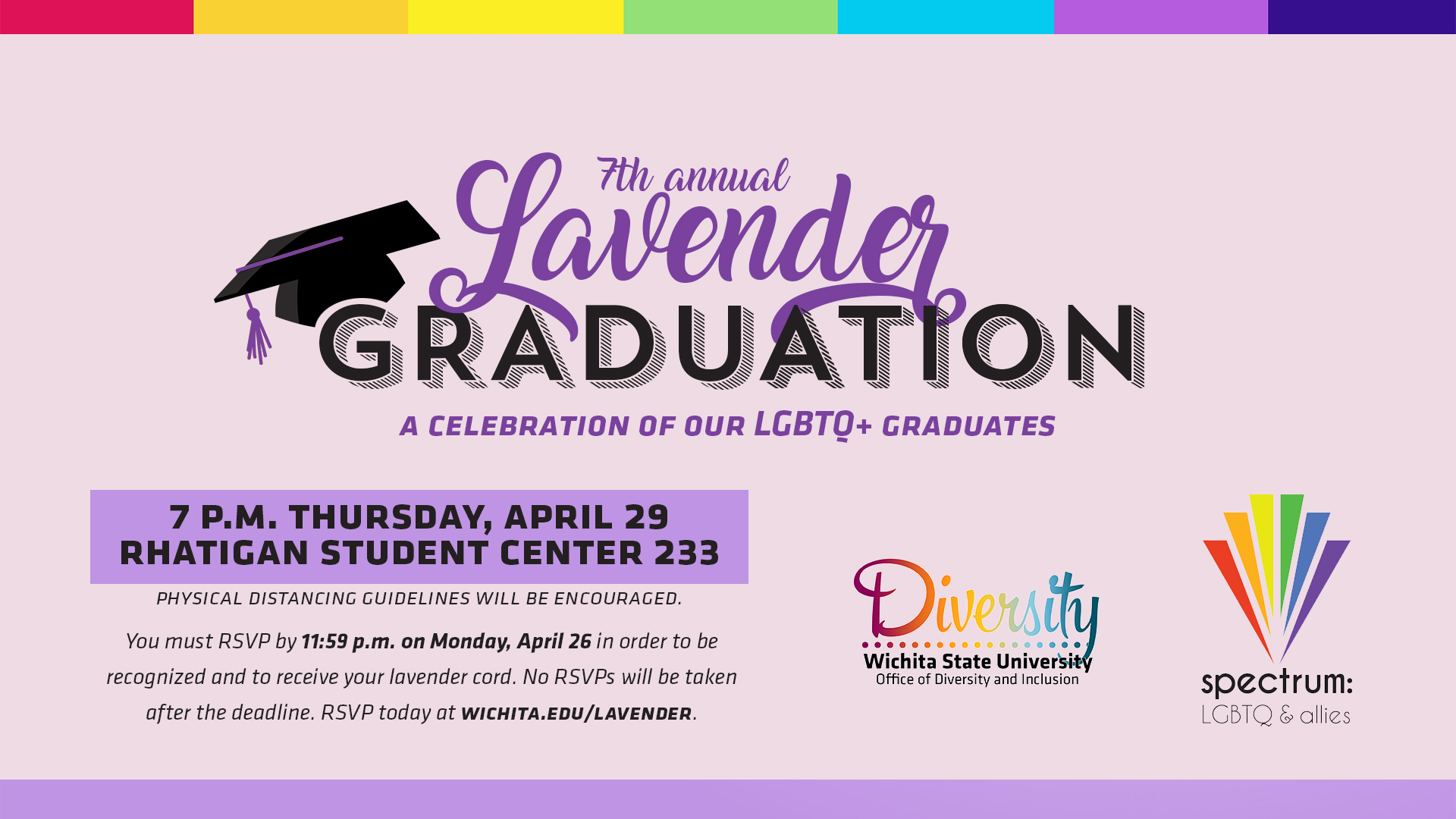 Register for Lavender Graduation
Lavender Graduation is a celebration of our graduating LGBTQ+ students. Join us for the seventh annual Lavender Graduation at 7 p.m. April 29 at the Rhatigan Student Center, room 233.
You must RSVP by 11:59 p.m. Monday, April 26 in order to be recognized and to receive your lavender cord. No RSVPs will be taken after the deadline.
---
First-Generation Student Organization elections
First-Generation Student Organization is holding its annual elections. We are looking for president, vice president, treasurer, and secretary for the 2021-22 term. If you are interested in running for office, please connect Heather Hunter by email at x949f279@wichita.edu for the application form. Deadline for submitting is April 28, and voting will take place April 30.
EVENTS
Special physics discussion today
Wichita State Physics Division will be hosting an open discussion titled "Special Physics Discussion: Hints of New Physics from Fermilab's Muon g-2 Experiment First Results" at 3 p.m. today via Zoom.
Last week, the first results from the Muon g-2 experiment at Fermilab were presented and revealed exciting evidence of particle physics beyond our standard understanding. The Muon g-2 experiment searches for evidence of new particles and forces by probing the interaction of a muon (the heavy cousin of the electron) with a magnetic field and precisely determining its magnetic moment. Comparison with theoretical predictions then allow scientists to probe the robustness of the standard model of particle physics.
This result was met with much excitement and was widely reported by the press in publications like the New York Times, National Geographic, and Nature.
Prof. Mathew Muether (experimental particle physics) and Prof. Terrance Figy (theoretical particle physics) will present a quick overview of the results and their significance followed by an open question and answer session. We are targeting a general audience for this discussion, but will also be diving into technical details for anyone interested following the main agenda. Watch the results presentation.
Join the discussion at 3 p.m. today (password: 935943)
---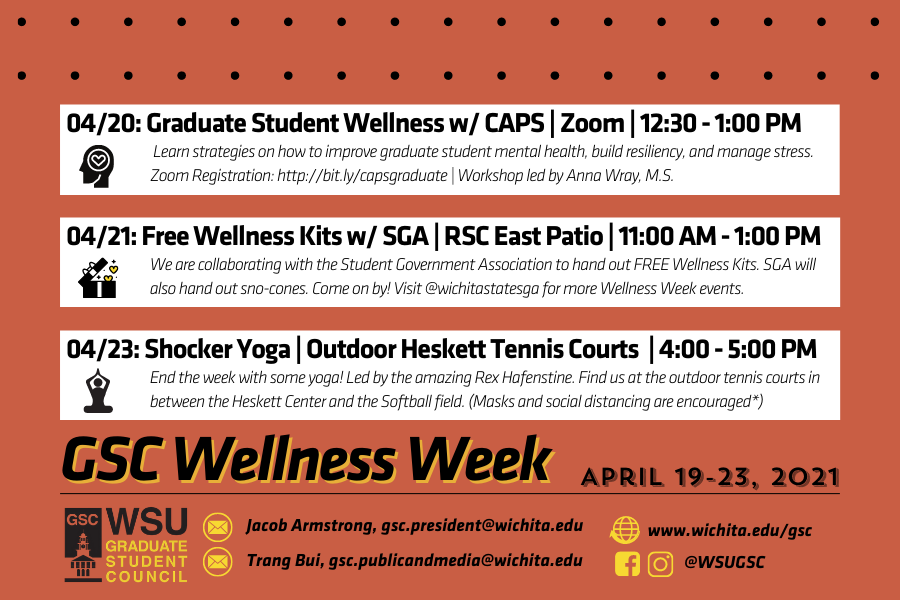 Wellness Week with Graduate Student Council
Join the Graduate Student Council as we celebrate another Wellness Week together! With finals coming up around the corner, it's important that we focus on our mental health and take time to recharge. Below are the events the GSC is hosting in collaboration with different areas on campus.
12:30 p.m. Tuesday, April 20 — Graduate Student Wellness: Learn strategies on how to improve graduate student mental health, build resiliency, and manage stress. The workshop is led by Anna Wray, M.S. To register for the virtual event, visit http://bit.ly/capsgraduate.
11 a.m. Wednesday, April 21 — Free wellness kits with SGA: We are collaborating with the Student Government Association to hand out FREE Wellness Kits. SGA will also hand out sno-cones. Visit @wichitastatesga for more Wellness Week events.
4 p.m. Friday, April 23 — Shocker Yoga: End the week with some yoga, led by the amazing Rex Hafenstine! Find us at the outdoor tennis courts in between the Heskett Center and the Softball field. (Masks and social distancing are encouraged.)
For questions, contact Trang Bui at gsc.publicandmedia@wichita.edu.
---
Webinar Series: Financial Wellness & Health
Join the Office of Student Money Management for a webinar on financial wellness and how it can affect your health mentally and physically. Learn new tips and reflect on your current habits at 12:30 p.m. April 19. Email osmm@wichita.edu for the link to the Zoom meeting.
---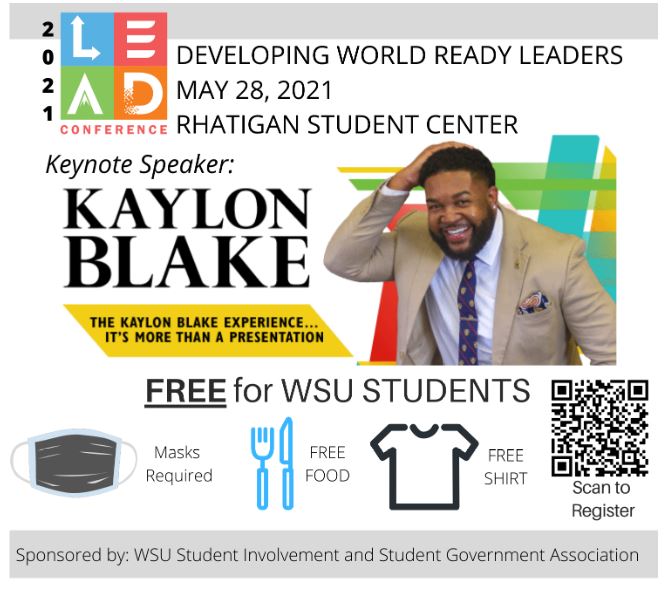 Registration open for LEAD Conference; free for students
Sign up for the 2021 LEAD Conference on May 28 in the RSC! This conference is free for students and will cover a range of leadership topics — including development, student organizational leadership, and diversity and inclusion!
Featuring Kaylon Blake as our keynote speaker, we are excited to talk about leadership, connecting with others, and gaining transferrable skills and insight for the future!
Masks are required for this in-person event! Food and gear will be provided!
Please reach out to Kennedy Rogers if you have any questions at kennedy.rogers@wichita.edu.
---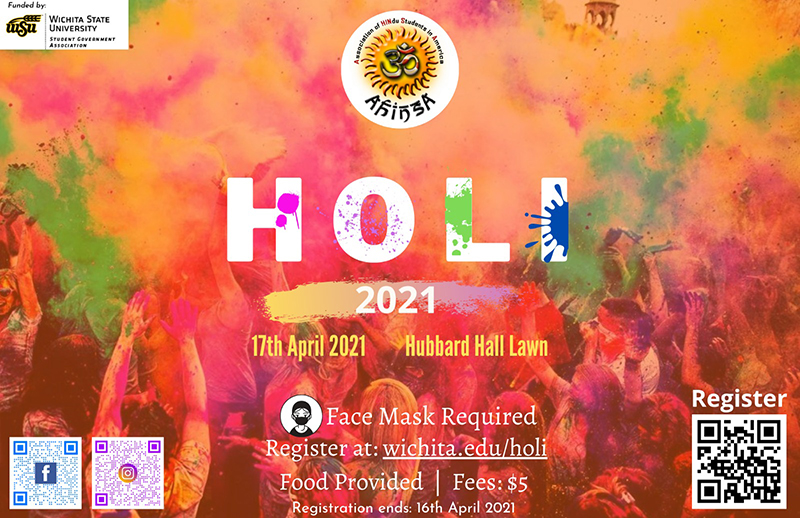 Holi spring festival returns to Wichita State
After the darkness of the pandemic, AHINSA is back with Holi to fill your life with colors and joy. Join us from 11 a.m. to 2 p.m. April 17 at Hubbard Hall Lawn. Holi is open to students, faculty, and staff. Registration is required to attend.
---
SBIR/STTR proposal preparation webinars
WSU Strategic Initiatives is planning two webinars to help participants prepare proposals for SBIR/STTR and May 4 and May 6. The May 4 webinar runs from 8:30 a.m. to 12:30 p.m. and will go over an SBIR/STTR overview and a review process for developing a competitive NSF Phase 1 proposal. The May 6 runs from 12:30 to 4:30 p.m. webinar and will go over an SBIR/STTR overview and a discussion of differences among agencies and DoD proposal format. For more information and to register for the webinars, go to Wichita.edu/sbirproposalprep.
---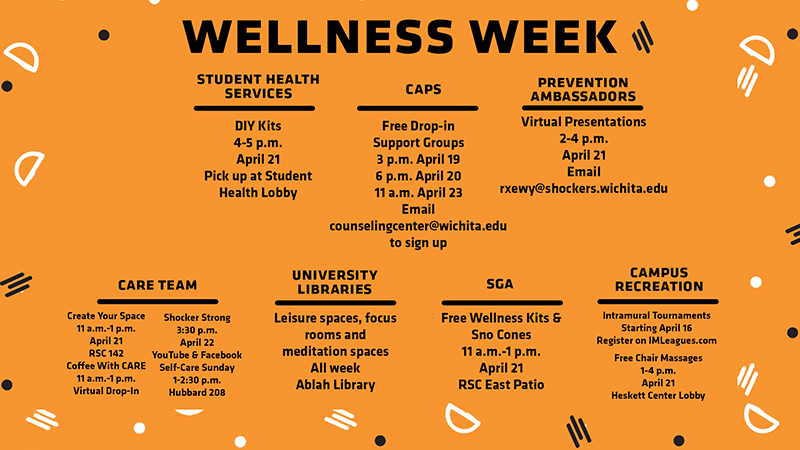 Wellness events for the week of April 19
Wellness Week is coming up soon. In an effort to give students a break, departments around campus are putting on events that promote mental health and wellness. Check out this schedule of events.
---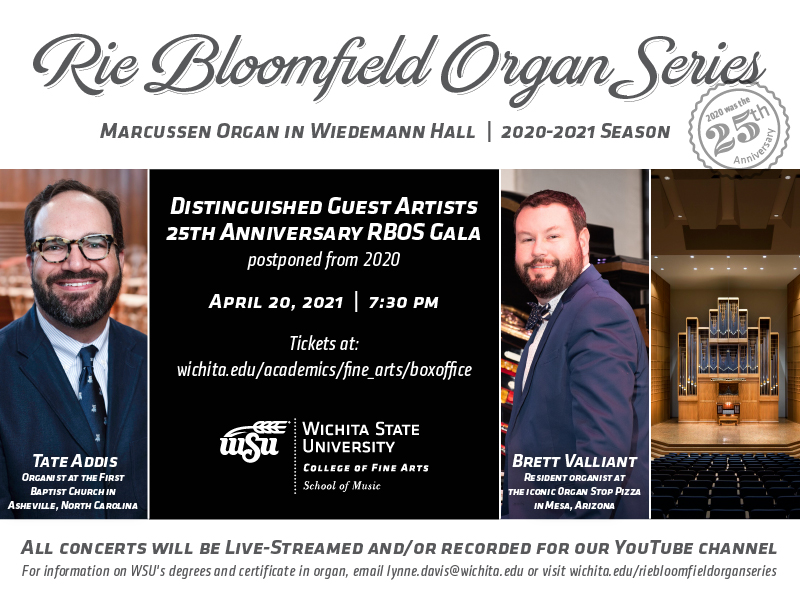 RBOS 25th Anniversary Gala at Wiedemann Hall
2020 marked the 25-year anniversary of the Rie Bloomfield Organ Series. Due to the pandemic, the original concert was postponed until this year. Thus the Gala 25th Anniversary of the Rie Bloomfield Organ Series will be celebrated on at 7:30 p.m. Tuesday, April 20, 2021 in Wiedemann Hall. You may attend in person (tickets at the CFA Box Office) or watch the live stream on the WSU School of Music Facebook page.
Distinguished guest artists are Wichita-born Brett Valliant and Tate Addis, well-known for their virtuoso performances. A varied program includes works by Bach, Guilmant and Dupré as well as "Somewhere Over the Rainbow" and a grand finale on both the great Marcussen organ and the Steinway piano.
---
Meet-and-greet Engineering Council candidates
Join Engineering Council for a meet-and-greet event with candidates from 2 to 4 p.m. Friday via Zoom. This event will host all candidates in separate breakout rooms for the opportunity for you to converse with them personally.
---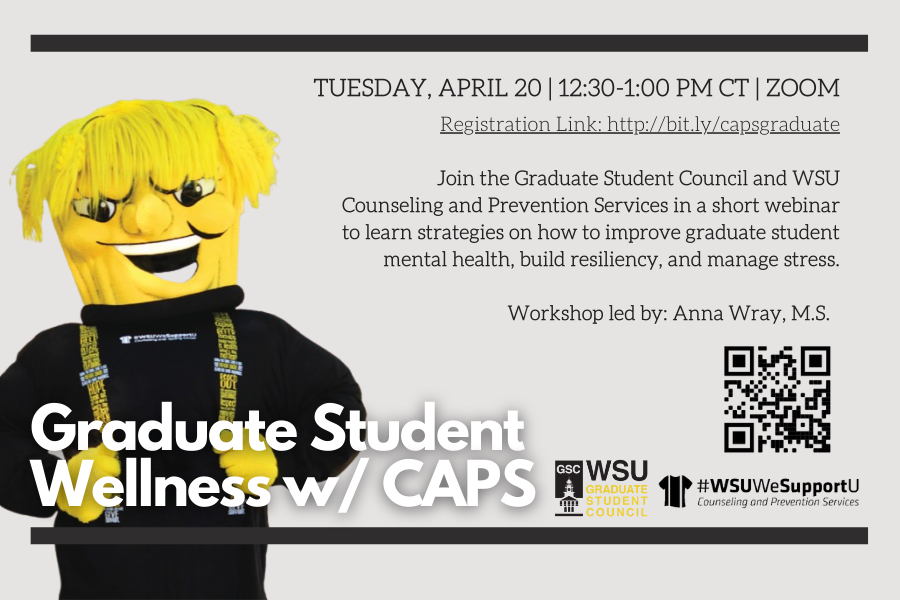 Graduate student wellness with CAPS
Calling all graduate students! Let's get real with our mental health and energy. Join the Graduate Student Council and WSU Counseling and Prevention Services in a short webinar to learn strategies on how to improve graduate student mental health, build resiliency, and manage stress at 12:30 p.m. Tuesday, April 20. If you have any questions, contact Trang Bui at gsc.publicandmedia@wichita.edu.
---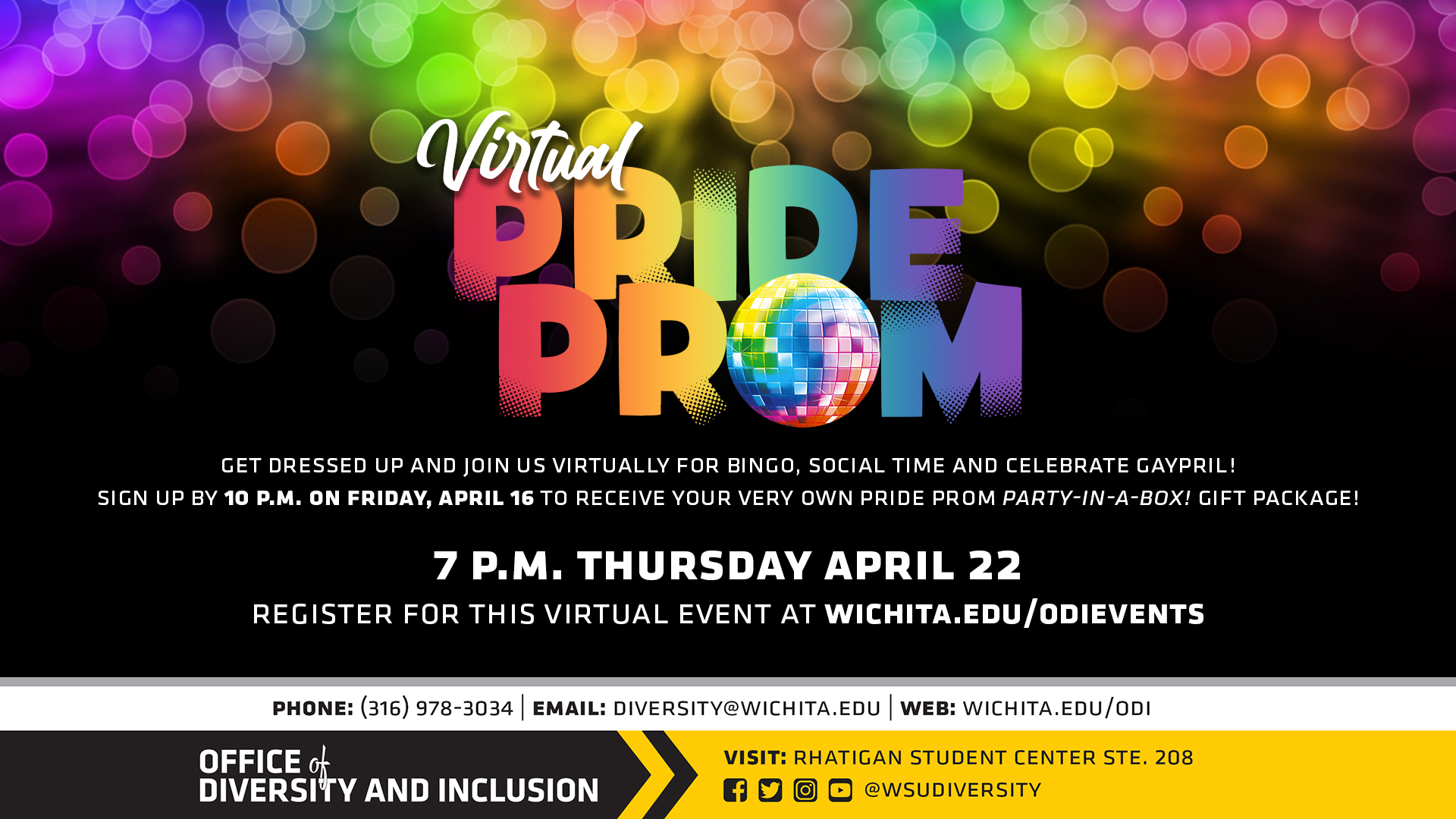 Register for Pride Prom 2021; deadline today
Get dressed up and join us virtually for bingo, social time, and celebrate Gaypril. Sign up by 10 p.m. today to receive your own Pride Prom Party-In-A-Box gift package.
Pride prom is at 7 p.m. April 22. Register at wichita.edu/odievents.
---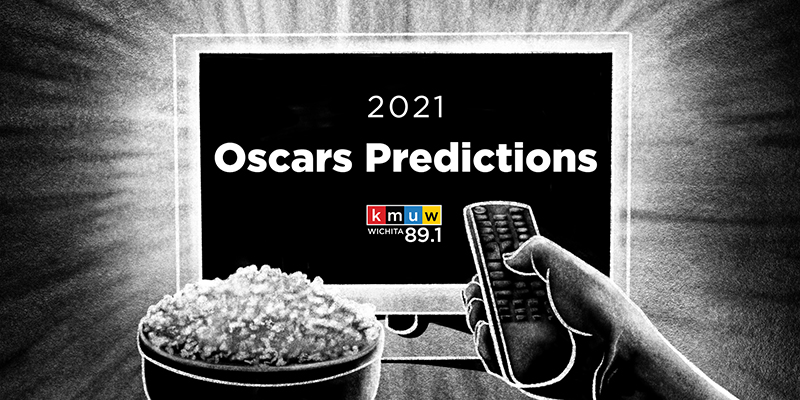 Join the KMUW for the 2021 Oscars Predictions
Who do you think will take home this year's Oscar for Best Picture? Whether you want to stack your ballot with winners or find a new movie to queue up, come hear what the experts have to say at our live 2021 Oscars Predictions chat on April 21. The KMUW movie club is convening in advance of the 93rd Academy Awards ceremony on April 25 to talk favorites. Our expert film fans are:
Kylie Brown, director of tech and web for mama.film
Lela Meadow-Conner, founder of mama.film
Hugo Phan, KMUW digital assistant and Tallgrass Film Festival box office coordinator
Fletcher Powell, KMUW movie reviewer
Tune in for the live chat at 10 a.m. on Wednesday, April 21 on KMUW's Facebook page. Share your questions and predictions by commenting on the live video, and start preparing now by checking out Fletcher's movie reviews under the commentary tab at KMUW.org.
---
First-Generation Student Organization meeting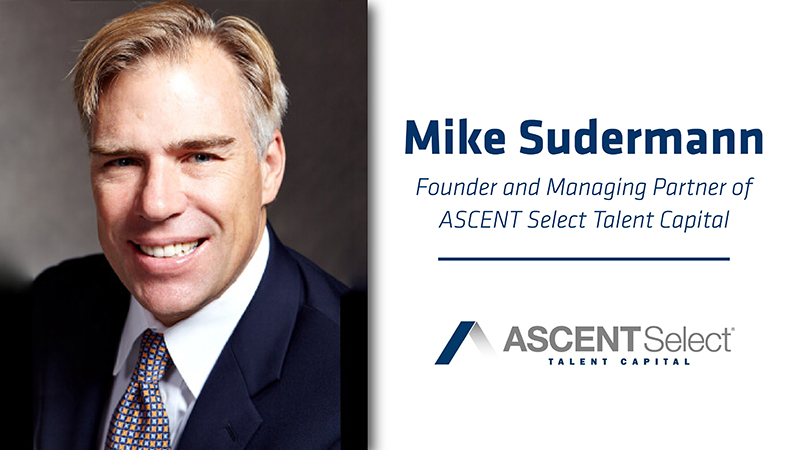 Meet with Shocker alumnus, Mike Sudermann
Entrepreneur, CEO, author, podcaster, and Wichita STate alumnus Mike Sudermann is offering an exclusive three-part career clinic series this month.
Sudermann is the founder and managing partner of ASCENT Select Talent Capital, a globally recognized executive search firm engaged in high-priority searches for start-up to Fortune 500 organizations.
Each of these clinics will be 30-40 minutes of teaching with 15 minutes for questions at the end of the presentation.
Register below for a clinic to boost to your future career.
KUDOS, PUBLICATIONS AND PRESENTATIONS
WSU, Wichita Police Department collaboration garners ATF recognition
Staff from Wichita State University, the Wichita Police Department, and the Wichita Alcohol, Tobacco, Firearms and Explosives (ATF) Field Office received multiple awards from the Bureau of ATF during a presentation April 13.
The awards recognized a collaborative in-depth serial shooter investigation by the WPD, WSU Police and ATF at the Wichita Crime Gun Intelligence Center (WCGIC) last year. The WCGIC was established in 2019 and is located at the Wichita/Sedgwick County Law Enforcement Training Center (LETC) on Wichita State's Innovation Campus. The LETC involves a collaboration of law enforcement agencies throughout the region, led by WPD, ATF and Wichita State.
SPECIAL OFFERS
Try the Quesadilla Burger in April
Stop by the Shocker Sports Grill & Lanes in April to try its Burger of the Month, the Quesadilla Burger. The patty is topped with melted cheddar, grilled jalapenos and onions and served quesadilla-style.
JOB OPENINGS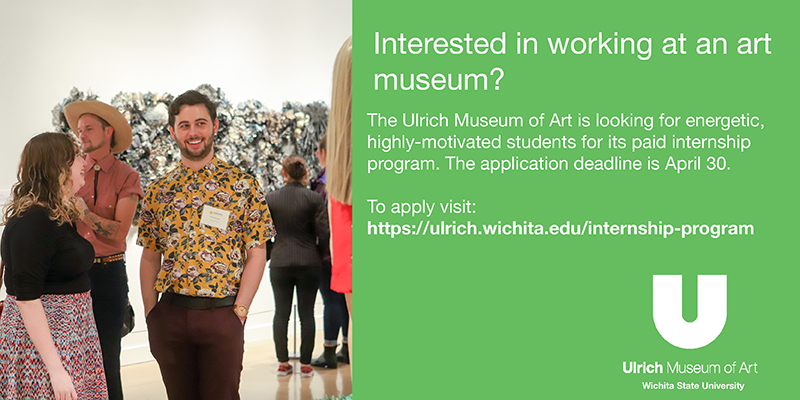 Ulrich accepting paid internship applications
The Ulrich Museum of Art on the Wichita State University campus is accepting applications from Wichita State students for its paid internship program, which offers valuable experience in the everyday workings of a university art museum. These internships offer students interdisciplinary and experiential learning that is informative on both intellectual and practical levels. Tasks may include assisting with research for exhibitions, cataloging works of art, helping with publicity, participating in exhibition installations, working on programs, and giving exhibition tours. Internships for course credit in fulfillment of curricular requirements are available in coordination with many academic departments.
To apply, please email a current resume accompanied by a cover letter to either Ksenya Gurshtein, curator of modern and contemporary art or Jana Erwin, head of education, summarizing your past experiences related to art and museum work, your goals for the future, and an explanation of why you would like to intern at a university modern and contemporary art museum. Please note: We strongly recommend visiting the museum's exhibitions and exploring this website before writing the cover letter. The application deadline is April 30, 2021.