FEATURED STORIES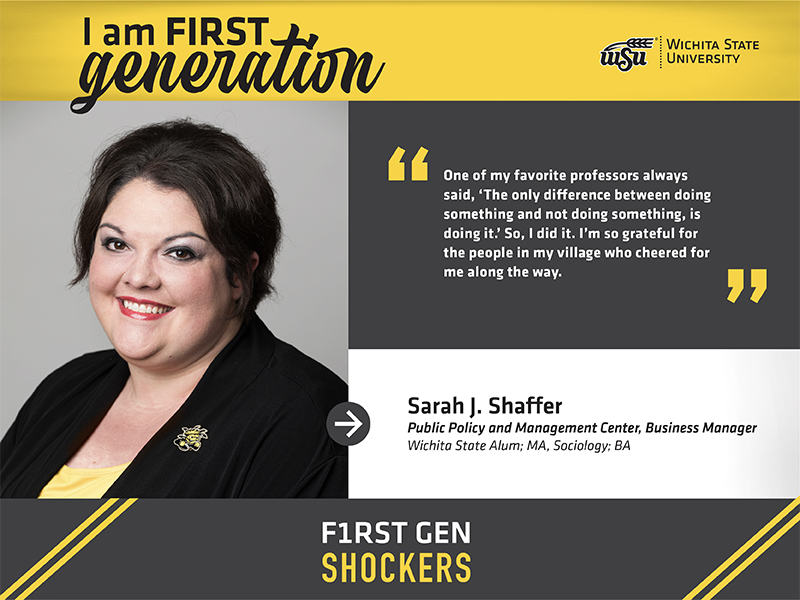 F1RST-Gen Shocker Friday: Sarah Shaffer
What is a first-gen Student? A first-generation college student is defined as a student whose parents/legal guardians have not completed a bachelor's degree. A student who is the first person in their immediate family to attend a four-year college/university to attain a bachelor's degree.
FORM-A-LINE: Become a subcommittee member of FGCC. The

First-Generation Coordinating Council (FGCC) is looking for individuals to join in the work. Currently seeking subcommittee members for the following:

Marketing
Faculty and staff engagement
Data and assessment
Graduate School

FOCUS ON FIRST-GEN: This week we highlight Carri McMahon, Organization and Collaboration Specialist for the Community Engagement Institute.
F1RST-GEN T-Shirts are available in the RSC Shocker Store.
If you're interested in being featured as a first-generation profile, contact Lydia Santiago at

fgshockers@wichita.edu.
---
Updates coming soon to WSU Today and Shocker Blast
Coming soon, you will notice slight changes to WSU Today and Shocker Blast. You'll receive the same content — but with an updated process. The updates will take place in early May.
Learn more about the updates
Improvements to the updated format:
Those who submit items to the newsletters will now have more control over the content-creation process, including being able to add links, bullet points and notes to the Strategic Communications staff. See above to watch a short video on how to submit.
Each submission to the newsletter will now live on its own web page, so you can share your own submission with whomever you want.
Each headline in the daily newsletter email will be clickable, taking you to that item in the web version of the newsletter.
For us here in Strategic Communications, these changes will allow us to greatly streamline the newsletter process and decrease errors.
What else do you need to know?
There is now a new link to submit to newsletters: news.wichita.edu. Click "Submit a News Item" to begin. We suggest you bookmark this link for future use. If you forget and submit to the old link instead, don't worry; Strategic Communications will still receive your submission.
You do not need to do anything for previously submitted items. Those are being transferred to the new system.
Once we launch, you can view the old newsletters at wichita.edu/wsutodayarchive and wichita.edu/shockerblastarchive. The existing links (wichita.edu/wsutoday and wichita.edu/shockerblast) will then be redirected to the new newsletters.
For more information about how to use the new form submission link, or to submit feedback or questions, email sara.ornelas@wichita.edu or lainie.mazzullo@wichita.edu.
---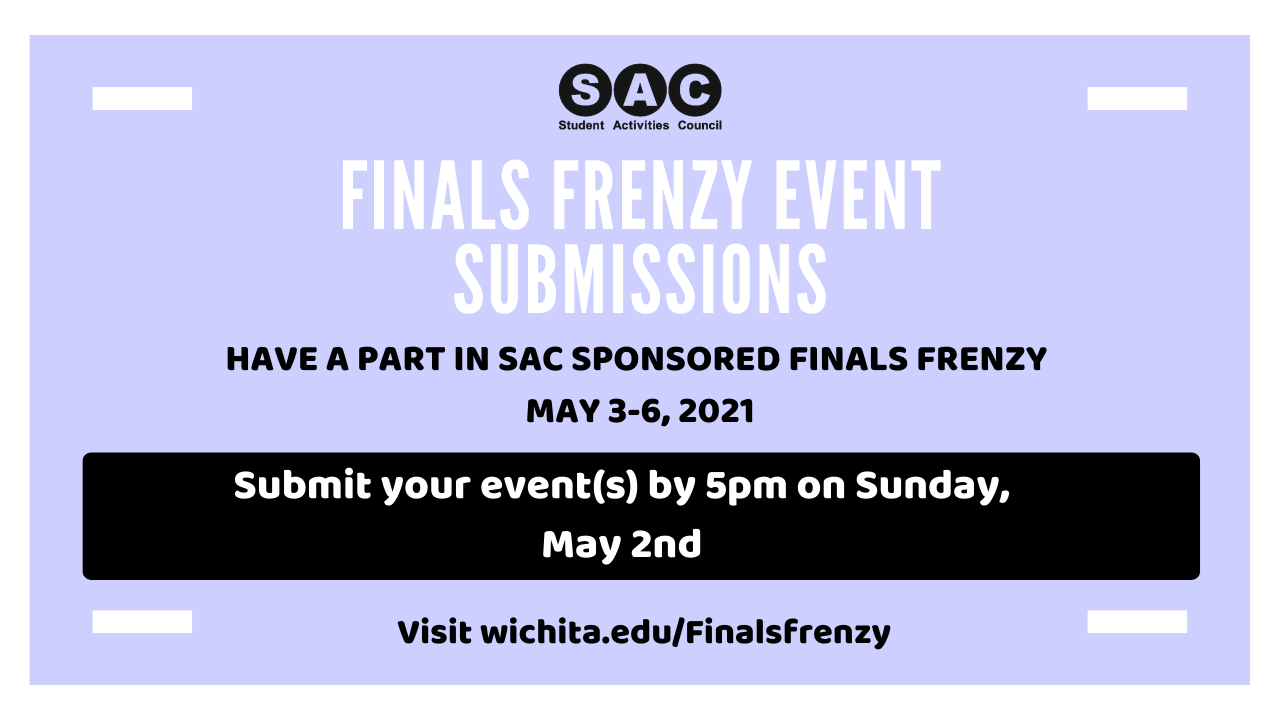 Submit your Finals Frenzy events
Finals Frenzy is scheduled to happen from May 3-7. SAC is seeking events that are being hosted by various campus departments during this time. If your department has an event during the first week of May, we would love to share about it.
---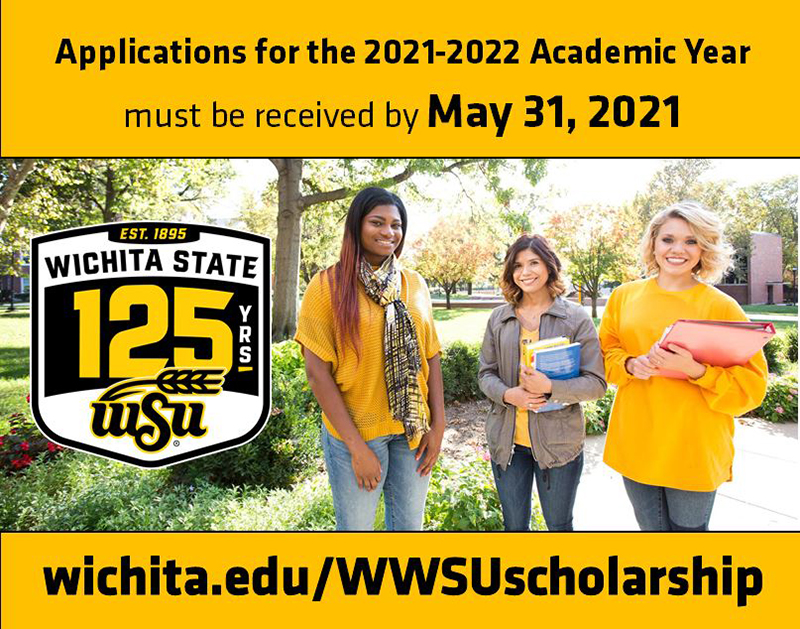 WWSU scholarship applications due May 31
WWSU scholarship applications for the 2021-2022 academic year must be received by May 31.
Candidates must apply for consideration to this scholarship. The fillable form can be found at www.wichita.edu/WWSUscholarship, and should be submitted by email to WWSU@wichita.edu, along with all other required attachments (see application for additional materials).
Candidates will receive written notification of their award status in late June.
Recipients are encouraged to attend at least one WWSU event during the 2021-2022 school year as our guest.
For more information, go to www.wichita.edu/WWSUscholarship. If you have questions please contact Shannon Koehn, scholarship chair at shannon.koehn@wichita.edu.
---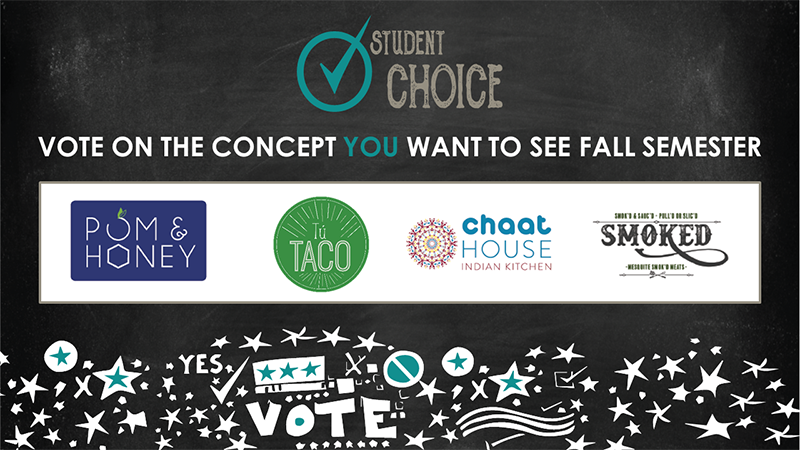 Vote for a new dining concept in the RSC
Which new dining concept do you want to see in the Rhatigan Student Center starting Fall 2021? Learn about your options and then vote!
---
New landing page for Diversity, Equity and Inclusion
The updated Diversity, Equity and Inclusion plan and resources are available online for your convenience. Visit the new landing page today.
Have questions or would like to provide feedback? Leave a written message for WSU's Chief Diversity Officer online at the bottom of each page.
EVENTS
ODI, CHAMPS hosts panel of DEI professionals
Join the Office of Diversity and Inclusion and CHAMPS for a panel of diversity, equity and inclusion (DEI) professionals at 1 p.m. today virtually on the WSU Office of Diversity and Inclusion Facebook page. Learn about their experiences, and what they believe the future of DEI work will be.
---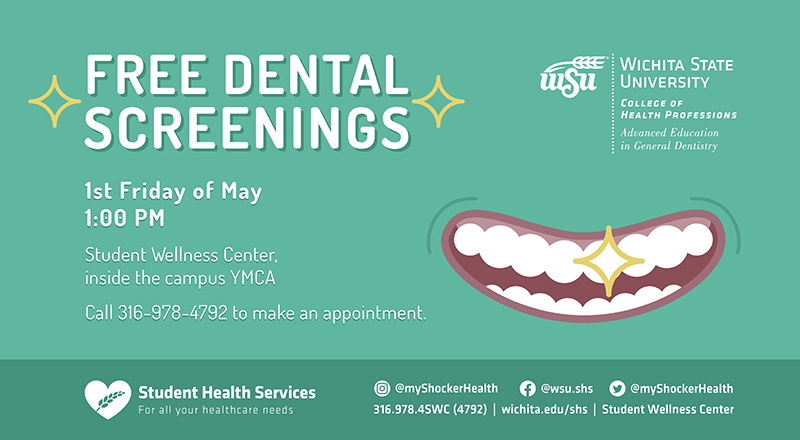 Sign up for a free dental health screening
The Advanced Education in General Dentistry program will be hosting Free Dental Screenings at 1 p.m. on May 7 at Student Health. Appointments are required, so call 316-978-4792 to reserve your spot!
---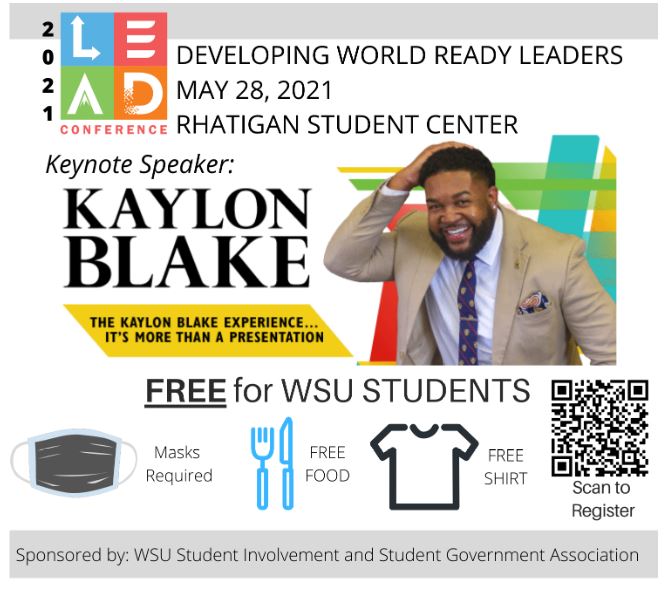 Registration open for LEAD Conference; free for students
Sign up for the 2021 LEAD Conference on May 28 in the RSC! This conference is free for students and will cover a range of leadership topics — including development, student organizational leadership, and diversity and inclusion!
Featuring Kaylon Blake as our keynote speaker, we are excited to talk about leadership, connecting with others, and gaining transferrable skills and insight for the future!
Masks are required for this in-person event! Food and gear will be provided!
Please reach out to Kennedy Rogers if you have any questions at kennedy.rogers@wichita.edu.
---
SBIR/STTR proposal preparation webinars
WSU Strategic Initiatives is planning two webinars to help participants prepare proposals for SBIR/STTR and May 4 and May 6. The May 4 webinar runs from 8:30 a.m. to 12:30 p.m. and will go over an SBIR/STTR overview and a review process for developing a competitive NSF Phase 1 proposal. The May 6 runs from 12:30 to 4:30 p.m. webinar and will go over an SBIR/STTR overview and a discussion of differences among agencies and DoD proposal format. For more information and to register for the webinars, go to Wichita.edu/sbirproposalprep.
---
#WichitaStateEngaged: Engaged Youth
#WichitaStateEngaged is a five-part series of conversations to highlight and elevate some of the engagement work happening on and off campus.
Engaged Business was in March, and we talked with WSU SBDC and the Wichita Area Black Dollars Matter group.
Engaged Culture happened in April with The School of Performing Arts and Mulberry Art Gallery.
Engaged Youth is up next at 1 p.m. May 5 with the Youth Advocacy Coalition. The topic is youth engagement and retention.

Engaged Education will be in August.

Engaged Neighbor will be in September.
Find past conversations and register for the May 5 event
---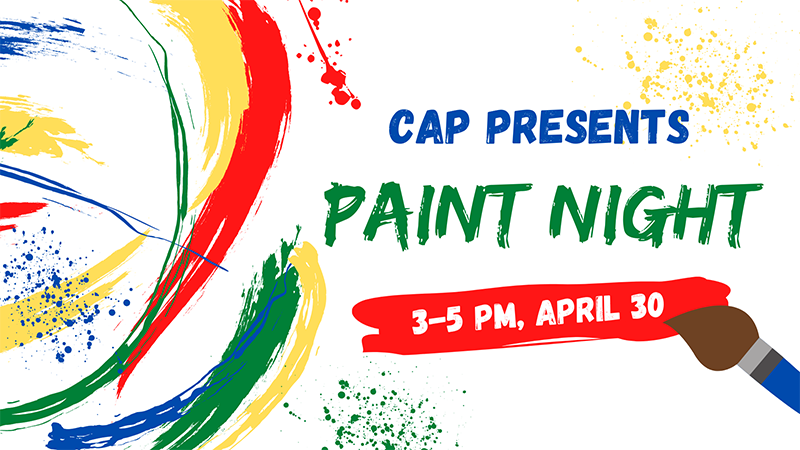 Join the Cultural Ambassadors for Paint Night
Sometimes you just need to relax and take a break, whether it is from a stressful week or from life itself. Make new friends while competing for a goody bag for your masterpiece. Join us for a fun paint night hosted by CAP from 3 to 5 p.m. today in the RSC 266 Pike Room. Paint Night will feature art from Edith Jimenez, an artist from Paraguay. Space is limited, so let us know if you plan to be there by visiting the event on our Facebook page.
---
Rowers to compete in Plains Regional Regatta
Join us from 9:30 a.m. to 1 p.m. Sunday, May 2 at Boats and Bikes River Vista for the Plains Regional Regatta. Athletes from Wichita State, Oklahoma State University, and Indiana University-Purdue University Indianapolis will compete for more than 1,600 meters, finishing at the Shocker Rowing River Vista Boathouse. Can't make it to the river? No problem. Check out our live stream on Youtube bit.ly/plainsregional.
---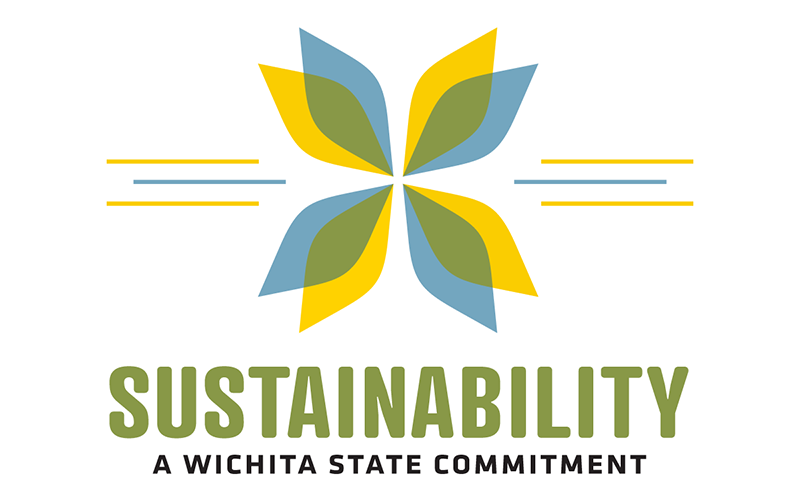 Panel: The Movement of the Plastics Industry Toward Sustainability
We wrap up our Earth Day celebrations with a special panel moderated by Associate Vice President for Research and Graduate School Dean Coleen Pugh at 2 p.m. April 30. Dr. Pugh will be be joined by experts in the plastics industry:
Joel Matsco, Covestro
Mike Biddle, Evok Innovations
Abdala Bashir, Danimer Scientific
---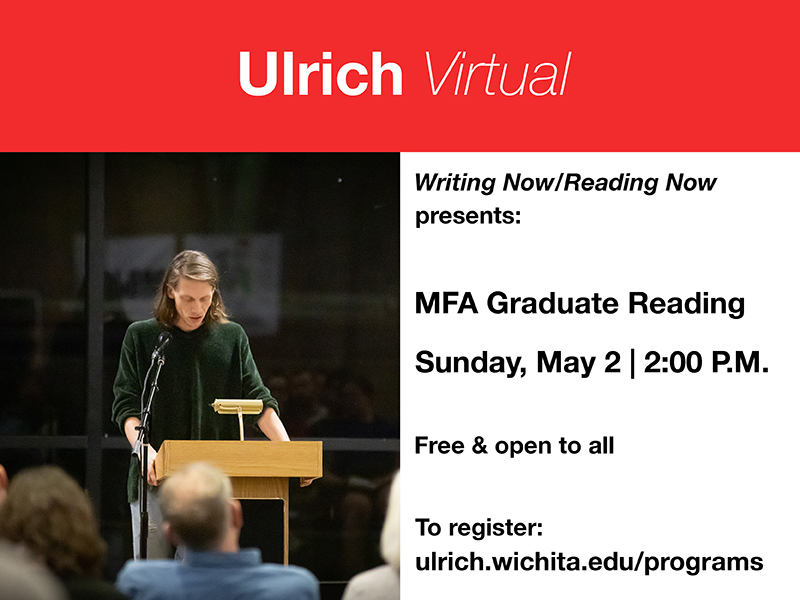 Sunday: MFA creative writing graduate reading
Come celebrate the graduating class of Wichita State's MFA Program in Creative Writing as they read from their final projects. The virtual program, part of the Writing Now/Reading Now series, is at 2 p.m. Sunday, May 2. It is free and open to all, but you must register to get the Zoom link.
Writing Now/Reading Now is cosponsored by the Wichita State Department of English, Department of Modern and Classical Languages and Literatures, Fairmount College of Liberal Arts & Sciences, Watermark Books & Café, and the Ulrich Museum of Art.
---
Physics talk features LBNL professor
Please join us for our next physics seminar talk at 2 p.m. Wednesday, May 5 via Zoom. This talk features Professor Christian Bauer, Theory Group Leader of the physics division at the Lawrence Berkley National Laboratory, and the title will be "Quantum Computing for Collider Physics using Effective Field Theories." Go to the physics webpage to get more details.
---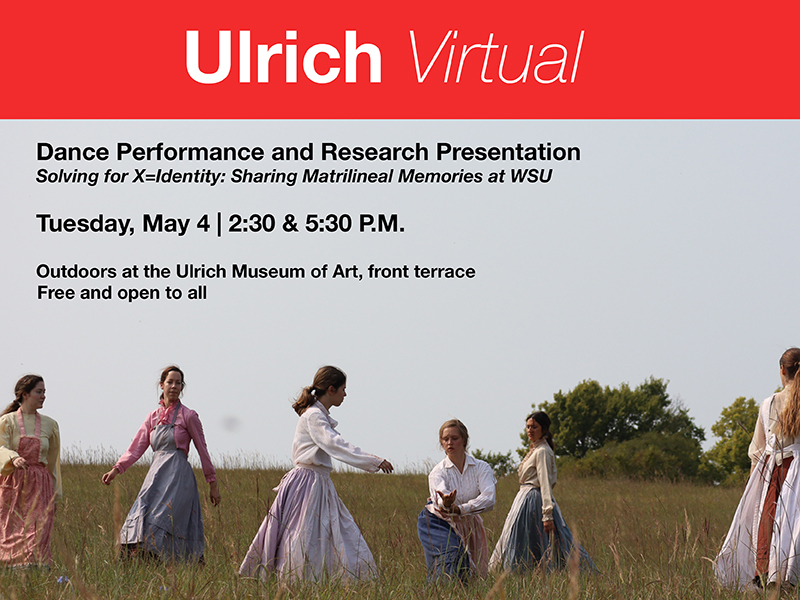 Dance performances tied to Ulrich's 'Solving for X' exhibition
If you've been by the Ulrich Museum of Art on the Wichita State University campus to see the exhibition "Solving for X=Identity: Sharing Matrilineal Memories at WSU," you know that it's full of powerful memories shared by members of the Shocker community about their mothers and maternal grandmothers.
As a part of that exhibition, students in sociology, dance, and Honors College will present research and choreographed performances in response to those collected memories. The performances are on at 2:30 and 5:30 p.m. Tuesday, May 4 (repeat performance). Both performances will take place outdoors on the front terrace of the Ulrich Museum where proper social distancing will be encouraged. Free and open to all.
"Solving for X=Identity: Sharing Matrilineal Memories at WSU" is on display at the Ulrich through May 8.
RESEARCH
Volunteers needed for fall-risk monitoring study
Research Topic/Purpose of the study: The purpose of this study is to develop a wireless and flexible skin-wearable electronic device with motion sensors to identify the fall risk of older adults.
Read more about the study
Procedures:
The research team will help participants to put the fall risk monitoring device onto the skin.
Each participant will be instructed to conduct five types of different daily activities (e.g., sitting or standing, lying, walking, climbing stairs, and running) as well as three types of falls (e.g., forward, backward, and lateral falls).
Time:
This device test is expected to last about 60 minutes for fall risk monitoring and 30 minutes for additional education or paperwork.
The fall risk monitoring test will be conducted on Thursdays and Fridays between April 15 and May 28.
Inclusion/Exclusion Criteria:
Participants must be age 65 or above.
Participants should be able to stand up from a seated position and lay down from a standing position repeatedly at least for 10 times and also walk, run, walk upstairs, and walk downstairs continuously at least for five minutes for each activity.
Participants should not have mobility or activity difficulty.
Participants should not have severe visual impairment and/or hearing loss problems.
Participants should not have cognitive impairment.
Location: 1845 Fairmount St., Wichita State University, Beggs Hall (Main Lobby), Wichita, KS 67260
Payment to participation: You will receive a $100 Greenphire ClinCard for your participation. You can use the ClinCard at an ATM or at the store like a debit card. Participants must have a valid Social Security Number to participate and to receive the payment.
Contact: f you are interested in participating in this study, please contact PI, Dr. Yongkuk Lee by email yongkuk.lee@wichita.edu or phone (316) 978-7670.
KUDOS, PUBLICATIONS AND PRESENTATIONS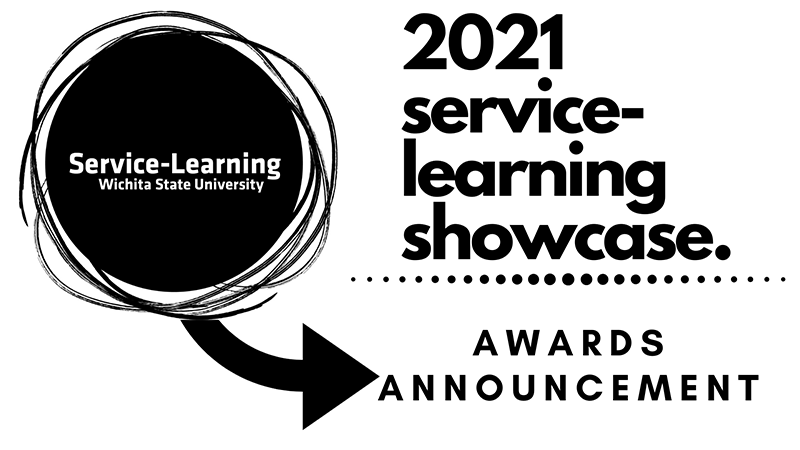 Service-Learning Showcase Awards announced
The Service-Learning Showcase is a great opportunity for students who participate in academic service-learning through applied learning opportunities to showcase their experience through a research or reflective poster about the application of their coursework to current community issues. This year the showcase was held in a virtual format with a total of two rounds of judges. On Friday, April 23, our final 10 projects presented and engaged with a panel of judges comprised of community non-profit leaders. The judges and our team were amazed by each and every project submission.
Read about the winning projects
Awards were presented in the following categories:
Overall Service-Learning Project
Title: Pen Pals Project
Community Partner: Spaght Science & Communications Magnet Elementary School, USD 259
Student(s): Yajaira Barraza, Autumn Judd, Eva Esparza, David Baird
Faculty: Dr. Samantha Gregus
Community Impact in Service-Learning Award
Title: LGBTQ+ Inclusive Language and Terminology in the Healthcare System
Community Partner: M-Care
Student(s): Daria Moore
Faculty: Dr. Rachel Showstack
Innovation and Creativity in Service-Learning Award
Title: Bridging the Gap: Medical Translation Smartphone Application
Community Partner: HealthCore Clinic
Student(s): Daphne Cavallaro, Kathleen Bozarth, Miriam Mangaza, Dorcas Nsimire, Jonathan Lewin, Chris Lewin
Faculty: Dr. Mythili Menon
Collaboration and Leadership in Service-Learning Award
Title: Implementing Spanish Medical Terminology
Community Partner: USD 443- Dodge City School District & USD 457- Garden City School District
Student(s): Cali Keith
Faculty: Dr. Rachel Showstack