In search of strong candidates for WSU President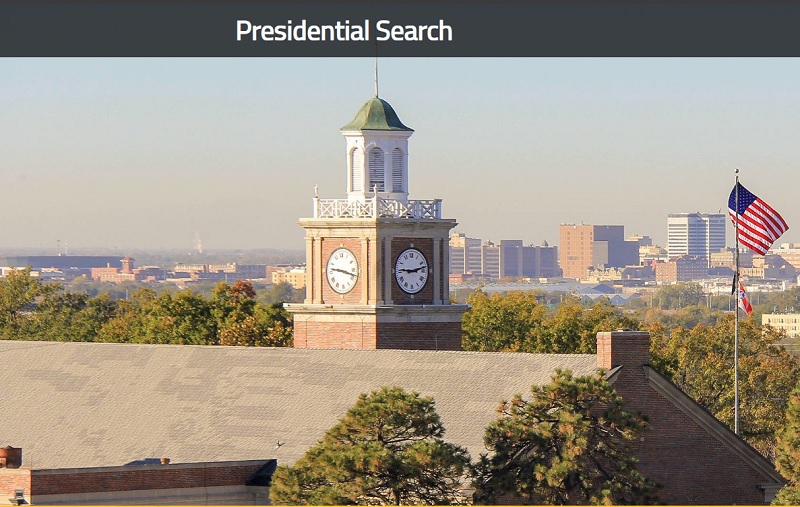 The job facing the Presidential Search Committee has begun in earnest. The 20-member committee is charged with identifying the best three-to-five candidates from a national search and forwarding an unranked list to the Kansas Board of Regents, whose members will make the final decision on the right person to lead Wichita State.
Read full story
In what was largely an organizational meeting yesterday (Thursday, June 6), search committee chair Steve Clark outlined the role of the committee. KBOR has been asked the committee to signify a candidate's strengths in the following areas: (1) leadership and decision making; (2) strategic planning and vision; (3) innovation; (4) attracting and retaining students; (5) partnering with business and industry; (6) ability to create applied learning opportunities; (7) cultivation of a positive, professional and productive campus workforce; (8) fundraising and financial stewardship; and (9) supporting the role of faculty.
The committee received more than 400 survey responses to review before its first meeting. Transparency and diversity were significant themes among survey respondents. However, there was a long list of ideas or preferences, which included choosing a president who is frequently seen on the campus and in the community and who is warm and approachable.
Other preferences included choosing a president who appreciates academia, is a relationship builder, understands the business community, and can be a leader in economic development.
Survey respondents and the search committee members also desire an effective communicator who is kind, motivated, honest, ethical, courageous, and who has a lot of energy.
At one point, a committee member observed that all we want is "Superman or Superwoman," a comment that drew laughter.
An executive search firm experienced in higher education CEO searches was hired by the Regents to assist in the search. Representatives of the firm, Wheless Partners, attended the search committee meeting and conducted four public forums later in the day. They said their intent is to bring the best pool of candidates to the attention of the committee.
Faculty, staff and students on the committee actively participated in the discussions.
The committee spent considerable time outlining strengths that would attract presidential candidates to Wichita State.
The list (in no particular order) included business, engineering, healthcare, innovation campus, devoted alumni, faculty and students, quality of life in the community, vibrant research facility, great partnerships, entrepreneurial activity, resurgence of community pride, rich history of applied learning, global focus with international students, diversity of student population, Upward Bound, students services and support, veterans program, new residence halls, attitude of listening to students, mix of commuter and traditional focus, no rush hour, vibrant arts community, cultural opportunities, appealing cost of living, and a fiscally stable university.
Another aspect that could be appealing is the governance structure in Kansas, where KBOR is responsible for six public universities, rather than a board focused on a single university, as in some other states.
The next step is for the search firm, with committee authorization, to prepare a presidential profile for approval from KBOR later this month.
Candidate applications will be accepted during July and August, before the committee begins the task of narrowing the pool in September. After the Regents receive the committee's recommendation of three-to-five unranked candidates in October, KBOR members will undertake their own candidate interviews before making a decision and announcing a new President for WSU.
------------------
About 100 people attended one of four forums held Thursday afternoon, with the vast majority of those attending either the faculty or staff forums. Each forum was opened by Search Chair Steve Clark, who encouraged participants to submit names of promising candidates, or encourage promising candidates to apply. The forums were led by Michael Ballew, from the Wheless Partners search firm.
More than 420 completed surveys have been submitted to the search committee. Those who haven't yet submitted one may do so until late tonight here.
Faculty Forum
Nearly 50 people attended the faculty forum Thursday afternoon. Attendees expressed the following thoughts:
Want a president who understands what it means to be a university and understands that Wichita State is not a vocational-technical college that serves business. Understands that WSU can serve the needs of business by producing well-rounded students who can change and adapt as business changes. For example, the student might not know the software used presently in business, but should be able to learn that software and the software that is used in four years, six years and 10 years.
Understands the importance of research at Wichita State and the growth of that research. That is needed to attract quality graduate students, who teach and research.
Academic qualifications, mainly a PhD., and understands how faculty work, the process and importance of tenure and tenure-track positions. Understands the need to invest in faculty.
Understands transparency and communication when dealing with changes around the university.
A president should operate on campus and in the community with equal skill in order to work with students and faculty and fund-raise, build links with business, alumni and civic leaders.
A president should understand and promote academic programs outside of STEM and highlight innovation happening in those areas.
Wichita State is the state's only urban school and its most diverse university. A president must embrace those factors, and Wichita State's desire to attract and educate first-generation students.
Fund-raising to counter the drop in state funds. Working with industry so that industry will speak up for education to help with state funding.
Understands the importance of sustainability, energy production.
Lowering tuition to help students.
Staff Forum
About 45 staff attended a forum Thursday afternoon. Search committee chair Steve Clark encouraged attendees to refer potential candidates to the committee.
Attendees expressed the following thoughts:
Concerns over the lack of representation for USS on the search committee.
The need for a president who will be out on the campus and take part in campus life and activities.
Tap into the talent on campus; more team leadership, student focus and attentive to student demographics / tuition costs / best use of current resources.
Invest in our buildings and our people - talent development.
Invest in our IT systems.
Pay attention to trends and industry so that we offer programs our students needs and will be interested in.
Values diversity - specifically within faculty.
We need a president who understands what being an economic driver looks like for the state and local community
Must attend sports / activities.
Someone who is proactive vs reactivating (example of our accessibility efforts).
Champion for voices not always heard - mental health; be inclusive in the decision.
Sense of humor; can joke; be light hearted - also clear, forward, authentic.
Reward / incentive system - outside of salary.
Commitment to shared governance - no fear of retaliation.
Student Forum
A handful of students attended a forum for the presidential search. Following are some of the comments:
Students want a president who understands non-traditional commuter student needs / barriers. Disability student needs include the importance of making campus accessible.
When asked how they would sell WSU to presidential candidates, students replied:
Sense of community, a lot of pride.
City of Wichita; growing identity and points of pride - ICT flag.
Private / public partnerships show how others are investing in the university.
Wichita isn't a college town, we are not KU or K-State. We have positives for applied learning in our city location.
Pretty campus - best sculpture collection (top 10 in the world).
Great sense of diversity, support networks for all.
Easy to get around in the city, quick access.
Community Forum
A number of students and staff also attended the community forum.
More information is available at Presidential Search.
---
Three university policies have been updated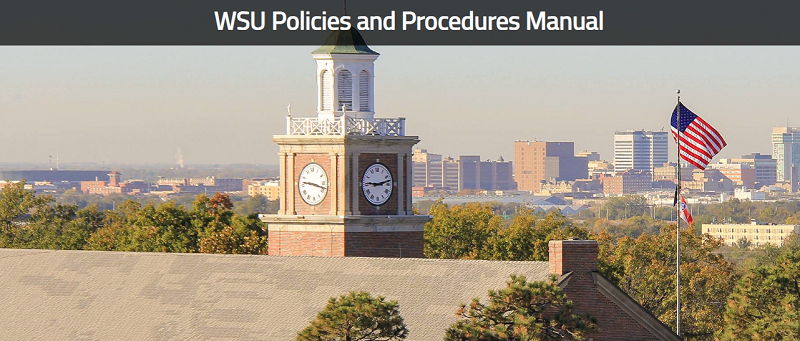 Three policies – Official Personnel Files, Emeritus Status, and Faculty Personnel Records – were recently updated. Details are available below.
Read full story
3.37 / Official Personnel Files
Reason or need for policy: HR has established a goal to review all policies every two-to-three years to ensure accuracy and compliance. This policy was last updated in 2010.
Summary of policy change: Updated title from Personnel File to Employment File. Provides guidance for consolidated employment files in Human Resources, and guidance for department and academic files. Defines procedure for employees who request to review their own employment file.
Reason or need for policy: Policy was reviewed to identify if any updates needed to be made. Updates include placing in current policy and procedure format, clarifying for departments to place requests for emeritus status in writing.
Summary of policy change: Updating to current policy and procedure format and clarifying how a department requests emeritus status.

4.14 / Faculty Personnel Records
Reason or need for policy: Clarify the difference between HR files (employment) and Academic Affairs files (academic).
Summary of policy change: Updating to reflect terminology changes in policy 3.37.
---
Celebrate WSU at Shockerfest



Everyone is invited to participate in Shockerfest from noon-6 p.m. today (Friday, June 7), at RiverVista, 150 N. McLean. Celebrate Wichita's hometown university with Shockers of today, tomorrow and yesteryear at this new Riverfest experience.
There will also be a free yoga class at noon on the lawn outside the River Vista Shocker Rowing boathouse.
Free shuttles are available between campus and RiverVista throughout the event.
---
Blood drive coming to WSU on June 12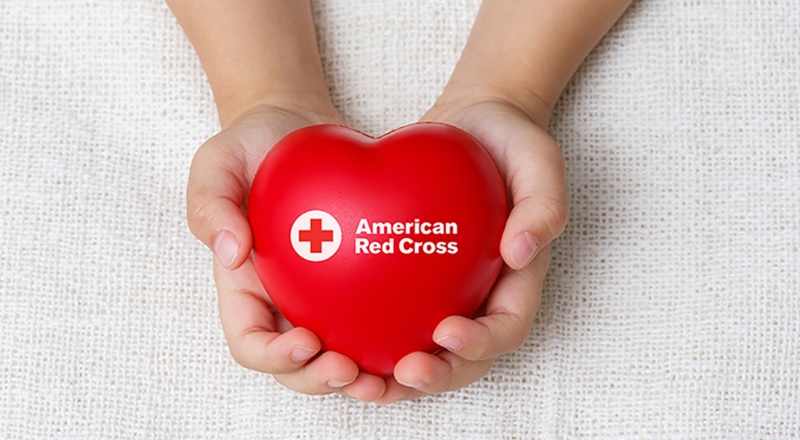 Wichita State will host a blood drive from 10 a.m.-4 p.m. Wednesday, June 12, at the Heskett Center.
To view available times and schedule your donation appointment, visit www.redcrossblood.org – enter sponsor code Wichita State or call 1-800-Red-Cross. You must show an ID at the time of your donation. Walk-ins are welcome, but appointments are preferred.
Read full story
Every day the Red Cross must collect more than 13,000 pints of blood for patients across the country. Donating blood is one of the simplest things a person can do to help save a patient's life. An hour of your time could be worth years of someone else's.
Please encourage friends and family who have never donated blood to attend with you and help sustain the Red Cross's blood supply.
---
Register for June 19 Service Standards training
Did you know that Wichita State University has a set of Service Standards? These standards are known as Shocker PROUD: Professional, Responsive, Open, Understanding, and Dependable.
A training session 9-11 a.m. Wednesday, June 19, in 142 RSC will explore the standards in more detail and ensure that all of us are providing excellent service to everyone we encounter.
The training is free and available to all WSU employees. Log into myWSU and register through myTraining. For questions, contact myTraining@wichita.edu.
---
Register for the Engaging a Multigenerational Workforce Training coming June 13
This Diversity in Action interactive training will highlight the different generations and their workstyles, while providing a space for participants to learn more about their own work culture. Participants will learn the differences and similarities between the generations, while dispelling stereotypes and celebrating the importance of having a multigenerational workforce. Click on Diversity in Action Program for more information.
This professional development opportunity will be held in from 9-11 a.m. Thursday, June 13, in 266 RSC. It is free and available to all WSU employees (faculty and staff). Log in to myWSU and register through myTraining. For questions, contact myTraining@wichita.edu.
---
Meet the minds behind the Riverfest Sundown Parade
Ever wonder how the floats are chosen for the Wichita Riverfest Sundown Parade? Turns out the people working behind the scenes to make one of Wichita's iconic events a success are none other than a Wichita State instructor and a group of art students.
Kristin Beal is director of Wichita State Shift Space Gallery and co-founder of Harvester Arts. But every spring, she puts on a different hat – that of a creative consultant for Riverfest.
Along with help from students in her Intro to Communication and Social Practice class, Kristin plans the parade lineup by recruiting local creatives and brainstorming ideas with them.
---
Intramural Sports invites you to play in the PickleBall Tournament

Intramural Sports is planning a PickleBall Tournament at the new Chicken N Pickle facility. This open doubles tournament begins Friday, June 21. Sign up on imleagues.com/wichita, and pay the $25 entrance fee before Thursday, June 13, to participate.
---
Outdoor Adventures Worlds of Fun trip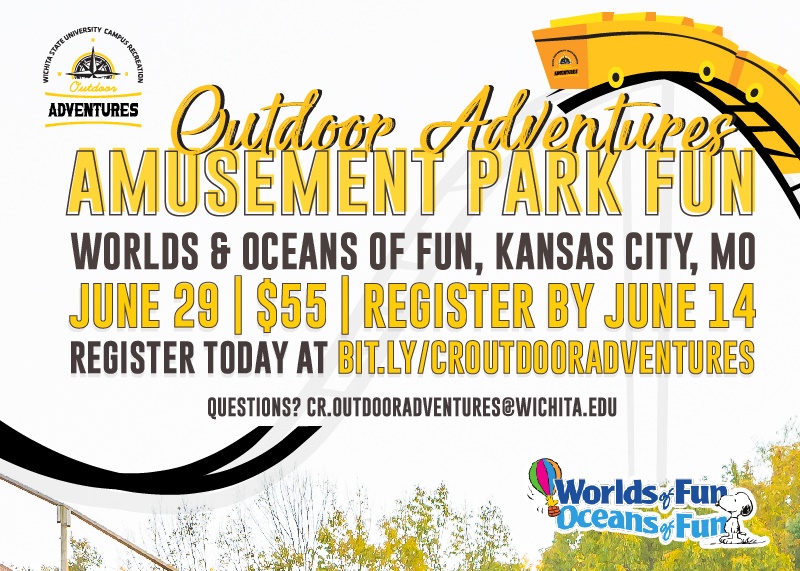 Join us as we head to Kansas City for some fun in the sun on Saturday, June 29! Your Worlds of Fun ticket includes unlimited use of all rides, shows, and attractions inside Worlds of Fun and Oceans of Fun (open seasonally) for one-day. It does not include extra charge attractions, RipCord, Dinosaurs Alive, or various concerts and special events.
Spend the day adventuring through the amusement park and water park on your own schedule. The group will meet at the end of the day for the ride back to Wichita.
Get your tickets at Worlds of Fun trip. The sign-up deadline is Friday, June 14. Follow-up communication will be emailed within a week prior to trip. Contact Kaycee Miller at Campus Recreation for any questions at cr.outdooradventures@wichita.edu.
---