FEATURED STORIES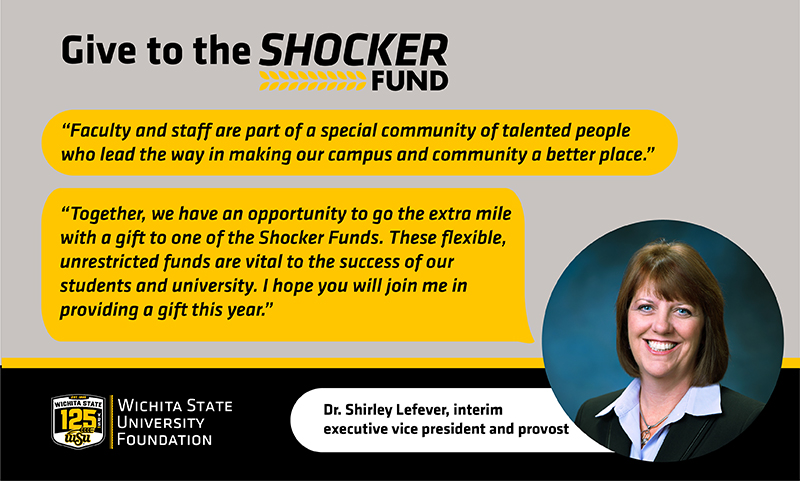 A special appeal to Wichita State faculty and staff
As members of Wichita State's faculty and staff, you are crucial to our university's success.
Your work on behalf of Shockers helps produce the best in our students – preparing them for rewarding careers and active participation in communities around the globe. You know more than anyone the importance of the Shocker Fund, which provides unrestricted funding for the college of your choice.
As a result of the pandemic and other challenges this year, this vital funding has taken a hit. Please consider how you can help reinvigorate the Shocker Fund so that it continues to provide essential programming, scholarships and help for students in need. Click on the give now button below to make your contribution to the Shocker Fund for your college! We sincerely thank you for your hard work and your gift.
---
HealthQuest Biometric Screenings update
Due to the ever-changing climate of COVID-19, the State Employee Health Plan (SEHP) will only be publishing on-site biometric screening events on a quarterly basis. Also, for the foreseeable future, on-site biometric screenings will only be held the morning of the event in an effort to minimize contact. Since fasting is recommended for the screening event, having morning appointments only will make it easier to fast for the screening event. By publishing the 2021 on-site biometric screening schedule quarterly and in smaller segments, SEHP will be able to minimize the number of event cancellations; make appropriate adjustments to accommodate COVID-19 safety protocols, including social distancing; and make adjustments to accommodate demand.
Continue to check back in your HealthQuest Portal periodically for newly available on-site screening dates. If you are unable to schedule an on-site screening, at-home biometric screening kits and the physician incentive form are available as alternatives and can be requested in the HealthQuest Portal.
---
SEM Update: Goal 4
Goal 4 Increase enrollment along the I-35 corridor
Our enrollments of students along the I-35 and I-70 corridors have grown significantly with the expansion of our Shocker City and Shocker Select tuition discounts for students in Colorado, Missouri, Oklahoma and Texas. Between 2016 to 2020, we've seen 123% growth. This year, we saw a decrease of 10 new First Time in College (FTIC) students corresponding to the slightly smaller entering freshman class, but we saw an increase of 43 returning or transfer students, and 24 graduate students, bringing our total from these regions to 989.
Read more for tips and shout outs
Recruitment and Retention Tips:
Create a sense of belonging and shared identity with college/department swag (t-shirts, lanyards, etc.) These can also be shared with prospective students.
Conclude all of your written communications to students with an invitation to contact you if they have questions. This creates an environment for greater engagement.
Recognize and celebrate student successes in your programs (leadership, event planning, research, scholarships, etc.). One-third of our non-returning students are high achievers. They need to see their opportunities for success here too.
SEM Shout Out:
To Mandy Harmon in Admissions who coordinated the largest DSI competition yet with over 800 students from 26 different states.
To departments who have pursued new articulation agreements with two-year colleges outside the state, creating a clear path for transfer students' classes to apply toward their degree at Wichita State.
To the Registrar's Office, which completed over 500 course equivalencies for community colleges in Texas, making it easier for these students to transfer to WSU.
---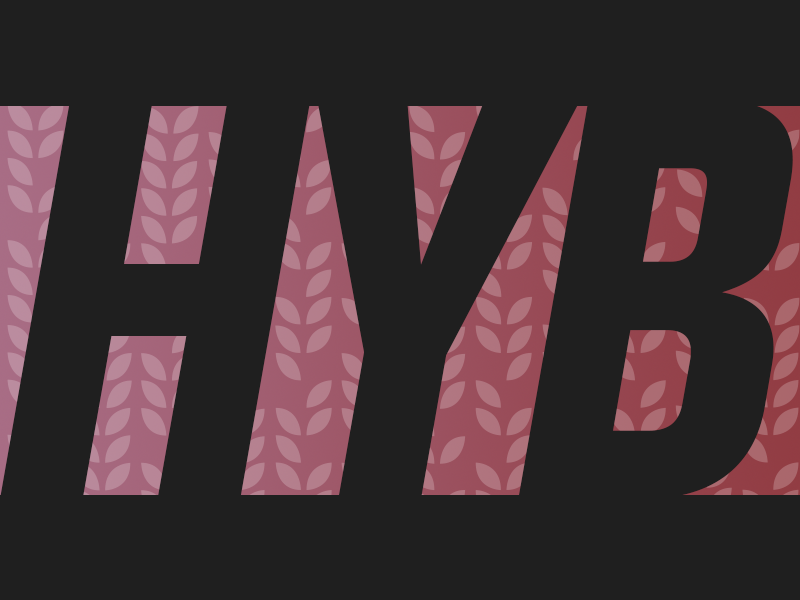 Understanding course codes in a nutshell
With so many changes in instruction this past year, we thought it might be helpful to provide some reminders:
Fully in-person courses (TCI): Same time, same place, on campus [not currently being offered]
Hybrid courses (HYB): Combination of in-person and online content (in real time or on demand)
Hybrid Online (HYO): Online instruction with no assigned meeting day or time, but with in-person tests
Online Synchronous courses (IIS): Offered in real time at an assigned day and time
Online Asynchronous courses (IIE): Content is 'on demand' with no assigned meeting day or time
---
Video celebrates 125 years of Shocker spirit
The Office of Strategic Communications invites you to view a video to celebrate Wichita State University's first 125 years of innovation and education. To stay up-to-date on all the university's videos, subscribe Wichita State's YouTube channel.
---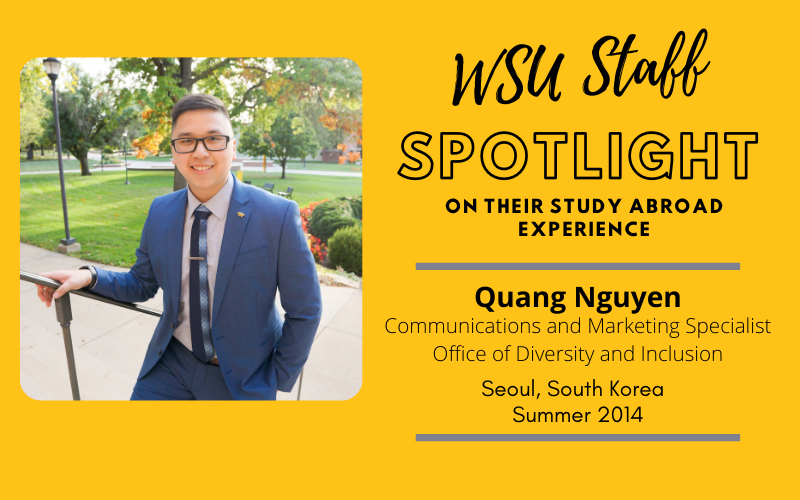 Study abroad faculty spotlight: Quang Nguyen
Learn more from Wichita State faculty and staff as they share their college study abroad experiences. Faculty and staff will be featured each week through the month of March. This week, read about Quang Nguyen's study abroad experience.
Read more about staff and faculty study abroad experiences
HR, BENEFITS AND TRAINING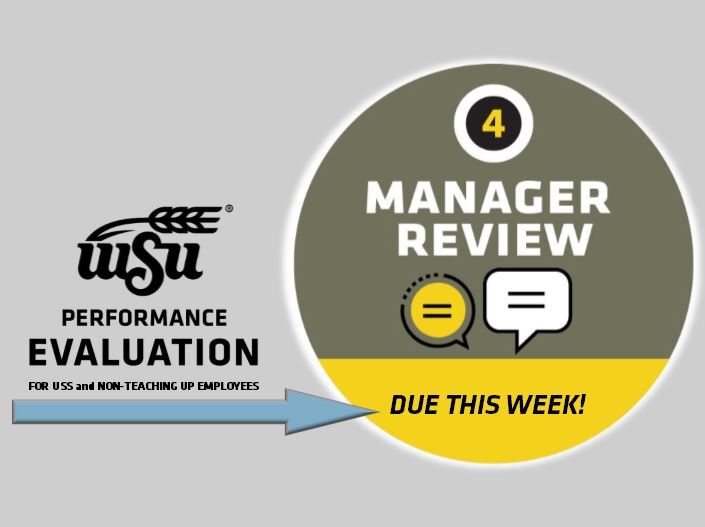 myPerformance manager review due this week
Managers of USS and Non-Teaching UP Employees should submit reviews and ratings for their direct reports for the 2020-2021 annual evaluations in myPerformance. This step is due by 11:59 p.m. Sunday, Feb. 28. Managers should log in to myPerformance in myWSU to rate their direct reports and submit comments to justify the ratings.
Note: The Planning step for 2021-2022 annual evaluations in myPerformance will also be available on Feb. 1. This will allow managers to potentially meet with their direct reports for the current end-of-review as well as the next cycle's planning meeting at the same time, if desired.
For more information (including quick reference guides and other assistance) go to www.wichita.edu/myPerformance.
---
Revisions to Remote Work Guidance and Review Process are now available
Notice of Revised Remote Work Guidance and Review Procedures – February 12, 2021
On Jan. 15, 2021, President Rick Muma announced new guidance and review procedures for remote work. After listening to questions and comments received about the guidance and review procedures, revisions have been made. The revised guidance and Employee Remote Work Request Form can be found on the HR web page Remote Work Guidance.
Read more about the revisions
Although remote work raises unique legal and administrative issues and must be reviewed and approved before remote work begins, HR and Legal colleagues have worked diligently to ensure only those remote work situations with the most risk require review/approval beyond the direct supervisor.
The Employee Remote Work Request Form is not required if Regular Remote Work is performed at an Alternate Work Location within the state of Kansas and in the case of an Employee on H1B/VISA, at the location contained on the VISA application. An optional form has been developed for use by leaders if they find it helpful to memorialize discussions with an employee regarding an approved remote work arrangement in which a review beyond the direct supervisor is not required.
The Employee Remote Work Request Form is intended to gather information needed for each of the three above situations so a review may be conducted and little, if any, additional information may be needed from the Employee. For ease of location and use, there is one form but only the sections that are pertinent to the individual request need be completed (i.e. if remote work is not being performed internationally, the international questions do not need to be answered).
All employees who are required to complete the Employee Remote Work Request Form and have not previously submitted the Form should complete and submit this revised Form no later than February 26, 2021. All previously submitted forms are valid and there is no need to complete the revised form.
We appreciate your feedback and patience as we work through the implementation of this Remote Work Guidance and Review process to ensure we have a process that works both in the immediate term as well as into the future. We know remote work will continue to be an important option for some employees to enhance work/life balance, job satisfaction and being an inclusive work environment.
---
CliftonStrengths Training for faculty, staff and student employees
Join us for a free professional development opportunity over CliftonStrengths.
As an employee of Wichita State, you can take the CliftonStrengths inventory and attend a module that explores your unique strengths and discover how you can utilize them daily. We are currently offering two virtual sessions on March 15 and April 19. Sign up is through MyTraining and is open.
For any questions and services for your students, please contact Kennedy Rogers at kennedy.rogers@wichita.edu.
NEWS

WSU headshot appointments available 


The Office of Strategic Communications offers headshots for WSU faculty and staff at no charge. For the 2021 spring semester, headshot events will be scheduled once a month over two days in the 266 Rhatigan Student Center.
Because of social distancing, you must reserve your spot with an appointment. Appointments for February are now open:

3-5 p.m. Wednesday, Feb. 24

8-10 a.m. Thursday, Feb. 25
Get more info and make an appointment
---
Shocker Career Accelerator - lunch drawing
The Shocker Career Accelerator offered a challenge to Wichita State University students. If students attended three (or more) one-on-one appointments with three different employers at our Feb. 23 Virtual Business Internship and Career Fair, they would be entered into a drawing to attend a personal lunch with Sara Muzzy, director of Career Development, and Brian Austin, director of Applied Learning.

Twenty-five students accepted the challenge.

The winner will be announced live at noon today (Wednesday, Feb. 24) on YouTube channel.
---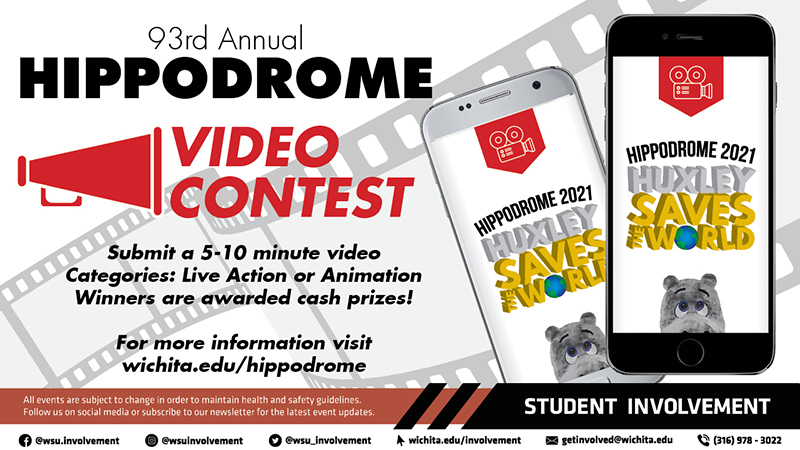 Students can submit entries for Hippodrome video contest
Hippodrome is Wichita State's longest-standing tradition and showcases student talent in a variety of ways. This year, Hippodrome is a video competition. The video competition portion includes a 5- to 10-minute production written, choreographed and acted out by Wichita State students. Performances are judged, and cash prizes are given out in the two categories of live action and animation. To bring the show together, student emcee's charm the audience and introduce video productions throughout the nights.
Performance nights are Wednesday, April 7 and Thursday, April 8.
If you know of any students or student groups that would be interested in participating, they can register for the competition at wichita.edu/hippodrome by Wednesday, March 3.
---
Faculty nominations sought for president's distinguished service award
Do you know a faculty member who is deeply engaged in service? Do you know A faculty member who exemplifies any of the following?
Distinguished service to the university
Distinguished service to the community
Notable outreach efforts and/or forging of connections between WSU and the community.
Long-term commitment to WSU through extensive committee service
Consider nominating them for the Presidential Service Award. Please send your nominations to leeann.birdwell@wichita.edu. Complete a nomination form and attach a CV that includes the nominee's service activities. Previous recipients of this award are not eligible for nomination. The deadline is 5 p.m. today (Feb. 24).
---
Submit proposals for the Diverse Women's Summit
Individual students, groups, and community members are invited to submit abstracts or proposals to present papers, posters, art works, dialogues, skits, and other projects at the Diverse Women's Summit. The summit will be held on Zoom on March 8. Presentations are from 9 a.m. to noon and 1 to 4 p.m.. The proposal should be 100-200 words describing the presentation (type, subject, theme, and purpose). Presentations that focus on the following topics will be given priority:
Research on issues of COVID-19 and special populations
Citizenship and COVID-19
Gender-based violence and other issues
The future
Submit your proposal via email to chinyere.okafor@wichita.edu. Proposals and abstracts will be accepted until Feb. 25, 2021. For questions, call the departmental office at (316) 978-3358 or Joyce DalPorto-Ward at (316) 978-6659.
EVENTS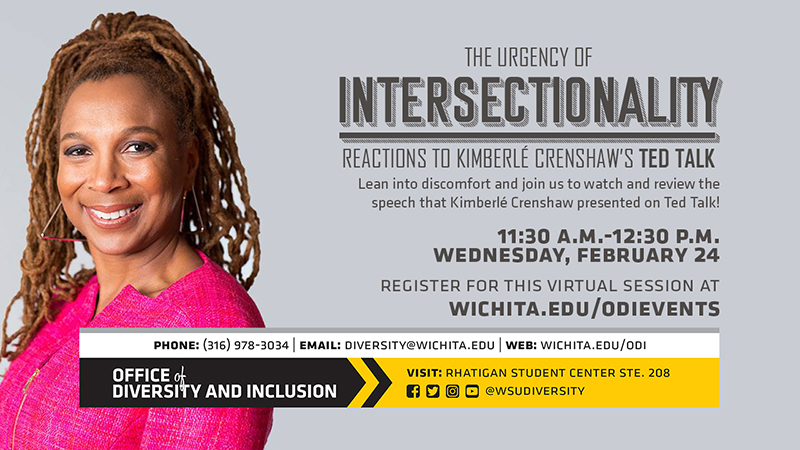 'The Urgency of Intersectionality' Ted Talk and discussion
Join the Office of Diversity and Inclusion as we watch and listen to the brief speech on a Ted Talk from Kimberlé Crenshaw. We will discuss the reactions to what we have been exposed to in the world of diversity, inclusion and equity. In order to attend "The Urgency of Intersectionality," you must register for the event. A link will be given after the registration. Please make sure to double-check your registration, especially entering a valid email address, before clicking submit. Learn more and register for the Ted Talk & discussion at wichita.edu/odievents and go to "The Urgency of Intersectionality." For questions, contact the Office of Diversity and Inclusion at 316-978-3034, diversity@wichita.edu
---
Save the date for Coffee & Convo with Dr. Marche' Fleming-Randle, Feb. 25
Coffee & Convo with WSU Vice President and Chief Diversity Officer Dr. Marche Fleming-Randle, sponsored by Textron Aviation.
Coffee & Convo is a 1-hour virtual open forum with Fleming-Randle addressing factual and relevant issues that deal with current events in America, WSU and the Wichita community. Attendees are encouraged to join with an open mind and the ability to listen to opinions of diverse backgrounds.
---
Understanding Finance at WSU event set for Feb. 25
If you're new to working with finance and/or budgets at WSU or are experienced but have questions, WSU Finance 101 is for you. Understanding finance at WSU can be a challenge for budget officers and support staff.
Lois Tatro will present WSU Finance 101 from 2-3 p.m. Thursday, Feb. 25, via Zoom. This presentation is designed to help answer questions and clarify information.
Topics will include:
Information on GU and RU funding
How to stay on top of departmental finances
Processing revenue, expenses, BPC cards, travel and more
You are strongly encouraged to submit questions regarding the finance process prior to the session. Email questions to training@wichita.edu as soon as possible and so they can be addressed during the presentation.
Go to myTraining located in myWSU to view session details, Zoom link and register. Contact ITS Applications Training at training@wichita.edu for assistance.
---

Register now for WSU Finance 101
If you are new to working with finance or budgets at Wichita State or are experienced but have questions, WSU Finance 101 is for you!
Understanding finance at Wichita State can be a challenge for budget officers and support staff. Lois Tatro will present WSU Finance 101 from 2 to 3:30 p.m. on Thursday, February 25 via Zoom. This presentation is designed to help answer questions and clarify information.
Topics will include:
Information on GU and RU funding
How to stay on top of departmental finances
Processing revenue, expenses, BPC cards, and travel
You are strongly encouraged to submit questions regarding the finance process prior to the session. Email questions to training@wichita.edu as soon as possible so they can be addressed during the presentation.
Register in myTraining (found on the Faculty/Staff page of myWSU). Zoom link and session details located there.
---
Minnesota professor to speak at physics seminar
Join us for the next Physics Seminar at 2 p.m. today via Zoom. This talk features Prof. Michael Coughlin from the University of Minnesota. The title of the talk will be "A Technical Ecosystem to Enable Multi-Messenger Astrophysics".
Learn more about Physics Seminars
---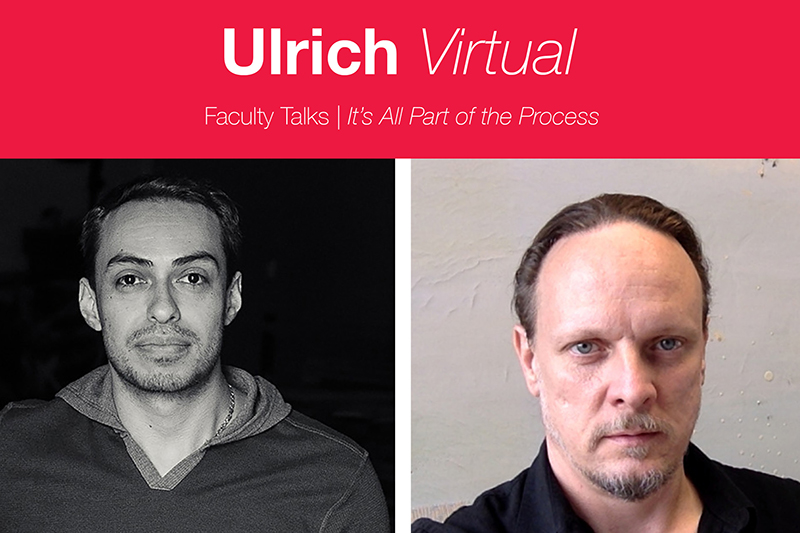 Hernandez, Sulyok featured today's in Ulrich faculty talk
Join the Ulrich Museum of Art virtually at 11 a.m. today for the latest in the series of talks with faculty artists featured in the 23rd Faculty Biennial exhibition. This time around, the Department of Art, Design and Creative Industries' Marco Hernandez, assistant professor of print media, and Levente Sulyok, associate director and associate professor of painting and applied drawing, pair up to talk about their processes. The virtual program is free and open to all, but registration is required to get the Zoom link.
The Faculty Biennial exhibition is on display at the Ulrich Museum of Art on the Wichita State University campus until May 8. The museum is open from 11 a.m. to 5 p.m. Monday through Saturday, closed Sundays and university and major holidays. Safe self-distancing practices are observed. Admission is always free.
RESEARCH
Kansas NASA EPSCoR Program requesting proposals for a Seed Research Initiation Grant opportunity
A jurisdiction of the NASA Established Program to Stimulate Competitive Research (EPSCoR) program, the Kansas NASA EPSCoR Program (KNEP) is managed through the NASA in Kansas office. The goal of NASA EPSCoR is to provide seed funding that will enable jurisdictions to develop an academic research enterprise directed toward long-term, self-sustaining, nationally competitive capabilities in aerospace and aerospace-related research. This capability will, in turn, contribute to the jurisdiction's economic viability and expand the nation's base for aerospace research and development.
The Partnership Development Grant (PDG) opportunity recipient is expected to initiate, develop, and formalize a meaningful professional relationship with a NASA researcher. Given this expectation, it is vital investigators and students travel to a NASA center if selected for an award.
---
Submit your research summary to WSU research newsletter
Do you conduct research at Wichita State? If so, we want to know about it. The Office of Research is gathering information for its Research and Innovation newsletter about all the exciting research being done at WSU. By filling out this form, we can better tell your story. It only takes about 5 minutes.
UNIVERSITY LIFE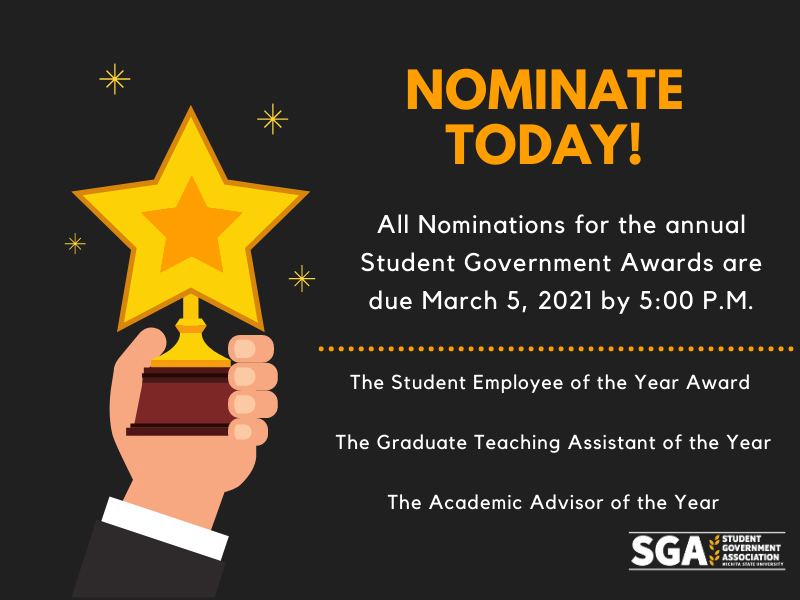 Deadline for SGA awards approaching
All three SGA Awards (The Wichita State University Student Employee of the Year Award, The Graduate Teaching Assistant of the Year, and the Academic Advisor of the Year) awards are still accepting nominations until 5 p.m. Friday, March 5. To learn more and submit a nomination, please visit wichita.edu/SGAawards. Questions? Please contact Gabriel Fonseca via email at gabriel.fonseca@wichita.edu
SPECIAL OFFERS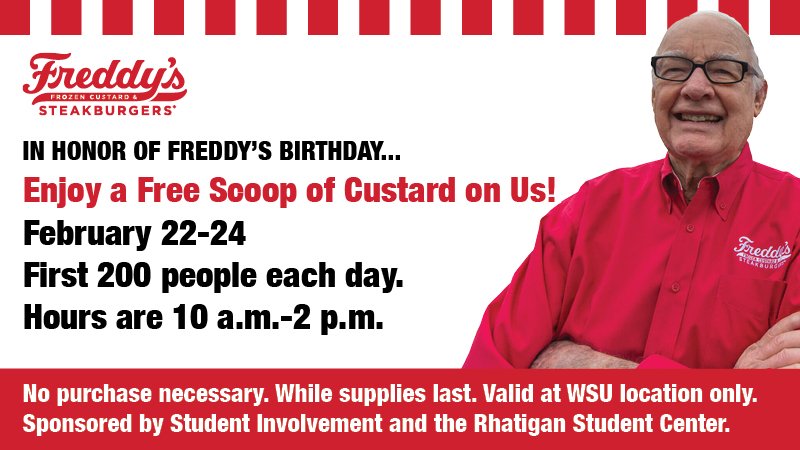 Enjoy a free scoop of custard
In honor of Freddy's birthday, enjoy a free scoop of custard, courtesy of Student Involvement and the Rhatigan Student Center. Offer valid for the first 200 people each day from Feb. 22-24. Hours are 10 a.m. to 2 p.m. No purchase necessary. While supplies last. Valid at the Wichita State location only.
---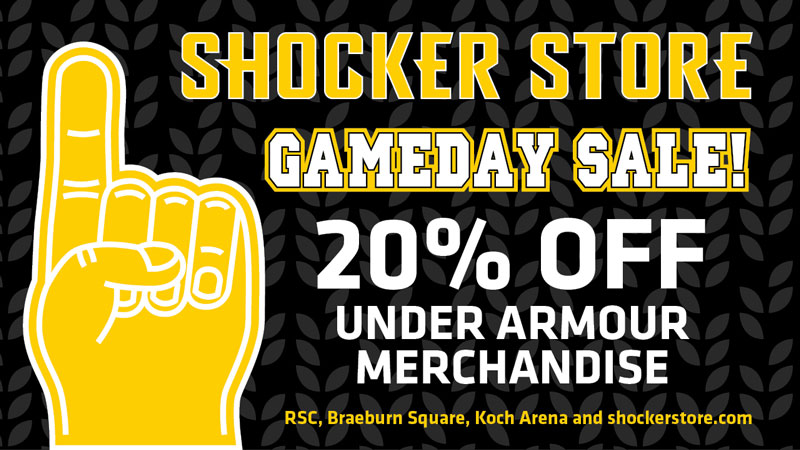 Save on Under Armour Merchandise Wednesday and Thursday
The men's and women's basketball teams are playing at home this week, and the Shocker Store has a gameday sale to celebrate. Take 20% off all Under Armour merchandise on Feb. 24-25 in the RSC, Braeburn Square and Koch Arena stores and online at shockerstore.com. Not valid with other discounts or promotions. Some exclusions apply.