Who We Are
The World Trade Council of Wichita (WTCouncil) was founded in 1975 by Dr. Lee Nehrt, Dr. Dharma deSilva, and Dean Larry McKibbin in concert with 11 area multinational companies to promote international trade and investment in Greater Wichita and south-central Kansas.
For over 40 years, the WTCouncil, an independent 501(c)3 organization, has had a strategic partnership with Wichita State University's Center for International Business Advancement (CIBA) to foster work and ideals of international business via educational seminars, country and/or agency trade programs, company-specific international trade and export strategies and best practices to advance international business.
Professor Usha Haley, W. Frank Barton Distinguished Chair of International Business and Professor of Management at the Barton School of Business, serves as the WTCouncil's elected Chair.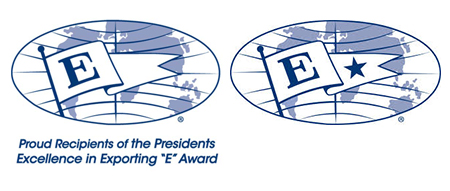 CIBA/World Trade Council of Wichita is a proud recipient of the two highest awards conferred by the United States for Exports - the President's "E" and "E Star" Awards. The "E" Award was created by Executive Order of the President of the United States to recognize persons, firms, or organizations that contribute significantly to efforts to increase United States exports. The "E Star" Award recognizes continued exemplary achievement in advancing United States exports.
The WTCouncil supports the International Business Studies Association and International Business majors at the Barton School through scholarships and networking opportunities with the business and policy communities. To register and pay for WTCouncil's dinner meetings or programs, go here.
The World Trade Council of Wichita is governed by a Board of Directors, with Professor Usha Haley as elected chair. Please send nominations for consideration to Chair Haley at usha.haley@wichita.edu. To see a continually updated list of our members, please click here.
What We Do Monthly
CIBA/WTCouncil hold monthly dinner and networking programs on topical issues regarding international business and trade to bring together various stakeholders, including local, national, and international business leaders, government officials, and foreign diplomats, to enhance collaboration. Average attendance at the monthly meetings is more than 100. For more information and opportunities to speak, please contact Professor Usha Haley (usha.haley@wichita.edu), Chair of the WTCouncil.
These meetings provide structured opportunities for students and faculty to network with business and government leaders for research opportunities and job openings. Presentations in the past year include Kansas Secretary of Commerce David Toland, Spirit AeroSystems VP Mark Suchinski, Cargill VP Pat Binger, Kansas Secretary of Agriculture Mike Beam and others.
To see some of the WTCouncil's past programs please click here. To register and pay for WTCouncil's dinner meetings or programs, go here. To view a photo gallery from some of our programs, please click here.
What We Do Annually
Objectives and Goals
Provide a forum for networking and exchanging professional experiences among members, companies' senior managers, government policy makers, academics, country ambassadors, consuls general, trade commissioners, and trade agencies or specialists, via monthly meetings.
Present country, company and/or agency trade programs with best market prospects by organizing visiting country and networking receptions, seminars and annual US-proclaimed World Trade Week.
Advocate policy positions on trade issues (e.g. exports, imports, trade barriers) and public policy legislation.
Update Kansas International Trade databank (maintained by CIBA, initiated by US Department of Education/BIE grants), conduct periodic surveys to accurately portray "Kansas Export Profile, Problems and Prospects," nominate member firms for International Business Excellence Awards (IBEA) for export or service accomplishments, and identify issues or topics for research by faculty for studies through executive guest lectures, internships, facilitating participation in WTCouncil events, course-related research and faculty-directed Wichita business case development.
Identify opportunities for trade and cultural missions, encourage participation from members' companies, and report council's activity to the media and our website.
Bring an awareness of international business and develop future talent and human resources through involving college students in internationalization events and international business scholarships or internships, particularly those majoring or minoring in International Business and International Business Studies Association (IBSA) members.
Offer study-abroad scholarships through the established "Dr. DeSilva International Business Scholarship Endowment" at WSU Foundation.
Offer opportunities for IBSA students to assist in WTCouncil operations and events. After graduation, these students are eagerly sought by area companies and many have excelled in executive positions and as entrepreneurs in the US and abroad.
Serve as an advisory council to the WSU Center for International Business Advancement (CIBA) for federal and state grant applications and development of strategies to internationalize business education at universities, and to understand and implement industry best practices, to meet global competition, and to contribute to business and economic growth.
Contact
For Program Registration, information on Membership, and logistics for Speakers, please contact the WTCouncil office at phone 316-978-3176 or email wtcouncil@wichita.edu . For Speaker inquiries, Sponsorship opportunities and Media queries, please contact WTCouncil Chair Professor Usha Haley at phone 316-978-5500 or email usha.haley@wichita.edu . You may also contact us through this form.
Media