Economics Bites on the Go
The Department of Economics and the Institute for the Study of Economic Growth are starting a virtual talk series called "Economics Bites on the Go." The aim is to provide Wichita State students an opportunity to interact with top-tier fun economists.
Each talk lasts 1 hour. For the first 20 minutes, our Wichita State professor Siyu Wang asks stimulating and surprising questions that provoke the guest speaker into a deep examinations of their work and how they see the world. Then guest speaker has 20 minutes to summarize their life-long research in the briefest manner. The last 20 minutes is Q&A time, with students and professors interacting with the guest speaker and asking any questions they have in mind.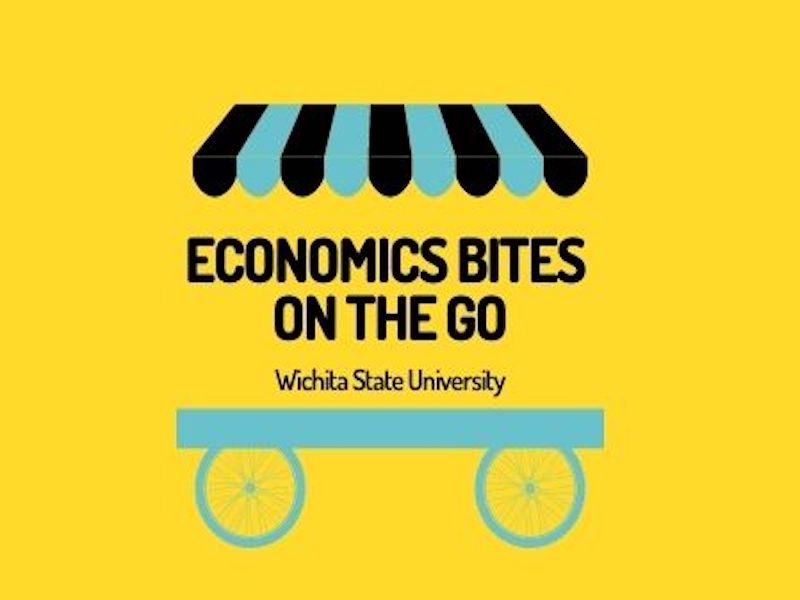 Interested in joining? Click the link during the scheduled talk time or look for Meeting ID 379 883 4810 on Zoom. Passcode is on the poster.
Questions? Email siyu.wang@wichita.edu
Guest Speaker: Dr. Rong Rong
April 9th 2021 12-1 pm
Dr. Rong Rong is an associate professor in the Department of Resource Economics at the University of Massachusetts Amherst. Her current research focuses on applying experimental economic methods and behavioral economic insights to understand individuals' health and environmental decisions.
Guest Speaker: Dr. Vlad Tarko
March 5th 2021 12-1 pm
Dr. Vlad Tarko is Assistant Professor in the Department of Political Economy and Moral Science at University of Arizona. His research covers varieties of capitalism, polycentric governance, and history of thought. He has published papers in American Political Science Review, Governance, Public Choice, Journal of Institutional Economics, and others. His books include Public Governance and the Classical Liberal Perspective (Oxford University Press 2019, co-authored with Paul Aligica and Pete Boettke), Elinor Ostrom: An Intellectual Biography (Rowman Littlefield 2017), and Capitaist Alternatives (Routledge 2015, co-authored with Paul Aligica).
Guest Speaker: Dr. David Slusky
Feb 12th 2021 12 -1 pm
Dr. David Slusky is the De-Min and Chin-Sha Wu Associate Professor, Associate Chair, and Director of Undergraduate Studies in the Department of Economics and an Associate Professor (by courtesy) in the Department of Population Health at the University of Kansas. He is also a Research Associate at the National Bureau of Economic Research, a Research Fellow at IZA -Institute for Labor Economics in Bonn, Germany, and a founder and organizer of the new Electronic Health Economics Colloquium. He received a B.S. in Physics and International Studies from Yale University and an M.A. and Ph.D. in Economics from Princeton University.