Message from the Department Chair
FREDS , the Department of Finance, Real Estate and Decision Sciences. Our department includes; Finance, Management Information Systems, Decision Sciences, Real Estate, and Business Law. The programs link on the left pane of the page lists examples of model programs in the department.
Our Goals are to provide an excellent learning environment for our students and to produce research that contributes to WSU's research mission.
Thank You for visiting our web site.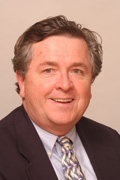 Rick LeCompte, Ph. D.
Chair, Department of Finance, Real Estate, and Decision Sciences
rick.lecompte@wichita.edu