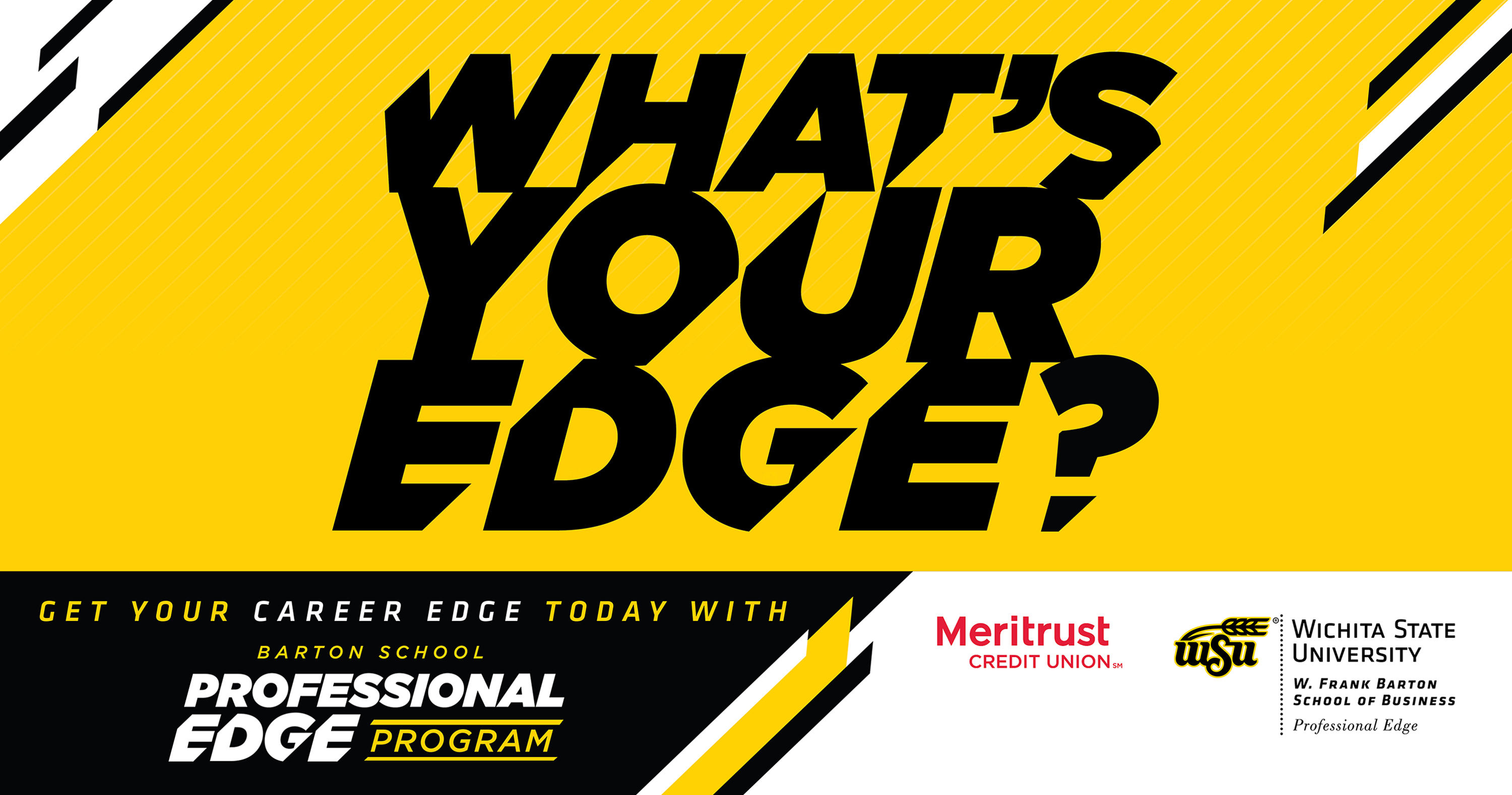 "Career development is vital to long-term personal success. Meritrust is excited to help WSU students set the stage for a bright future."- James Nastars, president and CEO, Meritrust Credit Union
What is Professional EDGE?
Professional Edge Program
Standing out to employers takes more than a degree — it takes an EDGE.
Professional Edge is a co-curriculum program designed to provide personal growth and development skills as an enhancement to the student's formal education in the W. Frank Barton School of Business. These skills and competencies are designed to position the business graduate for enhanced placement opportunities and a successful career, with progressively greater responsibilities. The program is designed to provide Barton School graduates with a competitive edge as they seek to begin their professional careers.
Skills and Competencies
Effective resume writing
Knowledge of the industry in which the student has an interest, and career opportunities available
Communication etiquette
Professional behaviors (dining etiquette, dress code, social media)
Effective networking
Time management
Financial Literacy
Diversity, cross cultural and global competencies
Effective job search process
Behavioral interview skills
Evaluating and negotiating compensation packages
Post-graduation:

Seeking and benefitting from a mentor
Creating opportunities for advancement
Program Features
Two-year non-credit program, starting in the freshman year
Open to all business majors
Students earn points by participation
Some events are mandatory; others are optional
Each semester, accumulation of a pre-specified minimum number of points allows student to pass a 0-credit class.
Students completing 4 semesters receive a Professional Edge Certificate and transcript credential from the Barton School.
Key Outcomes
Spirit, Koch, and Meritrust guarantee interviews for students participating in EDGE
Receive credential on college transcript, awarded certificate of completion and cord at exclusive EDGE graduation ceremony
Graduates have improved interviewing skills that employers seeks
Several firms recruit Professional EDGE graduates
Exclusive opportunities for internships and employment
How to enroll for Spring 2022 EDGE
BADM 191 – Professional Edge I – CRN 24701 – for students new to EDGE

BADM 192 – Professional Edge II – CRN 24704 – for students who have completed one semester of EDGE

BADM 293 – Professional Edge III – CRN 24705 – for students who have completed two semesters of EDGE

BADM 294 – Professional Edge IIII – CRN 24706 – for students who have completed three semesters of EDGE
To Enroll:
If you are new to Edge, you will enroll in BADM 191. [Freshmen - Contact your academic advisor if you need help.]
Enroll in the program as you would traditional classes at WSU - log into your MyWSU Portal and visit the 'Student Registration, Banner 9' link.
Use the CRN number to find and enroll into the course.
Download the Suitable App in your app store and then click here for further instructions.
The Professional Edge program is complimentary thanks to a generous donation from Meritrust Credit Union.