This is AEROSPACE ENGINEERING
at Wichita State University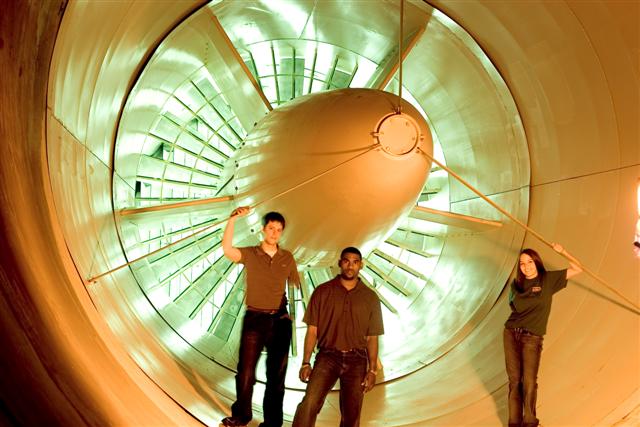 History
Founded in 1928, the department of aerospace engineering has a long history of academic excellence, scholarship, and commitment to community. Located in the "Air Capital of the World," students and faculty benefit from Wichita's rich aviation heritage and close proximity to major aircraft companies.
The department boasts a strong undergraduate and graduate aeronautics and astronautics curriculum. There are significant student learning opportunities, substantial funded research, and rich collaborative relationships with: Airbus, Bombardier-Learjet, GE Aviation, Spirit Aerosystems, Textron/Cessna/Beechcraft, and other Wichita aviation concerns. Our graduates work all over the country and world, including at: Blue Origin, Boeing, Gulfstream, Kitty Hawk, Lockheed Martin (and the famous Skunk Works), Northrup, Orbital Sciences, SpaceX, and Scaled Composites.
Opportunities
The Cooperative Education Program is among the best in the country, facilitating placements for students while they are in school. Outstanding students work as Co-Ops or Interns locally and at NASA (including the Armstrong Flight Research, Johnson Space, JPL, Langley Research, Marshall Space Flight, and Glenn Research Centers).
National Science Foundation statistics, for fiscal year 2015, ranked Wichita State University fourth among all U.S. universities in money spent on aerospace research and development, with more than $39 million in expenditures. WSU faculty, staff, and, most importantly, students participate in this research. Again, here is a great chance to "learn by doing."
The department is very strong in the areas of structures, composites, engineering mechanics, applied/computational/experimental aerodynamics, controls, and flight simulation. Related facilities, in the Aerospace Engineering department and the National Institute for Aviation Research (NIAR), are among the best in the nation. Students get a chance to use these labs either through class assignments, projects, or research.
The department sponsors numerous activities for students. Annually, over a dozen small airplanes and many rockets are designed and built. Students also participate in NASA and AIAA competitions and conferences, often taking top honors. Additionally, professional engineering societies host guest speakers and events. Cookouts are popular as well.
The WSU Honors Program is outstanding, offering both challenges and rewards. An Aerospace Engineering specific Honors Track provides students with additional enhanced degree specific educational options.
Wichita State University Aerospace Engineering - the right program, in the right place!