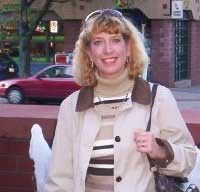 Kerry Jones is the director of the Writing Center, and teaches courses in composition and literature, one of the more popular ones being Literature of the Jazz Age.
She was born in the coal region of northeastern Pennsylvania and grew up in Catasauqua, a small town nestled in the Lehigh Valley. She holds a BA in English from Mansfield University with dual minors in philosophy and creative writing and an MFA in fiction from Wichita State University. She has completed a novel, Dime Store Rita, and two collections of short stories, The Ghosts in the Glen and The Last Innocent Year. Her stories have appeared in many journals, including Sycamore Review, Hot Air Quarterly, Night Train, Paper Street, Blood root, and others. She is the 2002 Richard Yates Short Story Award winner and received a special mention in the 2005 Pushcart Prize Anthology. Her work has been a finalist for the Flannery O'Connor Short Fiction Award and was first runner-up for the 2010 Wabash Prize. In 2007, she laid the ground-work for her second novel, Hymns at Candlemas, while a resident at the Djerassi Resident Artists Program. When not writing, camping, cooking, or gardening, she and her husband spend time dealing with (or battling) four neurotic cats and a co-dependent Lhasa Apso. If that's not living, what is?
Contact Kerry Jones at kerry.jones@wichita.edu.