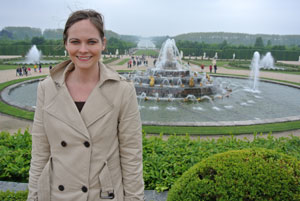 Melinda DeFrain is the Basic Skills, ESL, and Science Writing Coordinator, she also teaches courses in the Theory of Composition, Nature Writing, and literature.
She was born in Las Cruces, New Mexico to a former Wichita East High prom queen and a college football coach. She received a B.S. in horticulture (and yes, even so, she's still a Dorothy Parker fan) from Kansas State University. She pursued a master's degree in Wildlife Biology in Texas until returning to her first love, English. She received her B.A. in English from Western Michigan University (where she worked with National Book Award winner Jaimy Gordon, among others) with emphases on Education and Creative Writing. She then received her MA in English from the University of Wisconsin – Oshkosh. Parts of her thesis, on creative nonfiction, have been published nationally and she has since taught Creative Nonfiction for the WSU Office of Continuing Education. She received her MFA from Wichita State University and was a fiction fellowship holder during her program. Her thesis, Big Talker, a novel, is currently under consideration with an agency while she continues to work on her story collection, Acting Out, and a new novel. When she isn't writing she and her husband and two daughters take care of two dogs, a cat, two guinea pigs, three rats, and the most resilient fish in the world.
Contact Melinda DeFrain at melinda.defrain@wichita.edu.