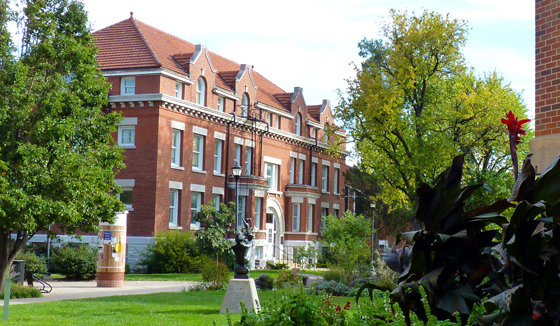 About Fiske Hall
Fiske Hall is the oldest surviving structure on campus (the oldest building, Old Main, burned in the 1920s). Back when this was Fairmount College, the institution's leaders set about constructing a new men's dormitory. Prior to this, students had to take up residence in local homes. The cornerstone-laying ceremony for Fiske Hall took place in 1904 with final dedication taking place in 1906. In the years that followed, the structure, at various times, was the men's dormitory, home to an infirmary during the 1918 Influenza Epidemic, the ROTC, the Music Department, various university offices, and International Programs. Currently, it is home to the History Department and the Philosophy Department.
---
Where is Fiske Hall?
Fiske Hall is in the campus' southwestern corner just east of the Ulrich Art Museum along Perimeter Drive.
DIRECTIONS:
From the Student Union: Go out the west doors towards Jardine and McKinley Hall. As you go towards Jardine and McKinley, look down the street to your left. Fiske Hall will be clearly visible at the intersection of the street at Perimeter Road. Follow the sidewalk along the east side of McKinley to get to the main entrance.

From 17th Street: At 17th and Fairmount turn north onto campus. Where Fairmount "T's" with Perimeter Drive, you will notice the Ulrich Art Museum. Fiske Hall is immediately to the right of the museum.