Emily Chamberlain
MFA in ceramics, 2017
Emily was born and raised in the rust belt city of Buffalo, New York. She received her Bachelors of Science in both Art Education and Ceramic Design as a duel major from SUNY Buffalo State College. Since undergrad, she has completed a year long residency, worked as an Art Director and a production screen printer, and participated in various art festivals. In 2014, she packed her bags to pursue a Masters of Fine Arts in Ceramics at Wichita State University in Wichita, Kansas. She graduated in 2017 and is continuing to make sculptural work while being an Elementary Art Teacher for Derby Public schools.
---
Where are you from?
I am all the way from Buffalo, NY. 
When did you attend Wichita State, when did you graduate, and with what degree?
I received my BS in both ceramics and art education as a dual major from SUNY Buffalo State College.  I moved here in 2014 when I started my MFA in ceramics at Wichita State University and graduated in 2017.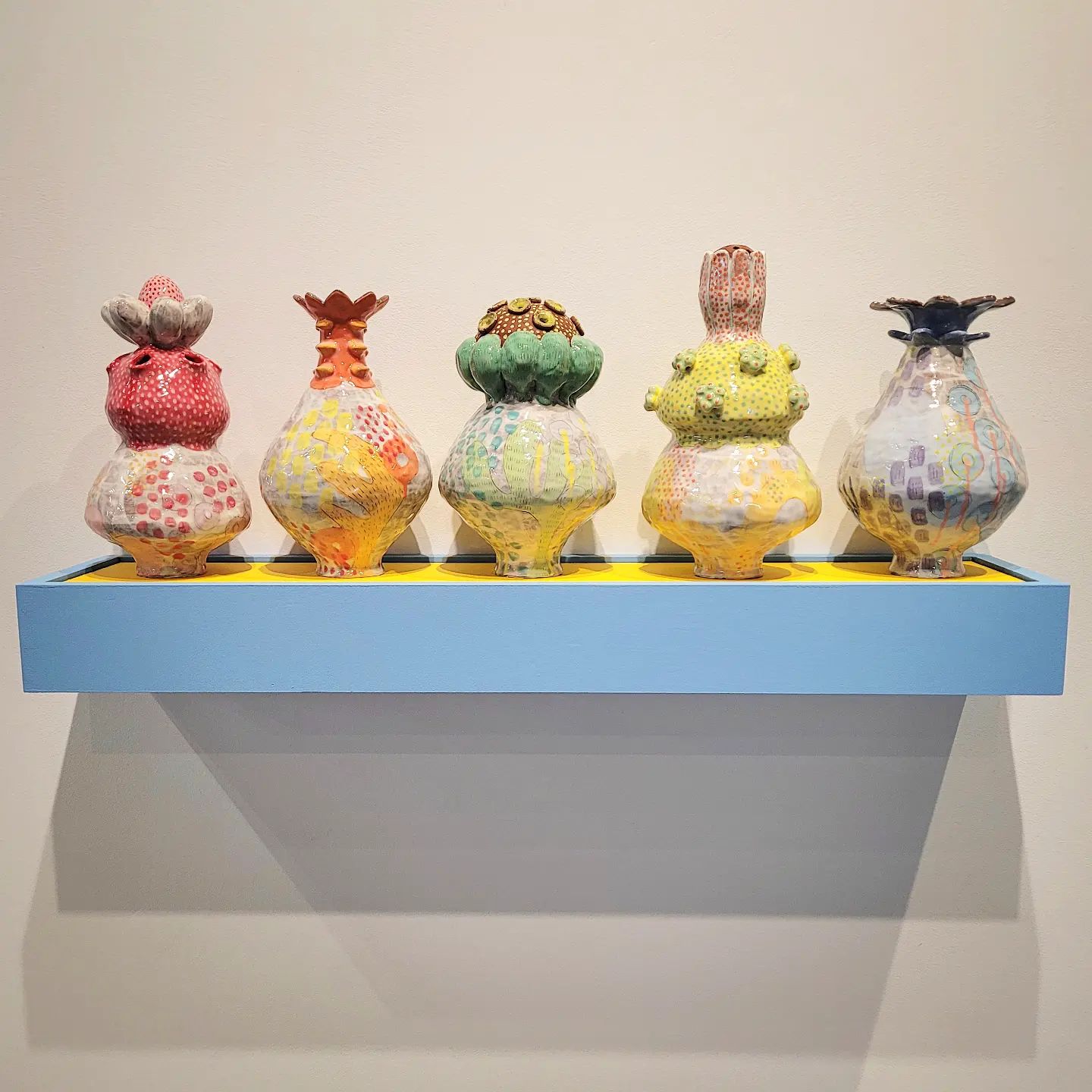 What's your preferred method of artmaking?
My preferred method of artmaking is clay.
Tell us a bit about your creative career since graduation. What are you up to now?
Since graduation, I have stayed active in the art community through participation in gallery shows, online sales and various art festivals such as Smoky Hills River Festival, Bradley Fair Autumn and Art, and Mulvane Art fair.  In general, I find it important to just stay active in my studio practice alone.  I typically work alongside my teammate, Joseph Rincones, who is an integral part of my life, and my making.  Working along side him keeps us both motivated as well as opening the door for conversation and collaboration.
Beyond making, I am currently in my 6th year teaching and am stationed as the ceramics teacher at South High School.  I have 2 children, which consume most of my time, Elijah who is almost 4 & Elleanna who is 1.5.
What are you most proud of when it comes to your current creative career? Do you have any specific accomplishments or accolades you'd like to share?
This is probably the most difficult question to answer because I have never been good about bragging about myself however, I think what I am most proud of in my current career is still doing it all.  It is extremely difficult to continue to make when you are not in a school setting without the material and facilities and faculty to help aid your passions.  I am proud that I have 2 children, a full-time job and continue to find time to do what I love most.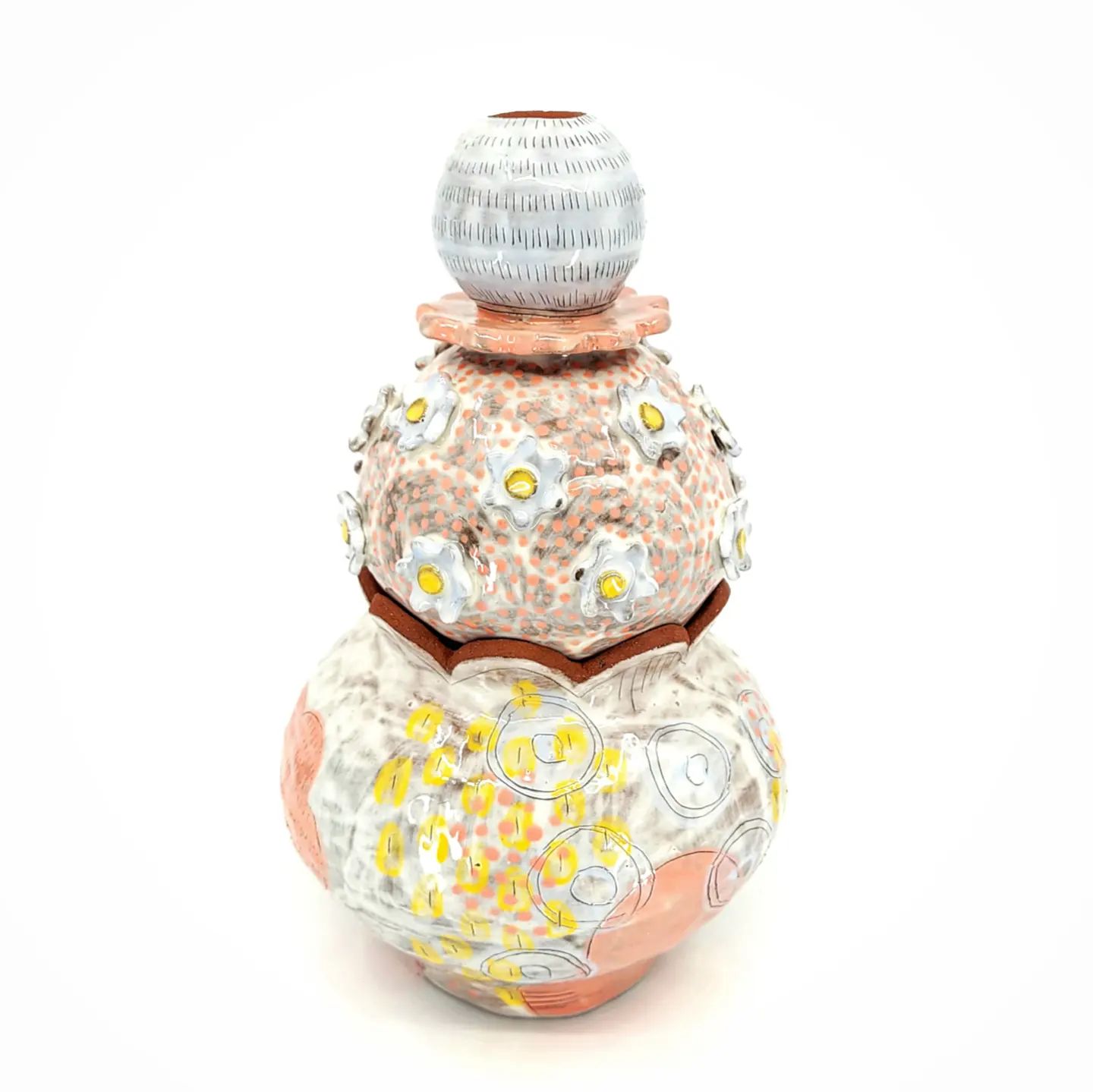 How was your experience with the School of Art, Design and Creative Industries? What specific knowledge or tools of the trade learned in the program benefitted you most after graduation?
My experience with the School of Art, Design and Creative Industries is an unforgettable one.  I attribute my time at WSU to be one of my favorite points in my life.  It was an opportunity to be able to live and breathe ceramics without all the interruptions that life throws at you.  I was able to have the time to dive deep into my work, explore, travel and create all alongside an amazing community of not only students but faculty. 
I don't know if there are any specific tools or knowledge that I specifically learned that I hadn't already went through in pursuing my undergraduate career.  Most of what I learned was through my own exploration of material and surface.  I fully feel that it was what I made it.  However, my takeaways are;  all of the talking about and defending my work, which is still a work in progress to this day, as well as the faculty (especially Ted Adler) are the people that I still hear in my head pushing me and questioning me in order to be the best that I absolutely can.