Student and Community News
WHEAT Semester Calendar
WHEAT is hosting some fun social and community service events for everyone this semester! Here is a current list of events we have planned for this semester. Note that the exact times and locations are still being decided, but we'll keep everyone updated and you can also check us out on Facebook and ShockerSync closer to the event. See you there!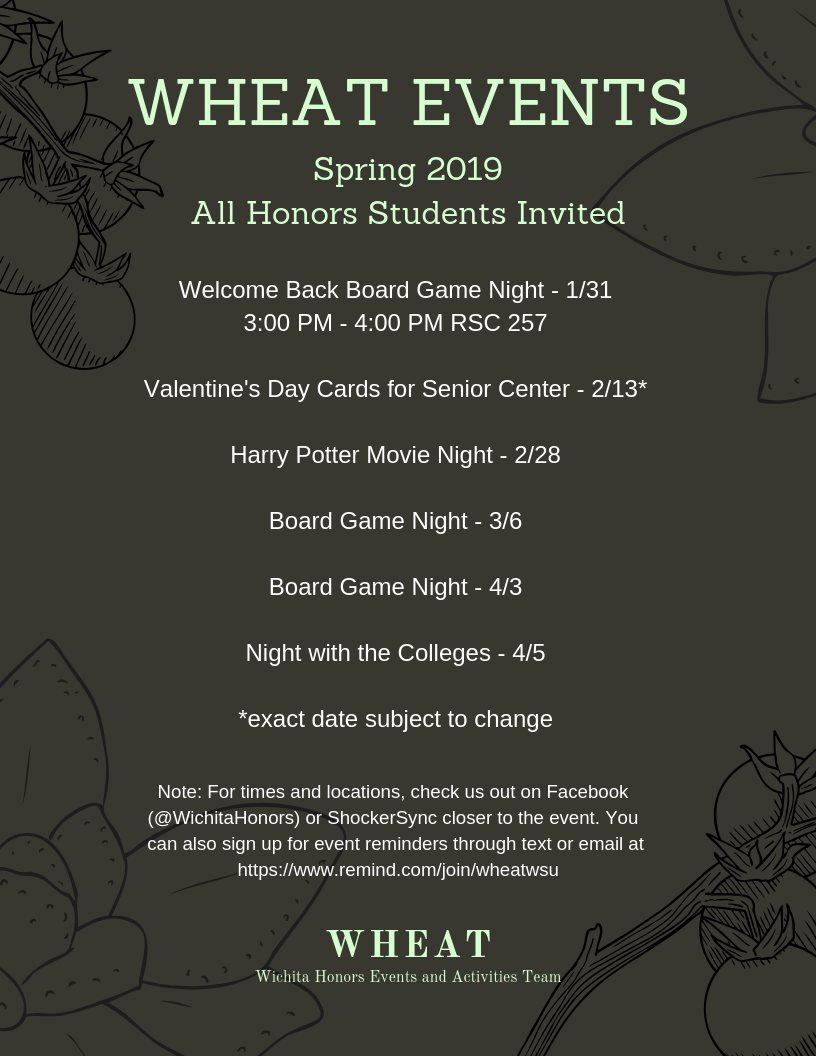 Sign up for Notifications of WHEAT Honors Events
Want to know about future honors events sponsored by WHEAT? You can sign up to receive notifications and reminders of events through either emails or text messages by following the link below and entering either your phone number, or email address:
https://www.remind.com/join/wheatwsu
Shock the Future Town Hall Open to all Students Feb. 13
Learn more about a vision to bring our university campus into the 21st century. Not sure what a referendum is? Wonder what the plan is to Shock the Future? Wonder why we have bonds and student fees? Why now? Come to the Cohen Honors College town hall from 5-6 p.m. February 13 in 209 Hubbard to hear from Provost and acting President, Dr. Rick Muma and Dean of the Cohen Honors College, Dr. Kimberly Engber. All questions welcome about the university plans and current construction on Shocker Hall.
University Innovation Fellows Fall 2019 Application due Feb. 20th
Every year, the UIF program introduces a new cohort of Fellows, and it is time to start looking for students for the Fall semester! All majors, all years, and all students are encouraged to apply! Click here for the online application. Prospective students go through an interview process. Applications open on February 1st and close the 20th.
Apply for the Cohen Honors Outstanding Student Award Feb. 11
Applications sought for the 2019 Outstanding Cohen Honors Student Award. This award recognizes a high-achieving senior leader who takes on challenges and demonstrates commitment to academic excellence in honors. A student may win this award only once.
The application deadline is 5 p.m. Monday, February 11. To review the eligibility requirements and application process, go to Outstanding Cohen Honors Student Award.
This award is sponsored by Dorothy and Bill Cohen. Recipients receive a signed image by astrophotographer Ken Naiff and recognition on a plaque in the college.
Invent for the Planet Design Competition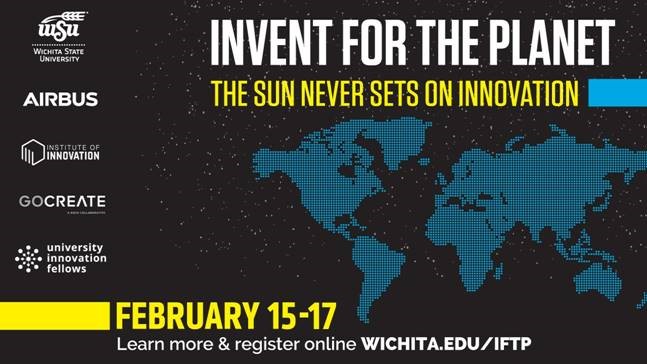 Invent for the Planet (IFTP) will challenge you to put your theory into practice by solving real-world problems. You will focus on developing products to make the world a better place for the inventors of tomorrow. IFTP aims to motivate student innovators, entrepreneurs and creative thinkers to come together, apply design thinking, and find solutions to difficult and wide ranging problems. You will form teams of 3-5 students and work to design and prototype a solution for a wide range of global concerns. At the same time, students from across the globe will be tackling the same issues, allowing you to collaborate and learn from peers all over the world. Mentors will be available and the teams will present their solutions to judges for a chance to win more than $500 worth in prizes.

Airbus sponsorship allows for this event to be completely free of charge!
The competition will be held at the Wichita State University Experiential Engineering Building lobby (EEB) on February 15-17, 2019. Breakfast, dinner and refreshments will be provided to participants. Specific details on the schedule and competition will be communicated to participants near the start of the event.

Tentative Schedule:
-Friday, Feb. 15th (4:00 PM - 10:00 PM)
-Saturday, Feb. 16th (8:00 AM - 10:00 PM)
-Sunday, Feb. 19th (8:00 AM - 5:30 PM)
Office and College News
Advising Update
I will be out of the office Monday, Feb 11th - Friday, Feb 15th. I will only be checking email sporadically. Please email Honors@wichita.edu or call (316) 978-3375 Option #2 for immediate assistance.
Thank you,
Jessica Raburn
Academic Advisor & Assistant Director
Dorothy & Bill Cohen Honors College
Hubbard Hall RM 133
Office Hours of the Dean
Walk-Ins: 2:00-3:30
By Appointment: email honors@wichita.edu.
Contact Us
To submit a story to the Weekly Update email Jeromiah Taylor at honorsassistant@wichita.edu.
Follow The Honors College on Twitter for more news and updates.
Looking for More Updates?