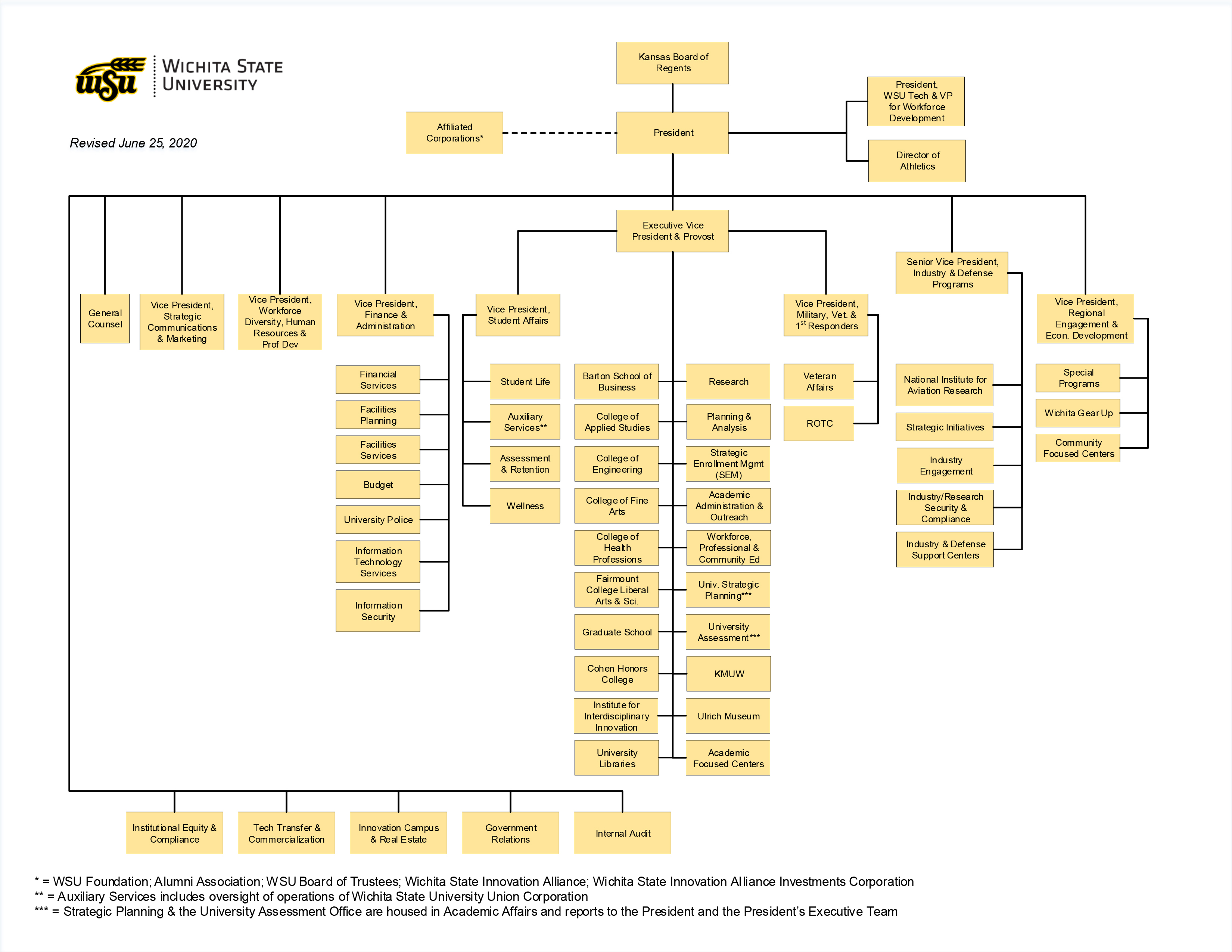 Download a pdf of the org chart
---
Text Version
Organization Chart Revised June 25, 2020.
Kansas Board of Regents
President

President, WSU Tech / VP for Workforce Development

Director of Athletics
Affiliated Corporations *
Executive VP and Provost

VP Student Affairs

Auxiliary Services **
Assessment & Retention
Wellness

VP Military, Veterans & First Responders
Barton School of Business
College of Applied Studies
College of Engineering
College of Fine Arts
College of Health Professions
Fairmount College of Liberal Arts & Sciences
Graduate School
Cohen Honors College
College of Innovation and Design
University Libraries
Research
Planning & Analysis
Strategic Enrollment Management (SEM)
Academic Administration & Outreach
Workforce, Professional & Community Education
University Strategic Planning ***
University Assessment ***
KMUW
Ulrich Museum
Academic Focused Centers

VP Finance & Administration

Financial Services
Facilities Planning
Facilities Services
Budget
University Police
Information Technology Services
Information Security

VP Workforce Diversity, Human Resources & Professional Development
VP Strategic Communications and Marketing
General Counsel
VP Military, Veterans & First Responders
Senior VP Industry and Defense Programs

National Institute for Aviation Research
Strategic Initiatives
Industry Engagement Industry / Research Security & Compliance
Industry & Defense Support Centers

VP Regional Engagement & Economic Development

Special Programs
Wichita Gear Up
Community Focused Centers

Institutional Equity and Compliance
Tech Transfer & Commercialization
Innovation Campus & Real Estate
Government Relations
Internal Audit
---
* (dotted line reporting) WSU Foundation; Alumni Association; WSU Board of Trustees; Wichita State Innovation Alliance; Wichita State Innovation Alliance Investments Corporation.
** Auxiliary Services includes oversight of operations of Wichita State University Union Corporation.
*** Strategic Planning and the University Assessment Office are housed in Academic Affairs and report to the President and the President's Executive Team.