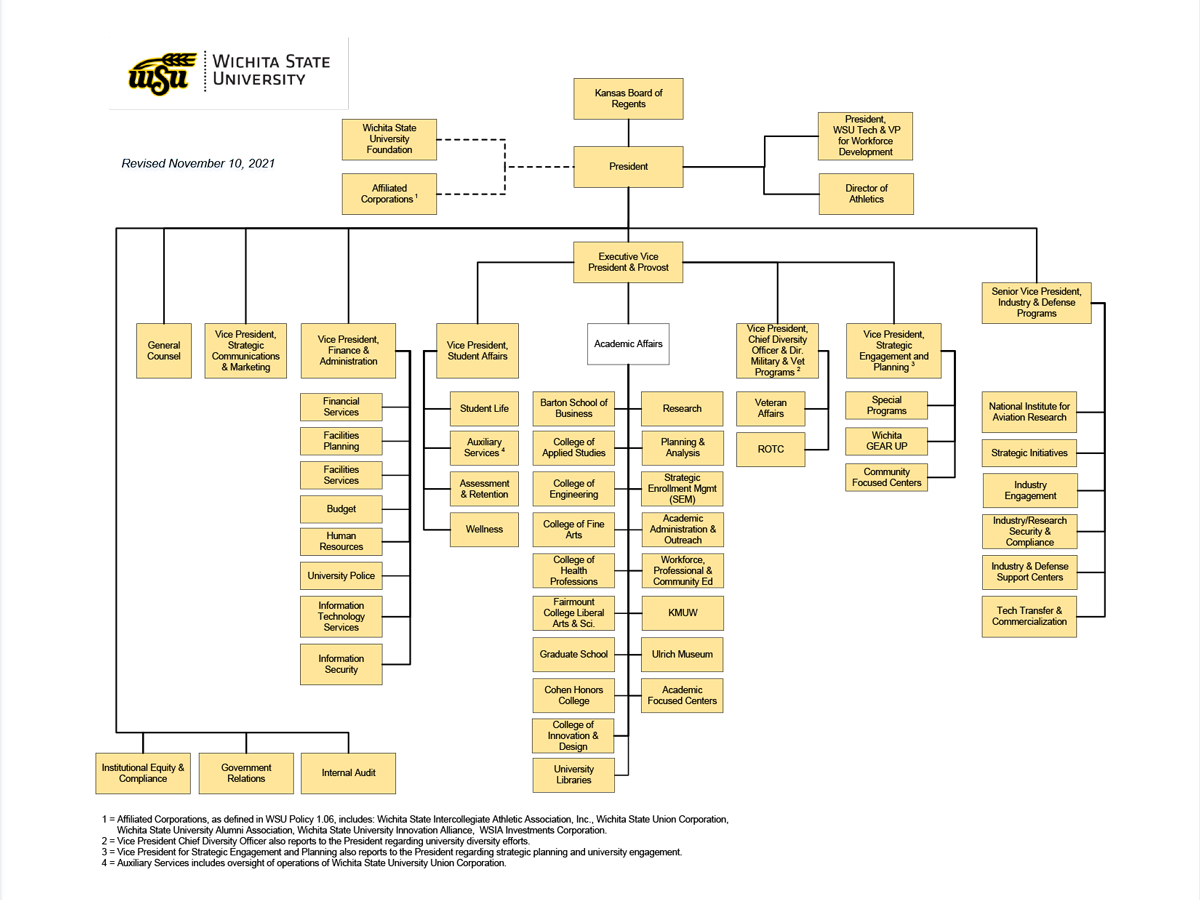 Download a pdf of the org chart
---
Text Version
Organization Chart Revised January 21, 2021.
Kansas Board of Regents
President

President, WSU Tech & VP for Workforce Development
Director of Athletics
WSU Foundation
Affiliated Corporations 1
Executive VP and Provost

Vice President, Strategic Engagement and Planning 3

Special Programs
Wichita GEAR Up
Community Focused Centers

VP Student Affairs

Student Life
Auxiliary Services 4
Assessment & Retention
Wellness

Vice President, Chief Diversity Officer & Director of Military & Veterans Programs 2

Academic Affairs

Barton School of Business
College of Applied Studies
College of Engineering
College of Fine Arts
College of Health Professions
Fairmount College of Liberal Arts & Sciences
Graduate School
Cohen Honors College
College of Innovation and Design
University Libraries
Research
Planning & Analysis
Strategic Enrollment Management (SEM)
Academic Administration & Outreach
Workforce, Professional & Community Education
KMUW
Ulrich Museum
Academic Focused Centers

VP Finance & Administration

Financial Services
Facilities Planning
Facilities Services
Budget
Human Resources
University Police
Information Technology Services
Information Security

VP Strategic Communications and Marketing
General Counsel
Senior VP Industry and Defense Programs

National Institute for Aviation Research
Strategic Initiatives
Industry Engagement
Industry / Research Security & Compliance
Industry & Defense Support Centers
Tech Transfer & Commercialization

Institutional Equity and Compliance
Government Relations
Internal Audit
---
1 = Affiliated Corporations, as defined in WSU Policy 1.06, includes: Wichita State Intercollegiate Athletic Association, Inc., Wichita State Union Corporation, Wichita State University Alumni Association, Wichita State University Innovation Alliance, WSIA Investments Corporation.
2 = Vice President Chief Diversity Officer also reports to the President regarding university diversity efforts.
3 = Vice President for Strategic Engagement and Planning also reports to the President regarding strategic planning and university engagement.
4 = Auxiliary Services includes oversight of operations of Wichita State University Union Corporation.