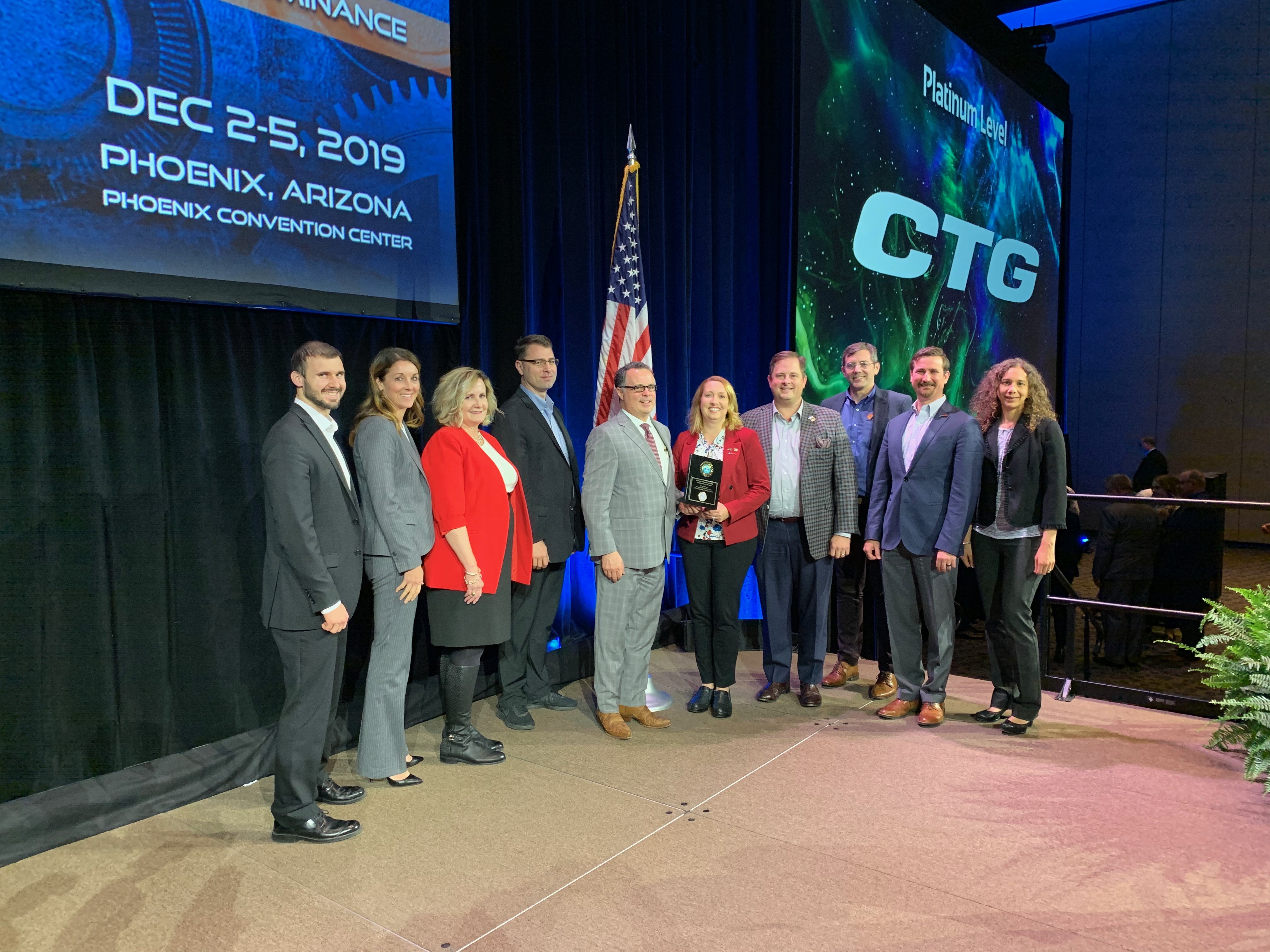 December 4, 2019
A team of researchers from Wichita State University's National Institute for Aviation Research (NIAR), the Air Force Research Lab (AFRL), RP+M, Texas A&M University and the Federal Aviation Administration (FAA) received one of four coveted Defense Manufacturing Technology Achievement Awards (DMTAA) at the week's Defense Manufacturing Conference in Phoenix, Arizona on Monday.
The team, working together through America Makes, received the Technology Enabler Award for their project "Qualification Framework for High-Performance, Low-Variability Additive Manufacturing (AM) Parts."
Funding was provided to AFRL through a partnership between the FAA and Office of the Secretary of Defense Manufacturing Technology Program (ManTech). The program is built on vital government/industry partnerships. AFRL partnered through America Makes to form a team from RP+M, Stratasys, and Lockheed Martin. This team then solidified a partnership with the National Center for Advanced Material Performance at NIAR.
"NIAR recently released the first public qualification database of an additive manufactured material along with public material and process specifications as a result of the collaborative teamwork derived from this partnership," said John Tomblin, NIAR executive director. "This partnership enabled the transition of technical data and methodologies to dozens of AM organizations allowing for the design and production of high-quality aerospace parts."
This team produced the first polymer AM database and qualification framework, disseminated throughout the America Makes public-private partnership to more than 200 organizations. Several OEMs have adopted these methodologies and incorporated dozens of parts onto Department of Defense platforms.
NIAR also published the B-basis allowables, specifications and equivalency protocol; and is currently writing the first polymer AM volume of the Composite Materials Handbook-17. With these specifications, designers are now able to use this data to redesign traditional parts into AM parts to provide weight and cost reductions through part consolidation. Due to this program, the industrial part supply base is expanding with additional part suppliers, such as RP+M, who can now perform high-quality AM part production.
DMTAA recognizes and honors those individuals from government and the private sector most responsible for outstanding technical accomplishments that further the achievement of the vision of the DoD and ManTech.
At a ceremony on Monday, the award was presented to AFRL's Jennifer Fielding on behalf of the entire team listed below.
Jennifer Fielding, Air Force Research Laboratory
Dennis Butcher, Air Force Research Laboratory
Mark Benedict, Air Force Research Laboratory
Tracy Albers, RP+M
Cameron Rogers, RP+M
Chris Holshouser, NIAR
Rachael Andrulonis, NIAR
John Tomblin, NIAR
Rob Gorham, Texas A&M University
Cindy Ashforth, FAA
DMTAA, established in 1999, is sponsored by the Joint Defense Manufacturing Technology Panel. Nominated projects must have been managed by a manufacturing technology program of the Services or the Defense Logistics Agency.
About NIAR
The National Institute for Aviation Research (NIAR) at Wichita State University provides research, testing, certification and training for aviation and manufacturing technologies. Established in 1985, NIAR has a $70 million annual budget; a staff of 550; and nearly one million square feet of laboratory and office space in four locations across the city of Wichita, the Air Capital of the World. NIAR laboratories include Additive Manufacturing, Advanced Coatings, Advanced Manufacturing, Aging Aircraft, Ballistics & Impact Dynamics, CAD/CAM, Composites & Advanced Materials, Computational Mechanics, Crash Dynamics, Environmental & Electromagnetic Test, Full-scale Structural Test, Nondestructive Test, Reverse Engineering, Robotics & Automation, Virtual Reality and the Walter H. Beech Wind Tunnel. www.niar.wichita.edu
About Wichita State University
The mission of Wichita State University is to be an essential educational, cultural and economic driver for Kansas and the greater public good. Wichita State is a doctoral research university enrolling nearly 15,000 students and offering 59 undergraduate degree programs in more than 150 areas of study in seven undergraduate colleges. The Graduate School offers 45 master's and 12 doctoral degrees that offer study in more than 100 areas. Wichita State's Innovation Campus is an interconnected community of partnership buildings, laboratories and mixed-use areas where students, faculty, staff, entrepreneurs and businesses have access to the university's vast resources and technology. For more information, follow us on Twitter at www.twitter.com/wichitastate and Facebook at www.facebook.com/wichita.state.
Contact: Tracee Friess, WSU-NIAR tracee.friess@wichita.edu or 316-978-5597.