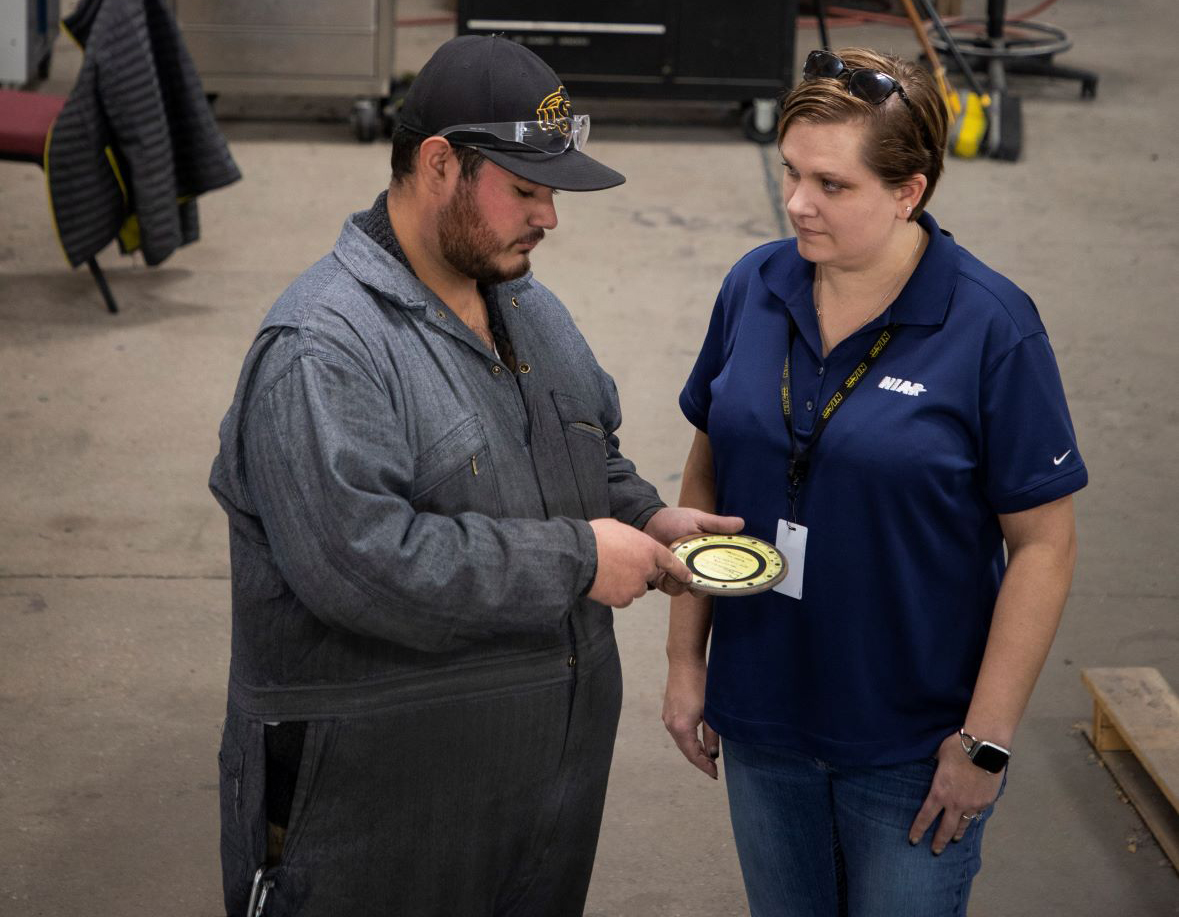 Source: Engineering Innovator, Spring 2020
College of Engineering, Wichita State University
---
The education of Ruben Reyes, Wichita State aerospace engineering major, began at the side of his parents when he was a boy growing up in Dodge City, Kansas.
Ruben's parents settled in the western Kansas town because it was a place that welcomed Mexican immigrants like them. His father has worked as a mechanic in the city's meat-packing plants. His mother works in a gun stock manufacturing plant. Outside of his regular job, Ruben's father would work handyman and construction jobs and bring Ruben along.
"As a kid, I was looking on how I could help Dad do what he was doing," he said. When she came home from her job, Ruben's mother would urge him to finish his homework quickly, so they could work on other experiments and projects. "Seeing both of my parents work hard yet making time for me to be successful has been a significant influence in my work ethic," Ruben said.
Work ethic and a gift for working alongside mechanics got Ruben noticed. Dr. Melinda Laubach-Hock, a research director at Wichita State's National Institute for Aviation Research noticed him when he came to work as an engineering student in 2017 for NIAR's Aircraft Structural Test and Evaluation Center (ASTEC).
About 30 students currently work at ASTEC. Ruben was doing tear-down work, disassembling F-35s for Lockheed Martin so NIAR could test the structural integrity of the aircraft parts. Dr. Laubach-Hock observed Ruben's work ethic, engineering mind and mechanical skill and declared him the best student employee she's seen in 17 years.
Lockheed engineers Jordan Freelen and Hank Hentz also noticed Ruben during a visit to NIAR to inspect student work. "Both of them came back talking about how great of a worker he was and that we needed to look at him for an intern position," said Ashley Brown, an associate manager for Lockheed Martin in Fort Worth.
Lockheed hired Ruben for an internship in 2019. "I was an F-35 manufacturing specialist. In short, I was tasked with ensuring the jets rolled out the door on time, 100% complete. Since I was located in final assembly, I did a little of everything. It's a really rewarding position as you get to interact with engineers from many departments, managers, mechanics and technicians. It's a great place to grow."
During this internship, Ruben was noticed by Brown and Lesley Loper, the senior manager for final assembly in the wing department at Lockheed. Both were so impressed they told Ruben he would have a job waiting in Fort Worth as soon as he finished his degree this May.
"The decision to hire him is a very simple one. He has a very high work ethic as well as a very high drive to learn all that he can," Brown said. "One of my main things that I quickly noticed was his desire to do more and more as well as his ability to communicate very effectively with the mechanics."
Ruben almost majored in music instead. He sings, plays the piano, guitar and trumpet, writes his own music and once even tried to start a business rebuilding old pianos. A high school band trip brought him to Wichita State's campus for the first time.
Ultimately, he went with aerospace engineering, attracted by the problem-solving aspect and because "airplanes and rockets are really cool!" But his band experience, like his parents, was already a foundational piece of his education.
Here's what Ruben said he learned from band that translates to his budding career in engineering:
"Not only do you have to perform your part, but you also have to be conscious of the rest of the band around you. You have to realize where you fit in to the band's effort. … I had the opportunity to become a section leader for the band — I decided not to take it. Instead, I wanted to be more of a friend and not a designated leader. I worked as hard as everyone else in the band did. I wanted to lead and inspire others by example. I try to still do that today."
-- By Polly Basore Wenzl for the WSU College of Engineering