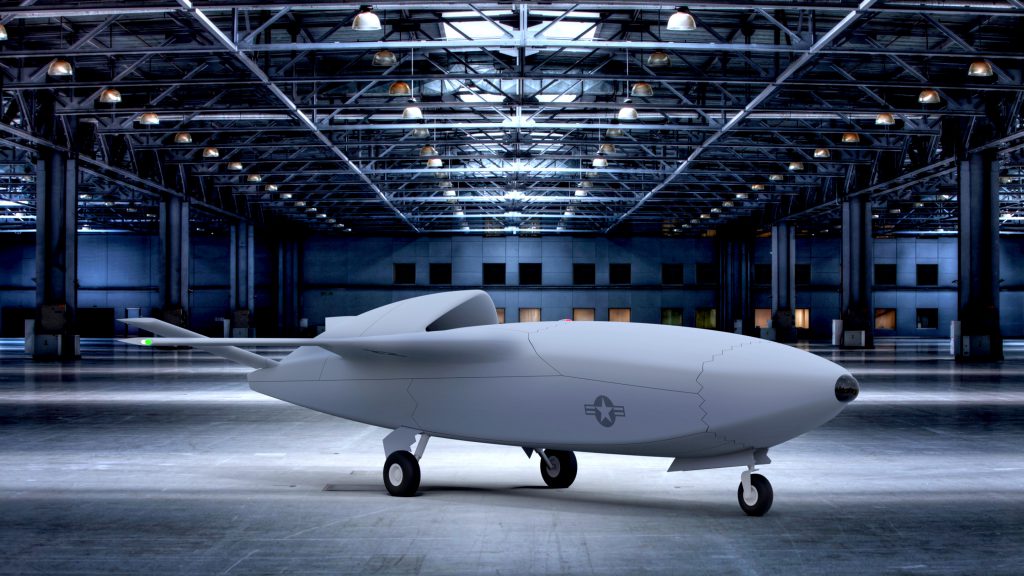 A Skyborg conceptual design for a low cost Unmanned Combat Aerial Vehicle (UCAV). (Artwork courtesy of AFRL)
October 2, 2020
On Tuesday, the National Institute for Aviation Research (NIAR) at Wichita State University was announced as one of thirteen vendors eligible for up to $400 million in contract funding in support of the U.S. Air Force (USAF) Skyborg Vanguard Program.
The Skyborg Prototyping, Experimentation and Autonomy Development contract provides for services used to deliver mission-specific experimental prototypes.
Skyborg is an autonomous attritable aircraft capable of achieving a diverse set of missions. "Attritable" designs emphasize lower-cost unmanned aircraft that are capable of reuse with minimal maintenance – a strategy developed by the USAF to combat rising production costs for frontline military aircraft.
"WSU's extended partnership with Spirit AeroSystems is vital to securing this contract with the Air Force," said NIAR executive director and WSU senior vice president for Industry and Defense Programs. "The combined facilities, talent and expertise of NIAR and Spirit will provide unparalleled resources for the Skyborg program."
WSU and Spirit maintain an agreement focused on implementing joint strategic research and development projects and improving workforce training services to meet the growing demands of the aerospace while providing applied learning opportunities for WSU students.
"Spirit, the largest tier one aerostructures company in the world; and NIAR, the country's leading aviation research institution create a formidable team and provide the required ecosystem to deliver this capability to the warfighter." said Duane Hawkins, Spirit senior vice president and president of Spirit Defense. "The team's ability to digitally-design the production system and use advanced manufacturing techniques will help deliver a more affordable weapon system to the Air Force."
The aim of the Skyborg program is to integrate autonomous reliable unmanned air vehicle (UAV) technology with open missions systems to enable manned-unmanned teaming, providing a game-changing capability to the warfighter. The attritable UAV line of effort awarded by this contract will provide the foundation on which the Air Force can build an airborne autonomous 'best of breed' system that adapts, orients, and decides at machine speed for a wide variety of increasingly complex mission sets.
NIAR is part of a second phase of vendors that also includes AeroVironment Inc., Autodyne LLC, BAE System Controls Inc., Blue Force Technologies Inc., Fregata System Inc., Lockheed Martin Aeronautics Company, NextGen Aeronautics Inc. and Sierra Technical Services.
The first round of awards included The Boeing Co., General Atomics Aeronautical Systems Inc., Kratos Unmanned Aerial Systems, Inc., and Northrop Grumman Systems Corp.
"This second phase of awards establishes a diverse and competitive vendor pool by adding several non-traditional and traditional contractors we saw as important additions to the effort," said Brig. Gen. Dale White, program executive officer for Fighters and Advanced Aircraft. "The diversity of approaches and backgrounds allows us to access the best industry has to offer."
"Wichita State University was the only academic institution chosen as a finalist for the U.S. Air Force's Skyborg Autonomous Wingman Program – a testament to the talented students and professors at the university," said Sen. Jerry Moran (R-Kan.). "WSU showcases Kansas' ability to be an asset to our nation's defense industry, and I will continue to encourage the Air Force and military to choose the Air Capital of the World for their innovative projects."
Brig. Gen. White, along with Brig. Gen. Heather Pringle, Commander of the Air Force Research Laboratory (AFRL), serve as the leadership for the Skyborg program.
Skyborg is one of three Vanguard programs identified late last year as part of the Air Force Science and Technology (S&T) 2030 initiative. These high-priority development efforts are meant to rapidly field systems, by pairing technology development under AFRL with the acquisitions capabilities found in AFLCMC. The Air Force expects to begin the process of developing air vehicle prototype designs later this calendar year.
About NIAR
NIAR provides research, testing, certification and training for aviation and manufacturing technologies. Established in 1985, NIAR has a $96 million annual budget; a staff of 650; and nearly one million square feet of laboratory and office space in four locations across the city of Wichita, the Air Capital of the World. NIAR laboratories include Additive Manufacturing, Advanced Coatings, Advanced Manufacturing, Aging Aircraft, Ballistics/Impact Dynamics, CAD/CAM, Composites/Advanced Materials, Crash Dynamics, Environmental/Electromagnetic Test, Full-scale Structural Test, Nondestructive Test, Reverse Engineering, Robotics/Automation, Virtual Engineering, eXtended Reality and the Walter H. Beech Wind Tunnel.
www.niar.wichita.edu
About Wichita State

Wichita State University serves as the Kansas urban-based research university, enrolling more than 20,000 students from every state in the U.S. and more than 100 countries. Wichita State and WSU Tech are recognized for being student centered and innovation driven.
Located in the largest city in the state with one of the highest concentrations in the United States of jobs involving science, technology, engineering and math (STEM), Wichita State University provides uniquely distinctive and innovative pathways of applied learning, applied research and career opportunities for all of our students.
The
Innovation Campus
, which is a physical extension of the Wichita State University main campus, is one of the nation's largest and fastest-growing research/innovation parks, encompassing over 120 acres and is home to a number of global companies and organizations.