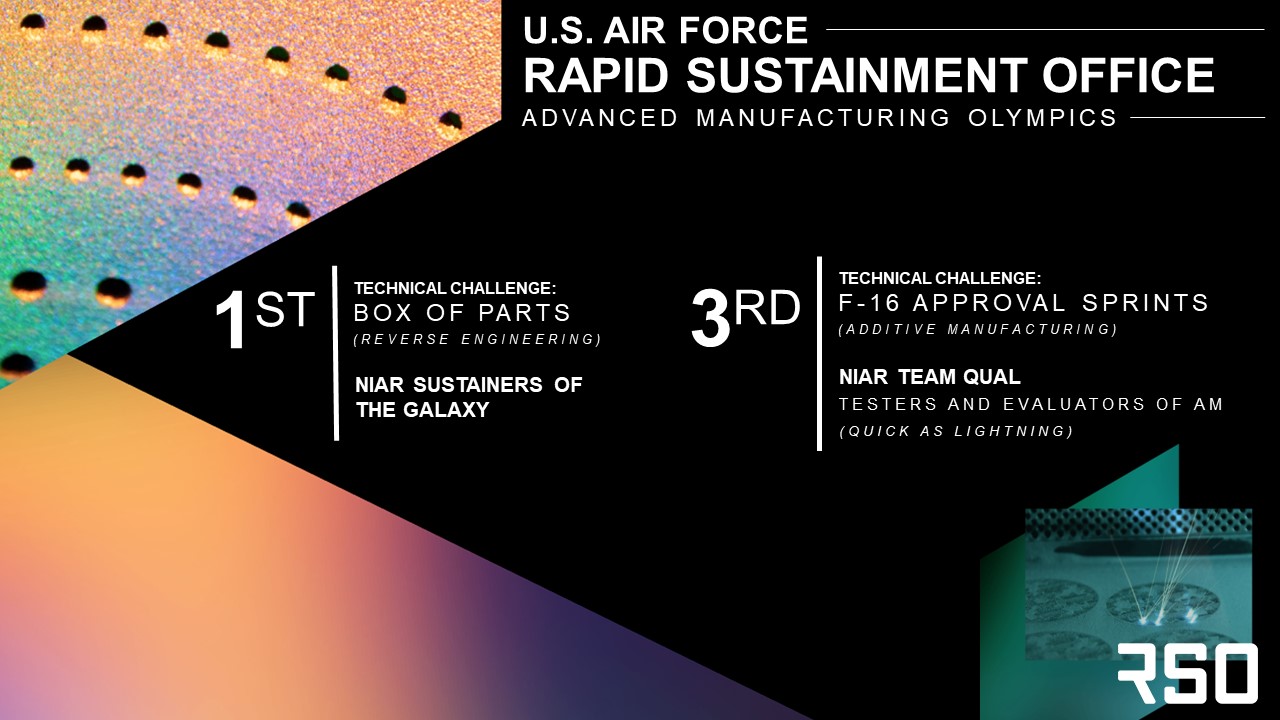 October 26, 2020
Two teams from Wichita State University's National Institute for Aviation Research (NIAR) have received coveted awards from the inaugural Advanced Manufacturing Olympics (AMO), hosted by The U.S. Air Force Rapid Sustainment Office (RSO).
Announced Friday, NIAR's Sustainers of the Galaxy team received the first place $100,000 award in the Box of Parts technical challenge and NIAR TEAM QuAL Testers and Evaluators of AM (Quick as Lightning) received the third place $40,000 award in the F-16 Approval Sprints technical challenge.
The Advanced Manufacturing Olympics, held Oct. 20-23 is unique virtual experience bringing together advanced manufacturing, technology and sustainment innovation subject matter experts, entrepreneurs, practice leaders, and enthusiasts to discover new technologies and insights from thought-leaders across government, academia and small business.
In the Box of Parts challenge, teams demonstrated the ability of 3D scanning and printing technology to accurately reengineer a part without an existing plan. The end goal is to identify automated or hands-free scanning for rapid and accurate reverse engineering capabilities.
Additional competing teams included Lockheed Martin/Stratasys, ReLogic Research, Inc., Aero Design, LLC, 461st Spark Hub, Carpenter Technology Corporation, 3D Printing Colorado, Wilder Systems and the University of Wisconsin-Madison.
Jeswin Joseph, program and research manager of NIAR's Emerging Technologies and CAD/CAM Labs was captain of the Sustainers of the Galaxy Team.
"We are absolutely thrilled that WSU-NIAR's decades of Digital Twin development expertise was validated by being recognized as first in the Box of Parts challenge," said Joseph. "I am extremely proud of our NIAR Team and we look forward to working with the Department of Defense and industry partners on many more emerging technologies."
F-16 Approval Sprints teams competed to deliver a polymer additively manufactured replacement solution for rapid deployment of a specified F-16 aircraft component. The challenge was focused on identifying innovative strategies for rapid design, qualification, and deployment of sustainment solutions to leverage new manufacturing materials, processes, and components.
Stress Engineering Services, Inc./Origin/nTopology, Inc. placed first in the challenge. Additional competing teams included 3DChimera, Stratasys, Cumberland Additive, Inc., Voxel Defense, LLC, Markforged, 3-D VHB/Additive America/Addiguru and W.M. Keck Center for 3D Innovation at the University of Texas at El Paso.
NIAR technical director for advanced manufacturing, Chris Holshouser served as captain of TEAM QuAL and drove NIAR's AMO participation efforts.
"We've worked very hard to build up unmatchable teams in additive manufacturing qualification and reverse engineering in order to revolutionize the way we qualify materials and provide sustainment programs for the DoD," said Holshouser.
In addition to placing in the competition, the NIAR team was selected to have their printed part installed and flown on an F-16, making this the first additive manufactured part flown on this vehicle – demonstrating the promise of additive manufacturing for rapid sustainment.
"I'm happy to see that the Wichita State NIAR results came out very well and that is the part that's being flown because they were quite high on the list as well in terms of their innovative proposals for qualification," said Ellen Le, additive manufacturing technical lead, Ford Motor Company.
"It was fairly novel geometry and it outperformed the Stratasys part, based on the information that was provided," said Mark Diller, P.E., senior design engineer for the University of Dayton Research Institute. "That's where the most confidence was between testing and submitted info."
Competing teams were required to submit a significant portfolio of documents and videos in order to be chosen to compete in the competition and advance to the final round.
Cash prizes for the challenges were $100,000, $50,000 and $40,000 respectively for first, second and third places; a cherry on top the respect and exposure gained by securing the top places.
"The awards confirm that the Wichita State NIAR team has unique capabilities and technologies suitable for transforming the R&D and sustainment efforts across the Department of Defense," said John Tomblin, WSU senior vice president for Industry and Defense Programs and NIAR executive director. "We will continue to employ and improve these technologies and programs in an effort to serve as a resource for additional DoD programs and increase readiness levels for the fleet."
The U.S. Air Force RSO increases mission readiness by rapidly identifying, applying and scaling technology essential to the operation and sustainment of the Air Force.
To view NIAR team application videos produced by the Wichita State Media Resource Center visit the following links.
TEAM QuAL: https://youtu.be/L0sDuFsjnAI
Sustainers of the Galaxy: https://youtu.be/ON2LLNoDfsk
About NIAR
NIAR provides research, testing, certification and training for aviation and manufacturing technologies. Established in 1985, NIAR has a $96 million annual budget; a staff of 650; and nearly one million square feet of laboratory and office space in four locations across the city of Wichita, the Air Capital of the World. NIAR laboratories include Additive Manufacturing, Advanced Coatings, Advanced Manufacturing, Aging Aircraft, Ballistics/Impact Dynamics, CAD/CAM, Composites/Advanced Materials, Crash Dynamics, Environmental/Electromagnetic Test, Full-scale Structural Test, Nondestructive Test, Reverse Engineering, Robotics/Automation, Virtual Engineering, eXtended Reality and the Walter H. Beech Wind Tunnel. www.niar.wichita.edu
About Wichita State
Wichita State University serves as the Kansas urban-based research university, enrolling more than 20,000 students from every state in the U.S. and more than 100 countries. Wichita State and WSU Tech are recognized for being student centered and innovation driven.
Located in the largest city in the state with one of the highest concentrations in the United States of jobs involving science, technology, engineering and math (STEM), Wichita State University provides uniquely distinctive and innovative pathways of applied learning, applied research and career opportunities for all of our students.
The Innovation Campus, which is a physical extension of the Wichita State University main campus, is one of the nation's largest and fastest-growing research/innovation parks, encompassing over 120 acres and is home to a number of global companies and organizations.
For more information, follow us on Twitter at www.twitter.com/wichitastate and Facebook at www.facebook.com/wichita.state.
Contact: Tracee Friess (316)250-3428 or tracee.friess@wichita.edu