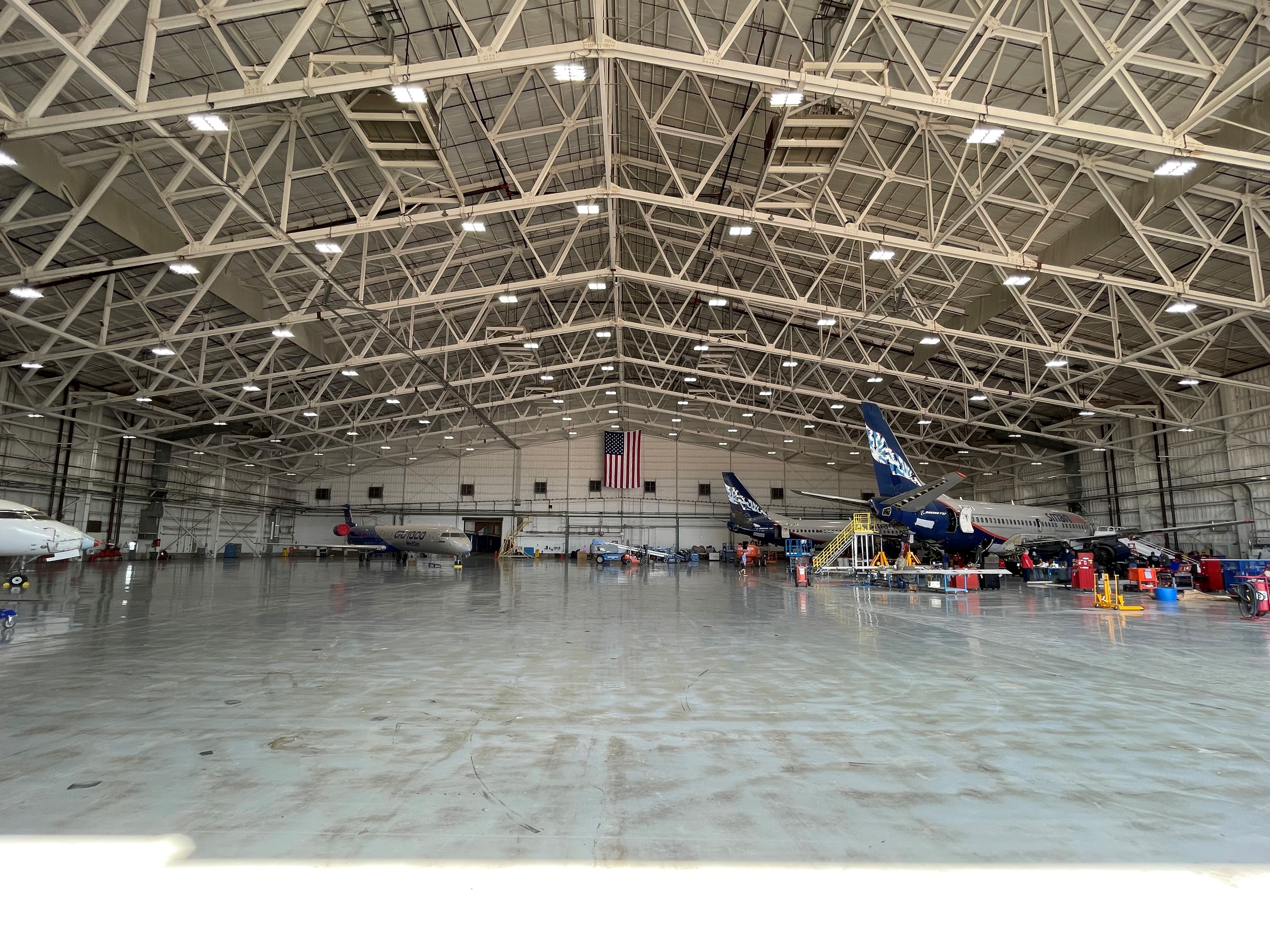 The WERX Lab at Wichita State University's National Institute for Aviation Research will receive $2.1 million from the U.S. Economic Development Administration for the purchase and installation of equipment for the institute's Flight Test Research Center and Maintenance, Repair, and Overhaul (MRO) facility, the U.S. Department of Commerce announced today.
WERX, which recently announced receipt of its FAA Part 145 certificate and a Boeing 737 special mission conversion program, is located on South Oliver near Spirit AeroSystems. At this location, NIAR has access to four large hangars for MRO conversion programs, which are expected to increase in the coming months.
"This EDA investment in Wichita State University will enable aviation businesses to efficiently and effectively pivot operations to address current and future changes in the industry, creating a more resilient regional aviation industry sector," said Secretary of Commerce Gina M. Raimondo.
The EDA grant will provide for additional equipment for the MRO facilities and NIAR's Flight Test Research Center, also located on South Oliver. The facility upgrades made possible by the EDA funding will drive program growth through increased manufacturing competitiveness, safety, efficacy, and profitability – expanding engineering, technician, aircraft flight operations and certification, and/or production job opportunities to an expected 475 over ten years. This includes applied learning opportunities for Wichita State and WSU Tech students utilizing technologies such as nondestructive inspection, composite materials, thermoplastics, automation, sensors and business operations related to aviation manufacturing.
"Kansas' aviation industry plays a significant role in our thriving economy, employs thousands of skilled workers, and supports the more than 450 aviation industry suppliers and service providers operating here in our state," said Governor Laura Kelly. "With this support from our federal partners, we'll continue boosting our economy, creating jobs, and cementing Wichita's reputation as the 'Air Capital of the World.'"
"The productive partnerships between Wichita State and many local aviation manufacturers is key to the innovative solutions and technologies developed in the Air Capital of the World," said Senator Jerry Moran. "I am pleased this investment will further advance the mission of the National Institute for Aviation Research and expand their testing capabilities."
About the U.S. Economic Development Administration
The mission of the U.S. Economic Development Administration (EDA) is to lead the federal economic development agenda by promoting competitiveness and preparing the nation's regions for growth and success in the worldwide economy. An agency within the U.S. Department of Commerce, EDA invests in communities and supports regional collaboration in order to create jobs for U.S. workers, promote American innovation, and accelerate long-term sustainable economic growth. www.eda.gov
About NIAR WERX
NIAR WERX provides engineering services, aircraft modification, flight test/certification and environmental testing services. The team consists of approximately 200 engineers, 100 aircraft mechanics and 45 students. www.niarwerx.org
About NIAR
NIAR provides research, testing, certification and training for aviation and manufacturing technologies. Established in 1985, NIAR has a +$125 million annual budget; 850 staff and nearly one million square feet of laboratory and office space in four locations across the city of Wichita, the Air Capital of the World. NIAR laboratories include Additive Manufacturing, Advanced Coatings, Advanced Manufacturing, Aging Aircraft, Ballistics/Impact Dynamics, CAD/CAM, Composites/Advanced Materials, Crash Dynamics, Environmental/ Electromagnetic Test, Full-scale Structural Test, Nondestructive Test, Reverse Engineering, Robotics/Automation, Virtual Engineering, eXtended Reality and the Walter H. Beech Wind Tunnel.