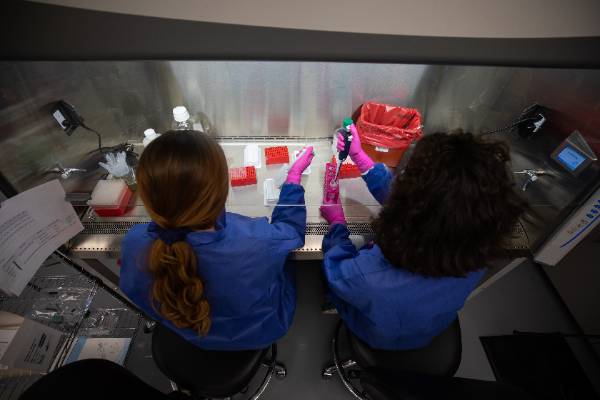 Test Procedure
The WSU MDL is an open lab system allowing the flexibility to use multiple reagents and testing protocols. Currently, MDL is using the following Molecular genetic active virus testing protocols using RT-PCR.
Thermo Fisher Scientific, Inc. TaqPath™ COVID-19 Combo Kit
The Thermo Fisher TaqPath™ "Gold Standard" first utilizes a nucleic acid extraction step and then evaluates three different sequence targets of the viral genome. It currently requires a nasopharyngeal, oropharyngeal, or anterior nares swabbing placed in Viral Transport Media. Specificity is essentially 100% and sensitivity is essentially 100% as well.
Yale School of Public Health, Department of Epidemiology of Microbial Diseases, SalivaDirect™
SalivaDirect™ is non-extraction method and evaluates a single nucleic acid sequence target on the Coronavirus genome. This requires one ml of saliva in a sterile tube provide to healthcare professionals by the MDL. Specificity is essentially 100% and sensitivity approximately 94.6%.