WSU Police Department
---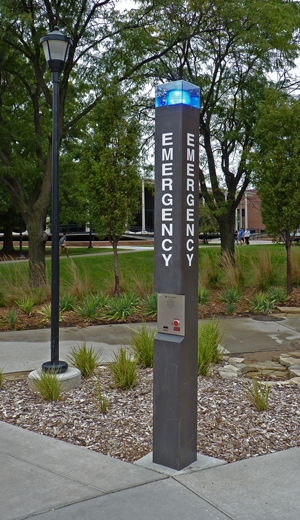 Wichita State University is constantly focused on maintaining a safe, secure learning environment. The University Police Department is a round-the-clock presence on the WSU campus. In addition to patrols and traffic control, its officers provide security services such as safety escorts and auto assists for keys locked in cars and dead car batteries.
Always available
The University Police can be reached from any campus phone by dialing 911. There are also nearly 40 emergency call boxes strategically located on campus and residence hall grounds that instantly connect to the University Police Department dispatcher in case of an emergency. The boxes have the 360-degree video camera and the capability for two-way communication with the dispatcher, but communication is not essential. The instant the student presses the button, the department will automatically dispatch an officer to the location of the emergency call box, and the blue light on the top of the pole will activate.
See a map of campus emergency call boxes
Strong partnerships
Adding to the security of the campus is the close cooperation between the University Police Department and the City of Wichita. The Wichita Police Department's Patrol North Bureau is just one block west of campus. Also within blocks of campus is the Wichita Fire Department's Fire Station No. 10, which is home to the city's Hazardous Materials Response Team. Both facilities are directly connected to the University Police Department's communications system.
Visit the University Police Department home page
Clery Act compliant
Wichita State University is fully compliant with the The Jeanne Clery Disclosure of Campus Security Policy and Campus Crime Statistics Act, and gathers and discloses complete statistics about crime on and near the WSU campus.