What to do when the weather gets rough
In case of severe weather, such as a severe thunderstorm or tornado warning, the safety of the university community is a priority. In the event of an emergency, the best immediate source of information the Shocker Alert System, which will send instant weather and class alerts to your phone and email.
You may also contact the 24-hour Activity Line/Weather and Class Status at 978-6633, option 2.
---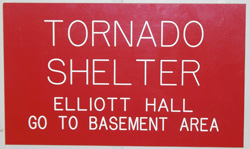 Tornado Season
Tornadoes can occur at any time of the year. In the southern states including Kansas, peak tornado season runs from April through June, while peak months in the northern states are during the summer. Tornadoes are most likely to occur between 3 and 9 p.m. but have been known to occur at all hours of the day or night.
See a complete list of tornado shelters on the WSU main campus
---
Watches versus Warnings
Many people confuse the meaning of a tornado "watch" and tornado "warning" issued by the National Weather Service. Here's the difference:
Watch: Tornadoes are possible in your area; remain alert for approaching storms.
Warning: A tornado has been sighted or indicated by weather radar. If a tornado warning is issued for your area and the sky becomes threatening, move to your pre-designated place of safety.
WSU's main campus houses one of Sedgwick County Emergency Management's tornado sirens. During inclement weather, sirens will only sound in the event of a tornado warning. The sirens are outdoor warning devices only and will be tested each Monday at noon provided skies are clear. For indoor notification, the ShockerAlert System will be activated when a tornado warning is issued for a WSU campus. In the event of a tornado warning, move to the lowest level of the building and seek shelter immediately. Every building on campus has a designated tornado shelter area marked by red signs giving specific directions.
Members of the university community should consider the buildings on campus where they spend the most time, and locate the recommended shelters to save time in case of a weather emergency.